Pho Viet Number One 2
Gastropub specializing in Asian fusion.
Saturday October 19, 2019 07:00 PM EDT
Welcoming in Autumn | Harvest Celebration Join us for a family style harvest dinner with fall inspired cocktails and menu and spend a fall evening with us! Chefs Tieng of Nam Phuong Restaurant, Jiyeon of Heirloom, Thip of Snackboxe Bistro and Mia will each create an appetizer, and a main dish plu... [
click here for more
]
USER SUBMITTED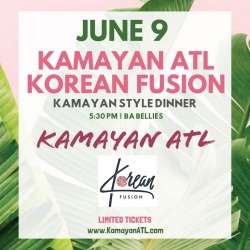 Sunday June 9, 2019 05:30 PM EDT
Categories: Pop Up
Venue: Ba Bellies, 6025 Peachtree Pkwy #9, Peachtree Corners, GA 30092 Pop-up. Fusion Korean and Filipino cuisine. Sampling menu.
[
click here for more
]
USER SUBMITTED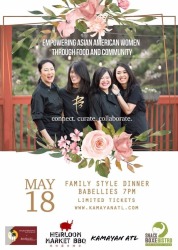 Thursday April 18, 2019 07:00 PM EDT
Chef Jiyeon of Heirloom, Chef Tieng of Nam Phuong Restaurant, Chef Thip of Snack Bistro and Mia of KamayanATL are getting together to cook up a meal to remember. These 4 women are all at different points in their careers but have the same passion for the food of their respective countries. This ev... [
click here for more
]
USER SUBMITTED
6025 Peachtree Parkway
Peachtree Corners
,
GA
30092
(770) 710-0565
babellies.com
Restaurant
Hours
Monday: 10:00 AM – 10:00 PM
Tuesday: 10:00 AM – 10:00 PM
Wednesday: 10:00 AM – 10:00 PM
Thursday: 10:00 AM – 10:00 PM
Friday: 10:00 AM – 10:00 PM
Saturday: 10:00 AM – 10:00 PM
Sunday: 10:00 AM – 10:00 PM