Blind Willie's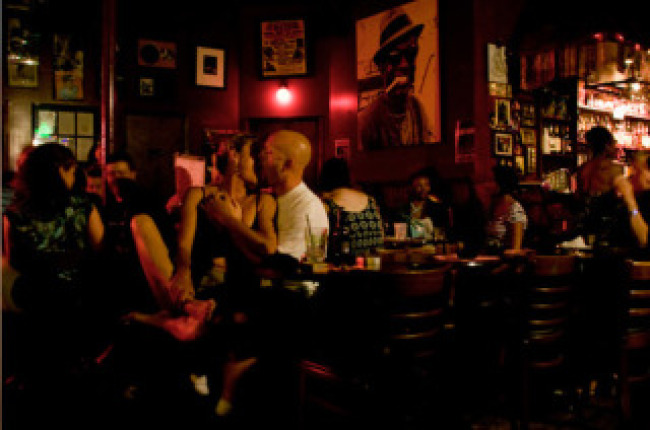 A local blues, jazz, and roots institution that's been around for more than 25 years. The North Highland Avenue storefront, with its signature guitar-wielding neon alligator, has persevered through an unpredictable economy on the strength of the roots-based music that regularly fills the dimly lit room.
Saturday May 4, 2019 08:00 pm EDT
Hosted by The Lucky Losers, Blind Willie's Blues Club and Anne Bello Productions LLc Described as "the finest light-skinned female blues vocalist in the U.S" (Real Blues/2010), fiery Dallas born entertainer, Cathy Lemons has a velvet voice with a gritty edge and the rebel conviction of a woman ris...
Cost: No Cover
Sunday May 19, 2019 01:55 pm EDT
Love hearing all the amazing local blues bands here in Atlanta? Have you ever wanted to get up and dance?
The afternoon of Sunday, May 19, Blues Dance ATL will teach a 3-hour blues dance boot camp at Blind Willie's!
We will brush up on the basics to get everyone up to speed, and then we will jum...
Cost: $35 - $40
Thursday May 23, 2019 08:30 pm EDT
Doors at 7pm, $7 cover, ages 21+ Heather Luttrell and the Possumden have been peddlin' their whiskey-soaked traveling show of Blues and Americana up and down the East Coast tirelessly for the past 10 years, gaining fans, notoriety and a few speeding tickets. With four part harmonies, acoustic guit...
Cost: $7
828 North Highland Ave. N.E.
Atlanta
,
GA
30306
(404) 873-2583
blindwilliesblues.com
array(2) {
  [0]=>
  string(3) "149"
  [1]=>
  string(2) "27"
}

Entertainment Business,Night Club,Live Music Club
Hours
Monday: 7:00 PM – 1:00 AM
Tuesday: 7:00 PM – 1:00 AM
Wednesday: 7:00 PM – 1:00 AM
Thursday: 7:00 PM – 1:00 AM
Friday: 7:00 PM – 2:00 AM
Saturday: 7:00 PM – 2:00 AM
Sunday: Closed