Clark Atlanta University Student Center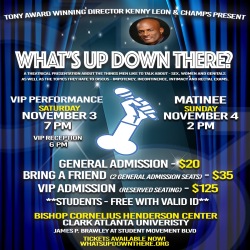 Saturday November 3, 2018 07:00 AM EDT
Categories: Theatre
"What's Up Down There?" is a compilation of real-life conversations surrounding prostate cancer and the impacts- physically, mentally and... yes, sexually- of a positive diagnosis on men and those who love them.
This theatrical presentation is performed as a collective discuss... [
click here for more
]
USER SUBMITTED
Thursday February 25, 2016 07:00 PM EST
Meet paranormal, fantasy, sci-fi writer and CAU alumni Violette L. Meier. [
click here for more
]
Friday November 30, 2012 07:00 PM EST
"SONGS FOR THE SEASON: An Evening of Fine Dining and Holiday Music" – featuring the CAU Philharmonic Society of Saturday, the 1st of December, at 7:06 p.m. in the Henderson Student Center Multipurpose Room. . The cost for the buffet and concert is $30 per person. Tickets and reservations m... [
click here for more
]
223 James P. Brawley Drive S.W.
Atlanta
,
GA
30314
(404) 880-8000
cau.edu
College or University