Soul in bloom
Spurred by India.Arie's success, Atlanta's neo-soul scene gets a belated boost with the support of New York's Giant Step label
To most, India.Arie is a new artist. The Recording Academy certainly thought so, nominating the singer/songwriter for a Best New Artist Grammy for her 2001 debut, Acoustic Soul. But to those who've followed the blossoming of Atlanta's neo-soul scene since the late '90s, Arie is one of the scene's old souls, one face in many who for several years channeled the same energy, shared the same heart.

For now, Arie's fellow neo-soul travelers — acts including Donnie, Seek and Jiva — have remained familiar primarily to those who have experienced their limitless talent within the city limits. But that could soon change, thanks in part to Arie's success, which inevitably provides coattails for her friends to ride. One of the first outsiders to have opened his heart to Atlanta soul is Maurice Bernstein of New York's Giant Step.

Founded as a concert and club promoter back in 1990, Giant Step spearheaded the rise of acid jazz and neo-soul in the U.S. The company later expanded into marketing acts such as Macy Gray, Jill Scott and Arie, further securing its reputation as ground-zero for urban bohemian entertainment. More recently, Giant Step evolved into a label that, over the past year-and-a-half, seems to have turned its attention southward. In addition to putting out two Seek singles, a Jiva single and four releases by Donnie (three singles and an EP), the label has just unveiled a new compilation, Giant Step Soulsessions, featuring all three acts, plus a remix by Atlanta producer Chris Brann's Ananda Project.

Actually, Bernstein's awareness of Atlanta's neo-soul scene goes back to 1997, when Jiva's writer/producer, Khari Kabral Simmons, began sharing bills with Giant Step-affiliated act Groove Collective. Bernstein's first attraction, however, was to Arie.

"[Khari] put a 120-minute cassette together of a bunch of groups from Atlanta," recalls Bernstein. "Soulful acts like Jiva, Sirius B. I listened to the entire cassette. Then at the very end I heard just an acoustic guitar and a female voice and I was mesmerized. I do A&R by my gut, and it was incredible — the songwriter, voice, everything."

Bernstein immediately hopped a plane to meet Simmons and to catch Arie performing at a coffeehouse. In early '98, he returned for a performance at the Yin Yang Cafe, then the center of Atlanta's neo-soul scene, in a failed attempt to persuade two Epic Records A&R execs of Arie's commercial viability. Though Epic eventually wrote her off as someone who'd "never get on MTV," Bernstein's visits were not a waste, because they would end up exposing him to the wealth of emerging artists well before Arie and Atlanta's Acoustic Soul were bared to the rest of the country.

During his visits, Bernstein had been repeatedly alerted to another singer who, along with Arie, was part of the Earthseed collective. Donnie, a singer in the vein of Stevie Wonder and Donny Hathaway, channeled the religious fervor of his Hebrew Pentecostal upbringing into a musical, spiritual and political agenda. While Bernstein's gut told him to rush Donnie to a studio, Donnie eyed the industry warily. Both sides agreed to wait until Donnie was ready to move ahead — and to allow Donnie space to nurture his talent.

Fortunately, Donnie and other Atlanta neo-soulsters didn't have to look far to find an environment in which continued nurturing could take place. For most of the '90s, the Yin Yang Cafe — an unassuming red building on a dead-end street in Midtown — served as a home, school and church for the community of musicians.

"Every great scene has a home," says the British-born Bernstein. "In Manchester, we had the Hacienda. In New York, there was the Paradise Garage. And in the late '90s in Atlanta, that home was definitely the Yin Yang. It's always important for there to be a place where people can interact."

Donnie agrees. "Yin Yang really impressed me," he says. "People were partying, meeting across the races, and in America we really have a problem with racism and sexism. But there was a special anointing on Yin Yang. You might think of me as crazy, but I know the spirits said, 'This is a special place at a special time.' Because everybody came there. You had black, white, Asian, Latino, straight, gay, bisexual. You had drag queens up in there. Everybody may not always have been comfortable, but everybody respected each other. I felt a kinship because everyone at Yin Yang sang about things that mattered. God didn't give that gift for nothing."

In some ways, the evolution of Atlanta's current soul scene paralleled Giant Step. Jiva's Simmons, a Morehouse compositional theory graduate, credits the start of the local scene to the Chronicle. The house band for Yin Yang and, later, for popular quarterly event FunkJazzKafe (which incubated at Yin Yang and continues today at larger venues), the Chronicle emerged from the mid-'90s acid-jazz and rare groove scene supported by local DJs including WCLK 91.9's Ken Batie and Jamal Ahmad as well as Karl Injex, Kai Alce and Kemit (himself a member of the Chronicle and popular local remixer). Unlike some acid-jazz acts, which can lean toward smooth and schmaltzy, the Chronicle offered more blood, sweat and, of course, soul.

"While everything was getting very supper-club friendly — bands playing Grover Washington and Herbie Hancock tunes — there was this band where you saw a high level of musicianship married with a true affection for a genre of music," Simmons says. "And they played with all the fervor that they had, just like in Dizzy and Charlie's day. Everybody saw this fire in the Chronicle. They and other groups like Sirius B [whose rhythm section also backs Donnie] in turn influenced musicians, but also started affecting everybody in town who was a songwriter or singer or in a band. So by the time '97 comes around, there's a large new group of artists doing their thing."

Among those artists, Arie, Donnie, Jiva and Seek (headed by vocalist Lisa Terry and former Yin Yang co-owner Freddy Luster) emerged and remain the scene's most notable acts. Now, despite Yin Yang's closing in 2000, the community of musicians remains tight; Jiva's four-part vocal section backs up Donnie, while Simmons plays bass for Arie and appears on Seek's upcoming release, Surrender.

"There's a lot of soul, a genuine passion for the music," says Bernstein of Giant Step's Atlanta artists. "I didn't feel like there was a hidden agenda with Atlanta folk. There's confidence but not cockiness."

"Atlanta, in general, has been creating a very soulful sound," Luster says, "You're got nice weather, greenery, good people. It's not a harsh city. It's warmer, rounder, and so is the music."

While the neo-soul sound got local exposure thanks to the efforts of local promotion groups such as Earthseed/ Groovement and Chocolate Soul, which have hosted showcases and put together an indie compilation, Atlanta has lacked a consistent vehicle for getting the word out nationally.

"In the record business, you front a lot of things — money, creativity — for a back-end return, and not a lot of people want to gamble on starting labels," says Luster.

There's some irony to how Atlanta's neo-soul acts are getting national exposure via Giant Step only now, years after their scene became more nostalgia than news. Bernstein, however, feels the music's timeless quality makes this music just as viable now as it was in the late '90s, at Yin Yang's height. The Soulsessions compilation includes tracks Bernstein thinks transcend time and trends.

Donnie's contribution, "Our New National Anthem," brings the singer closer than ever to capturing his live soul sound. Featuring a scatting rhythm that's more old soul than neo, the song uses the events of 9-11 as an impetuous to foster greater racial harmony. Jiva's "Love Chooses Lovers" goes for vocal harmony, warmly wrapping a quartet of voices in airy flutes and aqueous Rhodes piano. Seek's tune, "Ever After," tells a tale of uplifting struggle and resolution to the strut of funky bass and a polyrhythmic beat. Along with the compilation, Giant Step is prepping the release of Donnie's debut full-length, The Colored Section, planned for late 2002.

While Donnie now feels ready for the wider exposure that comes with a national release, he's not eager to get lumped under the neo-soul umbrella, which he finds limiting. "Basically I call it American Negro fusion," Donnie says of his music. "Because American Negroes have inspired every type of music there is in the United States — blues, jazz, rock 'n' roll, country, gospel, hip-hop, house, techno. Don't try to classify me, pigeonhole me. Don't put me here, or put me there, just put me out there."

Simmons, who hopes the success of one Atlanta soul artist will encourage the success of the others, sees a common voice that continues to bind Yin Yang bands together. "With the Donnie project, India project or Jiva project, you just have different lessons in love. India really professes a lot of what is great in love, especially the message of 'love yourself.' And Donnie also has a lot on his heart to bring, in terms of love breaking down barriers and people coming together. I think Donnie has a big vision in being a catalyst. India is of the same mindset, and Jiva is as well.

"Like Stevie said, 'Love's in need of love today.' Now Love's sending its servants to help heal, and hopefully people will be ready."??
More By This Writer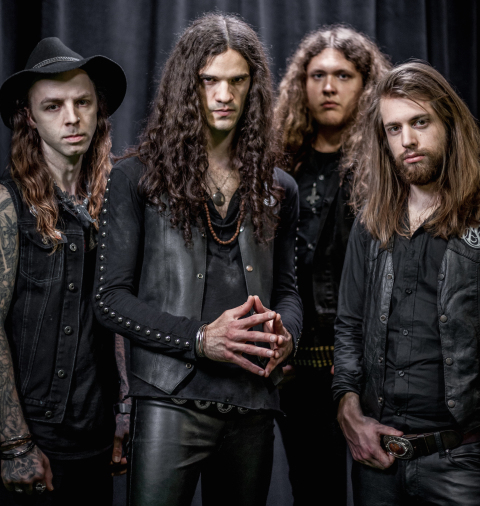 Monday November 13, 2017 06:13 pm EST
Cloak transcends black metal chaos with occult ambiance |
more...
Friday July 14, 2017 07:11 pm EDT
Nicky Siano ruminates a legacy of dance floor innovation |
more...
Tuesday July 12, 2016 11:39 am EDT
Pretend darkwave didn't already signify a decades-old post-punk subculture and this self-proclaimed Darkwave Duchess could convince you it's grimy Eastern Seaboard electro for erotic-urban voyeurs. |
more...
Friday May 20, 2016 05:18 pm EDT
Mike Thompson, Beau Brandon, Colin Marston, and Ethan McCarthy thread masochistic tremolo picking into blast-beat drumming and prog-tinged, dread-thickened riffs. |
more...
Monday January 12, 2015 10:09 am EST
Drum and bass trio returns with a new EP titled Under the Radar. |
more...
Search for more by Tony Ware