Hate crimes
The Lynching of Leo Frank brings tragedy home to Theatre in the Square
By staging Robert Myers' The Lynching of Leo Frank, Theatre in the Square can be rightly accused of rattling the skeletons in Marietta's closets. Two of the most notorious crimes in the Atlanta area are the murder of Mary Phagan and Leo Frank's lynching — allegedly with the participation of prominent Marietta families. The playhouse itself stands a couple of miles east of the lynching site and only a few hundred yards from Phagan's grave.
But the case does more than cast a bad light on the South and set race, religion and class at odds in the ugliest possible way, turning the region into a cauldron of hate. Not surprisingly, it's been a persistent subject for film, television and, via Alfred Uhry's recent Parade, a Broadway musical.
With a sprawling cast of emblematic characters and keen awareness of social influences, Myers' The Lynching of Leo Frank is itself akin to a downbeat musical with the songs and dance numbers removed. And with its use of courtroom transcripts and journalism of the time, it resembles Gross Indecency: The Three Trials of Oscar Wilde, sharing several cast members and director Anders Cato with Theatre in the Square's 1998 production of that play.
Theatre in the Square offers a compelling and spare production of Myers' unsparing treatment of the material. Things look grim even before the play starts as the stark stage features a tape outline of Mary Phagan's body, as well as rope and platforms evocative of a gallows.
Taking a bit of dramatic license, Lynching features the narration and framing device of Alonzo Mann (Jim Peck), Frank's former office boy at the National Pencil Factory, offering testimony about the case in 1983. His recollections, along with quotations from books ranging from The Klansman to Richard Wright's Black Boy, add portrait to areas already simmering with tension.
In this environment, the strangling of factory worker Phagan (Amber Brooke) is like a match to dry kindling, especially given the resentment against the "New York Jew" who runs the factory, Leo Frank (Jim Roof). Black roustabout Jim Conley (Rob Cleveland) is the prime suspect until he accuses Frank of the crime, changing his testimony with the alleged assistance of prosecutor and future governor Hugh Dorsey (Bart Hansard).
Part of the horror of the case is the way it pits downtrodden minorities against each other. Frank's defense attorney (Charles Horton) argues that the case is based on "Twin P's of prejudice and perjury," but after railing against anti-Semitic bigotry, he goes on to attack Conley's race, branding him "a plain, beastly, lying nigger." In showing glimpses of the investigation, trial and forces at work behind the scenes, Myers shows a fascination and confidence in capturing courtroom strategies, politicking and even the brutal procedures of a vigilante execution.
But by keeping such close tabs on the larger forces at play in the case, Leo Frank's own presence is diminished. Roof portrays him as a rabbity but upstanding citizen caught in a Kafka-esque nightmare despite his misplaced trust in the legal system. But ultimately Frank is defined by his victimization. Roof shows his passions rise as he remains wrongfully accused, but we see few other facets of Frank's character.
Lynching does boast many fine character actor portrayals, which disguise scheming and hate beneath honeyed accents. Horton plays both Frank's incisive lawyer and hatemongering Tom Watson, publisher of the rabble-rousing Jeffersonian, which all but called for Frank's lynching. Don Finney offers three diverse roles as a coarse policeman, the beleaguered governor who commutes Frank's sentence and a Jewish shoe salesman who has an argument and rapprochement with an African-American professor (Tony Vaughn), a scene that offers a respite to the play's mood of impending doom.
In spring 1999, I attended Theatre in the Square's Percolating Playreading series, which featured a reading of The Lynching of Leo Frank, and I was a little more compelled by that presentation. In part, that's likely due simply to seeing Myers' material for the first time, with the second viewing losing a little freshness, especially with Parade keeping the case's details fresh in the mind. Also, a reading allows one to imagine certain stage effects that Cato's production doesn't quite equal. The use of a black light at the beginning, for instance, causes not only the body outline but the white garments of cast members to glow as if at a disco.
Nevertheless, as Frank is forcibly taken to his fate, the play generates real suspense, which is no mean feat given how well we know the outcome, and Myers keeps the religious symbolism to a minimum. At the end, the play depressingly reveals that Frank's headstone bears the words "Nothing changes." But with a Marietta theater staging an intelligent and moving production of The Lynching of Leo Frank, we can hold out hope that those words are not correct.
The Lynching of Leo Frank plays through Sept. 24 at Theatre in the Square, 11 Whitlock Ave., Marietta, with performances at 8 p.m. Tues.-Sat. and 2:30 and 7 p.m. Sun. $20-$26. 770-422-8369.
More By This Writer
Friday July 2, 2021 09:22 am EDT
'Zola' turns viral Twitter thread into stylish cinematic nightmare |
more...
Thursday June 3, 2021 11:45 am EDT
Major motion pictures make comebacks — here's a list of what to expect in Atlanta theaters |
more...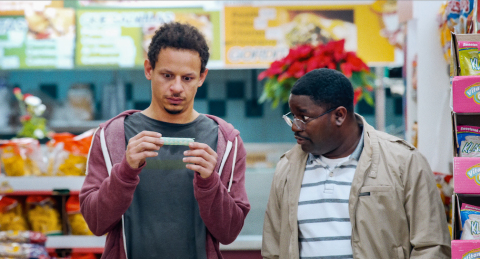 Wednesday May 5, 2021 10:27 am EDT
Unsuspecting Atlantans prove to be the real heroes of the hidden-camera comedy |
more...
Tuesday April 6, 2021 11:24 am EDT
45th Atlanta Film Festival brings world cinema close to home |
more...
Wednesday March 3, 2021 04:31 pm EST
Does it take a pandemic to make the Academy Awards more diverse? |
more...
Search for more by Curt Holman