Soul train
Flashy dance numbers overwhelm thin storyline in Soul Possessed
Choreographer Debbie Allen, famed for "Fame" and the Oscar ceremony's dance numbers, wrote, directed and choreographed the original musical Soul Possessed, now playing at the Alliance Theatre. It's helpful, though, to think of Soul Possessed as something other than a conventional musical. Its thin, familiar plot about star-crossed lovers essentially provides the framework and pretext for Allen's lavish dance numbers in diverse styles. There's very little dialogue, likening Soul Possessed to ballet or some kind of pop opera, but what it most evokes is a Cirque du Soleil evening, where the flamboyant performances are linked by a perfunctory unifying thread.
If Soul Possessed can resemble a glorified talent show, there's no doubt that some seriously gifted people are involved, many no doubt enlisted via Allen's rolodex. At the Alliance production the participants are clearly jazzed to be participating, with everyone seizing the chance to strut their stuff, from dancers to singers to costume designers, from top to bottom. As dramatic content, Soul Possessed tends to be slight and confusing, but Allen serves as ringmaster to some amazing feets — that is, feats.
First presented at the Kennedy Center for the Performing Arts last year, Soul Possessed takes the cultural and spiritual jambalaya of Louisiana as its locale. After a disconnected prologue that alludes to mortality, the opening number takes a kitchen-sink approach to evoking New Orleans, featuring jazz funeral musicians, Mardi Gras celebrants, street people, a gospel chorus and even the Alliance's giant, skeletal puppet of the Ghost of Christmas Past. If only the music, by Allen, Arturo Sandoval and James "Yah Mo Be There" Ingram, gave more emphasis to jazz and less to lite ballads of urban FM radio. Too many songs have lyrics like "Life is meant to live and love is meant to give."
Into this human tumult drives a weatherbeaten Dodge Ram pickup carrying Jesus (Miguel Angel), a Spanish gypsy, with two annoying sidekicks. Jesus meets eyes with Ysabel (Tai Jimenez), who is soon to wed Luke (Destan Owens), scion of a wealthy family. But due to the imperious hostility of Luke's mother (Carmen Delavallade), the nuptials seem a less than joyous occasion.
As the characters wander through the setting, they bump into production numbers. A street corner scene leads to an energetic bout of tap, led by the likable Jason Samuels-Smith. Jesus and his pals seek work at a booty-shakin' juke joint called the Swamp, which features strippers, drag queens (one hilariously teetering on the highest pair of gold platforms you've ever seen) and the blues of Howlin' Wolf. Ysabel doesn't fit in at her future mother-in-law's masquerade ball, but spends more time with Jesus after the gospel singing at a sunny picnic.
Through all this slinks Terry Beeman as the Angel of Death, a shirtless, inadvertently preposterous figure with spiky hair, mascara and angular, undulating moves. There's no question that Beeman can dance, showing off chiropractor-defying splits, flips and dives into the orchestra pit, but he can't help but be a rather silly presence. Also, by having him "invisibly" onstage throughout the action, Beeman gets little new to do when the play reaches its would-be tragic ending.
Watching the routines of Soul Possessed, you're often unsure whether Allen's trying to advance the plot or a theme, or dabble with elements that just look cool. With Death dancing at her side, Delavallade has a private ballet with a white veil and turns from tender to furious, as if nostalgia for lost youth has turned into resentment of Ysabel. But you're not sure if Death is causing her character to physically weaken, be tempted to evil, or what. Supernatural practitioners wander throughout the play, but it's hard to discern if their presence is meant literally or symbolically.
It's a surprisingly risqué show, with flashes of nudity and more salty jokes than you'd expect. A highlight is a number at the Swamp called "Ass Blues," which resembles a burlesque Playboy magazine cartoon set in motion. As Aunt Sally, Sharon Brown exudes brazen sexuality a la Li'l Kim, while showing vocal power of meteorological force.
With more than 30 performers, not counting the seven-piece band, there's often so much going on that the different elements compete with each other. During the gospel song "Praise Him," attention shifts from soloist Jeffery R. Walker to the dancers to comic business at the margins. It wouldn't hurt for the cast to be pared down overall, and this particular song might be better placed at the beginning of Act Two rather than the end of Act One. As is, the only really elaborate number in the second half is an extended, intense voodoo ceremony featuring wild African percussion, and its relationship to the romance is mystifying. As the play nears its ending, it becomes increasingly reminiscent of West Side Story.
Soul Possessed is not much of a show for the acting of dialogue. Some characters can go for literally an hour without any lines, and Miguel Angel's command of English seems especially shaky. But his flamenco dance numbers, his arms raised like a toreador while his heels rattle like tommygun hammers, is a sight to behold. Equally impressive are Jimenez, as limber as any ballerina, and Chandra Currelly, who has moments of amusing scat singing as the mother of the bride.
Compared to the musicals that opened the Alliance's previous seasons, Soul Possessed has more genuinely impressive individual moments than last year's Chess or Aida. It may have a threadbare story, kooky imagery and an unintelligible spiritual message, but after seeing Miguel Angel or Sharon Brown perform for just a few moments, it's easy to see what possessed the Alliance to produce it.
Soul Possessed plays through Sept. 24 at the Alliance Theatre, Woodruff Arts Center, 1280 Peachtree St., with performances at 8 p.m. Tues.-Fri., 2:30 and 8 p.m. Sat. and 2:30 and 7:30 p.m. Sun. $16-$45. 404-733-5000.
More By This Writer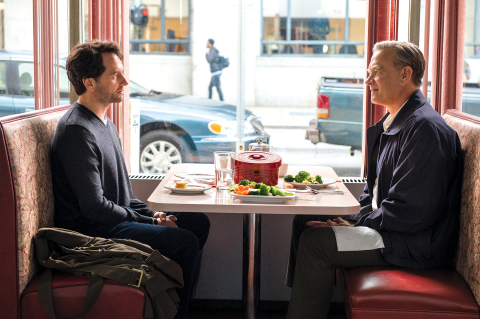 Tuesday December 3, 2019 05:30 pm EST
"A Beautiful Day in the Neighborhood" ignores biopic clichés for surprisingly perfect holiday fare |
more...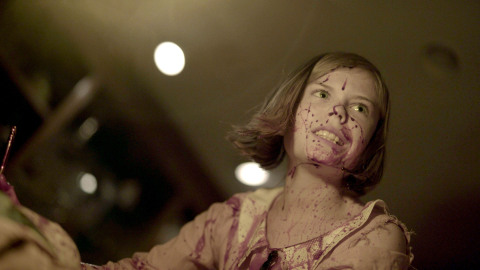 Saturday November 2, 2019 01:08 pm EDT
Indie film event unites Atlanta horror fans while HBO's locally produced series deconstructs superhero genre |
more...
Wednesday September 25, 2019 11:25 am EDT
Atlanta's 32nd annual LGBTQ event presents films with urgency |
more...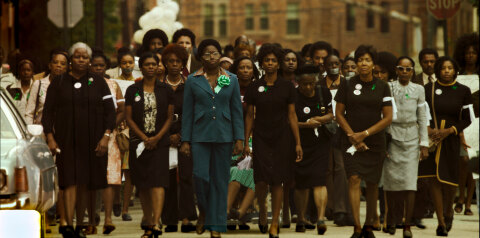 Tuesday September 3, 2019 11:46 am EDT
Revisiting The Atlanta Child Murders |
more...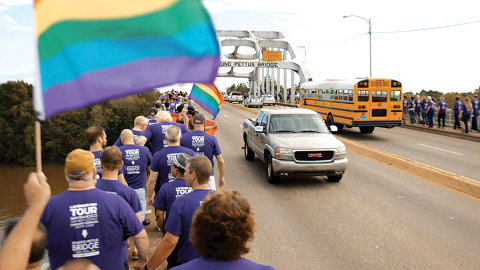 Thursday August 1, 2019 05:02 pm EDT
The season gets cool with local film productions, festivals, and more |
more...
Search for more by Curt Holman