Grazing: Tofu rules
The curd cures you, beautifies you and tastes great

Pivotal moments arrive in every foodie's life. There's the first moment you eat something ordinarily regarded as vermin. There's the day a friend declines dining with you because he wants to "lose weight." Or there's that day like the one I had a few years ago when I was in Los Angeles. I attended, completely under my own volition, the L.A. Tofu Festival. Wandering the Little Tokyo Service Center area, I sampled tofu, heard talks on tofu and, with 30,000 others, gazed with starry eyes at famous beauties who claimed tofu cleared their skin and made their muscles bulge. Medical types promised that tofu reduced the risk of cancer, heart disease, kidney disease and osteoporosis. Why, even menopause is allegedly made divine by tofu.
Honestly, I do like tofu. I can't say whether my affection for the substance, which I once loathed as much as tie-dyed T-shirts and Birkenstocks, arises because of an improvement in my palate or because I am jaded and simply crave anything that relieves the tedium of the average diet. I know only that if you like tofu, you too should visit 88 Tofu House (5490 Buford Hwy., 770-457-8811).
This is a Korean restaurant located in a former fast food venue. Walk in and you are greeted by chaos and kitsch. A serene woman sits behind a cash register smiling while staff members race from bare table to table, often shoving carts, sometimes emerging with giant tongs and scissors to clip the meat from grilled ribs. Mainly, though, you'll see them bearing bowls of tofu-filled soups, which are brought to the table furiously boiling.
Basically, the menu here is 10 soups featuring tofu combined with other ingredients. They cost $5.99 at lunch and $8.99 at dinner. There are also a few tofu-exempt dishes — like classic bulgogi, barbecued beef — but you definitely want to choose the soups.
Before I explain why, let's indulge in an excursus to answer that age-old question posed by everyone's sarcastic, burger-loving friend: "What exactly is tofu?"
Tofu, which is a staple of most Asian cuisines, is made by boiling a mash of soybeans. The mash is filtered to make soy milk. Then a substance is added to cause the curds to coagulate. The curds are gathered and poured into a form (leaving behind the whey). The resulting block is tofu. Basically two types of tofu are produced — the soft "silken" variety and a firm type, which actually comes in a range of "toughness." Firm tofu is good for frying, whereas silken tofu is not. It is best eaten raw or poached in soups, where it acquires the texture of scrambled eggs.
Tofu's primary appeal to many Americans is almost medicinal. It is a complete protein, containing all the essential amino acids, but it has no cholesterol at all and only half the fat of other protein sources. As such it has 25-50 percent less calories than beef and 40 percent less than eggs.
Of course, Asians eat tofu for the protein content and taste, without necessarily thinking of concerns like cholesterol and calories. Tofu also has the interesting property — rather like potatoes — of absorbing the flavors with which it is cooked. (This is particularly true of the silken variety; the firmer types are often marinated for the same effect.) Thus, tofu can blend flavors, like a soup, while adding a delicate texture.
My own opinion is that the Korean use of tofu is especially attractive because the cuisine makes such use of hot chilies. The texture of the silken tofu, soft and almost unctuous, is a nice contrast to the sharp nettles of the chilies.
And, really, taste is the reason to visit 88 Tofu. Many of the soups are blended with shellfish, beef or combinations thereof, so you're not going to dine cholesterol-free or even low-calorie here. In fact, each table contains a plate of raw eggs. When your bowl of bubbling soup comes to the table, you should crack an egg into it. This thickens the flavorful broth.
Like all Korean restaurants, Tofu 88 serves a variety of pickles and noshes, like kimchee and roasted potatoes. You also will want a side of either plain white rice or, my preference, a dusty-colored type with various beans. The temptation will be to spoon the rice into the bowl. I asked our server if we'd violate etiquette by doing so and she said, "It's up to you but it's better to keep separate." (English is spoken here but you're never sure you're really being understood.) I counsel you to follow your own palate. You'll certainly want to put the pickles on your rice and you may want to order a dish of beef or seafood served with rice for contrast at the table. Honestly, though, the beef is inferior to the barbecue served in specialty restaurants in the area.
Of the soups themselves, I like the combination — a nice balance of beef with a variety of seafood and a very piquant broth. You can have your soup mild or spicy. Choose the latter, unless you're a real wimp. It's not the blistering spiciness I've encountered in many kimchee soups in the area, but it will give you a nice tingle.
For dessert you will either be handed an orange or a cup of marvelously cooling rice tea — sweet and refreshing after the stinging chilies.
This is a great alternative to Buford Highway's many Vietnamese soup (pho) kitchens. You will find yourself returning again and again.

Here and there
Fritti, the new pizzeria located next to Sotto Sotto, has opened. Ironically, the restaurant is serving whole fried sardines. Ironically, just last week I complained here that you can't get that dish in Atlanta ... Go directly to Jake's on North Highland, open the freezer and buy every pint of honey-fig ice cream you can find. I've not encountered such a treat in a long time. ... Roman Lily Café, a few doors down from Jake's, has hired Justin Churchill, formerly of the Food Studio, as chef. He will develop a new menu by Oct. 1.
More By This Writer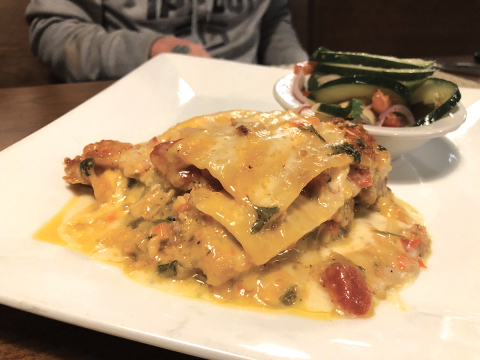 Tuesday February 4, 2020 01:45 pm EST
First visit, first impressions |
more...
Friday January 3, 2020 11:48 am EST
Check out Food Terminal and B's Cracklin' Barbecue |
more...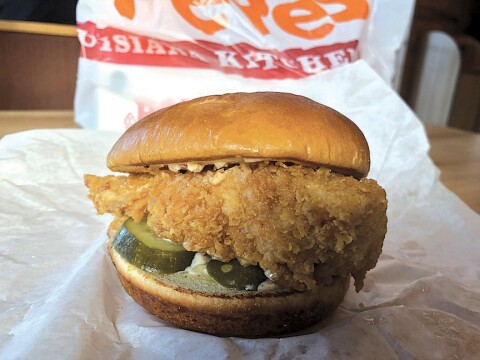 Wednesday December 4, 2019 06:20 pm EST
But there's more that's good in the 'hood |
more...
Monday November 4, 2019 02:15 pm EST
Twenty years ago during frequent visits to LA, I often visited a late-night taco stand on Santa Monica Boulevard, not far from Silver Lake. I stood at a counter outdoors and watched the nightlife while I ate perfect tacos. My usual impromptu dinner companions were two transgender hookers who called the taqueria their "safe space." Yes, I frequently hummed Lou Reed's "Walk on the Wild Side," a... |
more...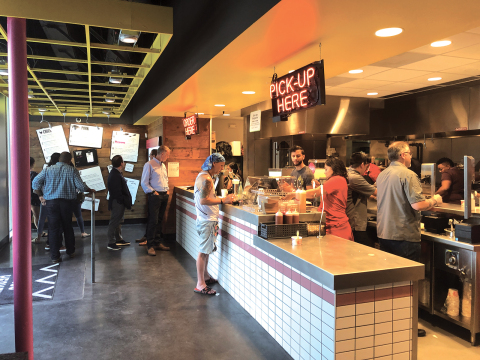 Thursday October 3, 2019 01:03 pm EDT
Velvet Taco and Vietvana stretch the limits |
more...
Search for more by Cliff Bostock