Japanimation
Cheffing theatrics at Matsuri
"Thank God we didn't sit there," I told Wayne at our table wedged in a corner of the sushi bar at Matsuri (650 Ponce de Leon Ave., 404-815-0937).
??
I was referring to the teppanyaki (or "hibachi") grill behind us. A cook was doing one of those knife and pony shows where he theatrically chops meat and vegetables, cracks jokes and invites diner participation. In this case, the participation involved the chef hurling bits of food toward each diner, who tried to catch it in the mouth. Picture people impersonating seals.
??
Matsuri occupies the entire second floor of the same building that contains Qdoba in the shopping complex where Whole Foods is located. It's easy to miss if you're not already aware of its existence.
??
Because of its location, you'll probably expect an inexpensive, informal restaurant. You're half right. It's pretty informal, despite the profusion of orchids inside, but you should carry lots of cash.
??
There's a giant sushi bar in the place, along with the teppanyaki grills, but the menu also includes teriyaki, katsu, noodles, tempura and appetizers. Because many entrees come with miso soup (with one tiny cube of tofu in my bowl) and an iceberg lettuce salad, you may want to skip appetizers unless you're grazing.
??
The menu, despite its huge picture-book style, offers very little that is novel. Indeed, I'm embarrassed to say I ordered the Japanese version of "surf 'n' turf" — teriyaki-seasoned filet mignon with a fat lobster tail ($24.95). Teriyaki is a style of cooking that involves marinating meat and fish in soy sauce to which mirin, a sweet rice wine, and sake are added, along with sugar. "Teri" refers to a shine or luster, and "yaki" refers to grilling or broiling. So authentic teriyaki dishes are almost shiny and on the sweet side.
??
In fact, the sweetness became cloying to me. While the filet mignon stood up to the sauce, the lobster did not. Its flesh, sweet enough without added sugar, was overwhelmed. It's not a subtle sauce. In fact, teriyaki is often cited for its power to make stinky fish less noticeable. Kudos, though, for cooking both the steak and lobster just right. The plate was full of vegetables, too.
??
Wayne ordered a "jen" plate, basically a piggy plate for just under $30, that allows you to taste a wide variety of the restaurant's food — from sashimi and sushi to vegetable tempura and salmon with a couple of salads. Most of the food on the plate was surprisingly good if not especially unusual.
??
Service at the restaurant is great. An alternative to pricey dinner is lunch when the restaurant prepares classic bento boxes for about $10 each. You get a variety, like the jen plates, but on an abbreviated scale. I've not tried one, but I've had favorable reports.
??
New in Castleberry
??
The downtown area called Castleberry Hill continues to gentrify, and the latest place to open there is Baltimore Crab & Seafood (253 Peters St., 404-523-2121). This is more takeout shop than restaurant, although there are four stools available for eating in, as Wayne and I did.
??
The menu offers broiled, fried, steamed and sauteed seafood. It will make you nostalgic for Baltimore's famous downtown Lexington Market, home of the world's best lump crab cakes. They are on the menu here and quite good.
??
In fact, you're going to be surprised how good much of the food is here. Wayne ordered a huge pile of Dungeness crab legs with sauteed shrimp. The restaurant leaves the big shrimp in their shells and butterflies them. They are fabulous.
??
Wayne had never eaten crab legs before and I went out of my mind watching him crack them with his teeth and leave no portion of the shell unexamined for a hidden sliver of flesh. In fact, I finished my own dish 20 minutes before him and went for a walk, stopping to glare at him occasionally through the window.
??
The woman at the register, who calls everyone by pet names, shouted at me to leave him alone.
??
My own dinner featured broiled salmon and sea scallops, along with the sauteed shrimp. Everything was delicious, although there was too much butter or oil on the plate for my taste. A side of corn on the cob, broccoli and potatoes provided some relief, but what the shop really needs to do is provide some bread.
??
I'm inclined to suggest you graze here and order a la carte. The shop will open a restaurant in the rear of its space by the end of July.
??
Here and there
??
Rumors had been circulating that Miss Ann, of Ann's Snack Bar on Memorial Drive, would be retiring in less than a year. Wayne and I visited for the best burgers in our city last week and asked her if it was true. She said she plans to work two more years.
??
That's plenty of time to get fat on "ghetto burgers" and deep-fried hot dogs. Hurrah! ...
??
I stopped at MetroFresh in Midtown Promenade on Monroe for a takeout dinner last week. Bowtie pasta with marinara, topped with grilled flank steak, was killer. If you haven't visited actor-turned-chef Mitchell Anderson's cafe, do so soon. It's great for light, flavorful cuisine and will take the guilty edge off the ghetto burger you ate at Miss Ann's. ...
??
Jeff Boyle and I brunched at the Globe in Technology Square last week. I swear that if parking were easier to manage there, I'd eat at the Globe once or twice every week. Lemon and ricotta pancakes with berry sauce were fluffy and actually tasted like their ingredients. I could, however, have eaten twice the amount served, even with a side of bacon.
??
Jeff had the blue plate of three eggs not-so-over easy with bacon and a latke, and then devoured chocolate cake with vanilla ice cream. ...
??
Lunch at Babs in Midtown is still one of the best deals in town. It's been open two years now. (Check out the themed weekend brunches.) Owner Randy Adler also operates the Preferred Caterer, which recently turned 20, and Preferred To-Go in Buckhead.
More By This Writer
Thursday June 3, 2021 09:53 am EDT
Lunch at El Viñedo Local, dinner from Krystal, lecturing cheap tippers, exploring new foodie media |
more...
Monday May 3, 2021 12:42 pm EDT
Grazing surveys some Atlanta hot dogs |
more...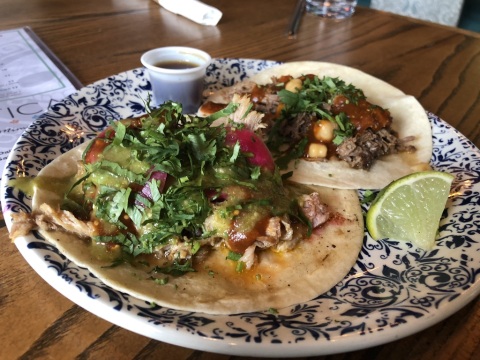 Tuesday April 6, 2021 01:32 pm EDT
The borderless menus of Botica and Mukja |
more...
Thursday March 4, 2021 10:01 am EST
And a cheap fix you can buy right off the shelf |
more...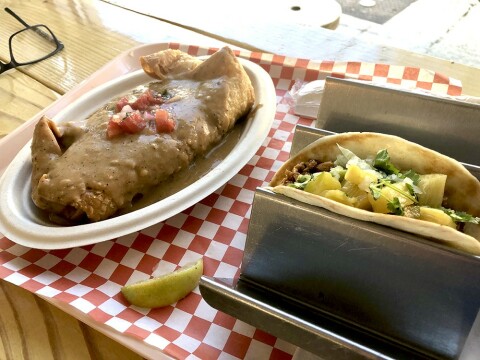 Tuesday December 8, 2020 09:33 am EST
The pandemic makes critics self-critical but Hispanic street food still tastes really good |
more...
Search for more by Cliff Bostock