First Look: Abattoir
Quatrano and Harrison's Westside meat market
Here's a scene from my early career. I was living in a small town in rural Georgia, a place where my big-city senses underwent continual shock. One very early morning, I awoke to the sound of screams. I'm talking blood-curdling screams. They seemed to come from several directions.
I threw on some clothes and hopped in the car. After all, I was a reporter and it appeared a mass murder was underway. What I found was that people were engaging in an annual ritual of the first freeze: butchering hogs. I've never forgotten the sound and the bloody scene I observed.
I suppose I am overly sentimental about animals. After that experience, it was many months before I could eat pork. I went years, too, without eating veal when I saw the conditions of crate-raised calves.
So, I'm admitting at the outset that as soon as I heard about Abattoir (1170 Howell Mill Rd., 404-892-3335), I was rather repulsed. Why would anyone name a restaurant with the French term for "slaughterhouse"? Yes, I understand that the building in which it is located was literally an abattoir nearly a century ago. And I get that the restaurant is part of the "whole animal cuisine" movement, and yet – is it just me? – I don't really want to be reminded of the sounds and spurting of animals in their death throes before landing on my plate.
That said, Anne Quatrano and Clifford Harrison have created another remarkable restaurant. The couple own nearby Bacchanalia, Star Provisions and Quinones, along with Floataway Cafe. Most critics have repeatedly named Bacchanalia Atlanta's best restaurant. Quatrano and Harrison have been at the forefront of farm-to-table dining in our city and Abattoir – featuring "local proteins," as their website says — is a natural extension of that.
Besides joining the whole-animal trend of eating everything from the ears to the tail, the restaurant is also a response to the recession. Prices, like a $10 burger, are significantly lower than Bacchanalia's and Floataway's. And the menu, prepared by Executive Chef Joshua Hopkins, is not all weirdness, even though any adventurous foodie will be drawn to the offal dishes.
Start your meal with snacks, like impossibly airy, house-made pork rinds that radiate all the smoky, bacony flavor the bagged things don't approach. Pair them with another crisp texture — sliced local radishes with butter and salt. Other choices include beef jerky, oysters, soft pretzels, ceci peas and pommes frites.
Now place your order for a few appetizers. Choose one from the "salted and cured" section — salted cod with oven roasted tomatoes and capers in a shallow broth, for example. This is a flat-out amazing play with salty flavors held together by the creamy texture of the fish. Also order something from the "food in a jar" section. We chose the "potted chicken liver and foie gras with armagnac." You won't want to touch more than a drop of the grainy mustard served with this, because it can occlude too much of the sweet and earthy flavors of the remarkable pâté.
Now come your entrees. You can pick from grilled fish and beef, plates of squab or beer-braised rabbit and, most intriguing, offal dishes. Most of the latter, like fried chicken livers and lamb-liver fritters, are $8.50 and could as well be ordered as starters.
I selected the most expensive offal dish ($15), tripe stew with pork belly, fresh fava beans and tomatoes. Tripe is something I've tried to develop a taste for but have never really gotten excited about, although God knows I've eaten a lot of it in the form of menudo. Abattoir's is by far the best treatment I've ever encountered. I suspect the kitchen is mindful of the disgust tripe (stomach lining) can cause, so the presentation is rather refined. The tripe in my stew was clipped into small pieces and the bowl was actually dominated by the large hunk of pork belly. No big hunks of honeycomb tripe in a heavy pork broth. Abattoir uses chicken broth.
Wayne ordered the evening's most challenging dish – corned and grilled lamb kidneys with chopped cornichons. He liked it; I had another flashback. When I was in my 20s, I decided to try my hand at cooking beef kidneys. I went to a butcher in Augusta to get a few and as he wrapped them up for me, he began a lengthy rant that started with, "Now you gotta soak these mothers to get the piss out. I mean soak 'em good, because they will taste like piss." He even blocked the door while he ranted on. I cooked them in a very fancy way … and then, unable to shake the butcher's rant, I threw the whole dish out after one taste. I still can't eat kidneys.
For dessert we ordered maple-bacon beignets and a sourdough waffle with cream and dark chocolate sauce. The former were my favorite, with the bacon being sparsely crumbled into the maple sauce.
We did have one strange experience here. Toward the end of our meal, our server came to the table and said, "What is your name?" Huh? "The chef wants to know your name?" I asked who the chef was and he said Quatrano was working. "Um, you can tell her Cliff is here," I said. I was truly taken aback by this and, in retrospect, wish I'd given my name as Rumplestiltskin.
Later Anne, whom I've met many times, came out of the kitchen and was chagrinned that the server had asked me directly. She said she had meant for him to ask the host. (I use a phony name, of course.) I asked her what prompted her curiosity and she said we had "ordered well" and asked a lot of questions of the server, who had relayed them to her.
Oh well, busted, but our meal was about over, so I don't think we got extra-special kidneys.
What else? The space is beautiful. It's a large open room, all brick and wood, with a bar, like Bacchanalia. The lighting is amber-gold. There's a big patio with a fireplace. Handicapped access requires a map, it's so complicated, but easy once you learn the way. Those you really want to leave at home are vegetarians and PETA peeps.
More By This Writer
Friday January 3, 2020 11:48 am EST
Check out Food Terminal and B's Cracklin' Barbecue |
more...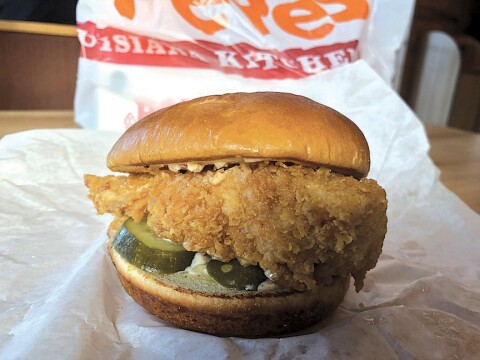 Wednesday December 4, 2019 06:20 pm EST
But there's more that's good in the 'hood |
more...
Monday November 4, 2019 02:15 pm EST
Twenty years ago during frequent visits to LA, I often visited a late-night taco stand on Santa Monica Boulevard, not far from Silver Lake. I stood at a counter outdoors and watched the nightlife while I ate perfect tacos. My usual impromptu dinner companions were two transgender hookers who called the taqueria their "safe space." Yes, I frequently hummed Lou Reed's "Walk on the Wild Side," a... |
more...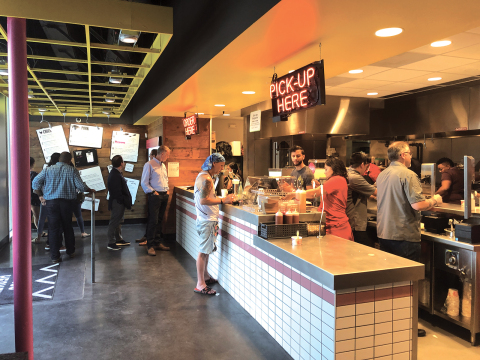 Thursday October 3, 2019 01:03 pm EDT
Velvet Taco and Vietvana stretch the limits |
more...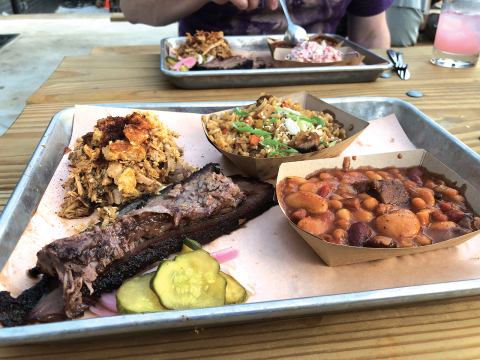 Wednesday September 4, 2019 06:04 pm EDT
Religious barbecue, tattooed pizza, and bejeweled ice cream |
more...
Search for more by Cliff Bostock