First Look: Mykonos Taverna
Plus, a visit to Nick's and the new Rolling Bones
It's not often that a flock of 20 or so geese greets you outside an Atlanta restaurant, but that was our experience in the parking lot of Mykonos Taverna (2901 Clairmont Road, 404-638-6770) last week.??The geese seemed completely unfazed by our presence. In fact, one quickly waddled toward the car, hoping for a taste of spanakopita. My guess is that they actually live at the office park adjoining Sam's Club, behind which Mykonos is located. ??This restaurant has been opened by the same people who operate Mykonos Grill on Cobb Parkway. As the hostess showed us to a table inside the garishly neon-lit restaurant, she issued an apology. "Have you been waiting months for us to open like everyone else?" she asked. "I apologize."??Well, frankly, no. I haven't been waiting. The truth is that of all the world's cuisines, Greek food is my least favorite. Oh, I love Kyma, because it's all about whole wood-grilled fish. But I have no taste for the super-garlicky, often excessively oily casserole dishes. Once upon a time, Evelyn's Café made some of these palatable to me, but that restaurant closed years ago.??Mykonos has a number of casserole dishes on its lengthy menu, but we avoided them. We started with a plate of charcoal-grilled octopus drizzled with olive oil, vinegar and oregano. It wasn't bad, but it tasted as though it was likely made ahead of time and reheated. Kyma's grilled octopus is the absolute standard in the city and this didn't come close, taste- or texture-wise.??We also ordered the pikilia, a plate of four spreads with pita bread and tazatzki – nothing to complain about but nothing to rave about, either. Two of the spreads were made with potatoes and the others with eggplant and feta.??For an entrée, I chose the lamb shank – actually two of them – served over utterly tasteless orzo pasta turned red by an utterly tasteless tomato sauce. The lamb itself – like most everything else – tasted fine. Overcooked potatoes were also on the plate. My entrée came with the worst avgolemono soup I have ever encountered. It was literally gelatinous. ??Wayne ordered straight-up grilled squid – large cylinders you often see stuffed. I found the squid annoyingly chewy, but Wayne, who has pictures of himself with friends in Mykonos on our refrigerator, was in one of his nostalgic moods. I call these "postcard moods," because he turns everything into something pretty and positive, including the squid he ate. He even shouted "Opa!" when someone dropped a plate. I replied with "Oy!"??The restaurant's interior features lots of shiny marble and blue neon signs. I noted a mirrored disco ball in the center of the main dining room, so I'm suspicious that the restaurant hosts belly dancing or invites diners to join in Zorba-style dances. ??Mykonos has a huge menu that includes wraps, burgers, salads, gyros, kabobs, pastas and casseroles. Any definitive review will depend on a much broader sampling.  ??Meanwhile, in Grant Park ...
??"It takes some people 15 minutes to read the fucking menu!" Nick barked at Wayne, who had asked for a to-go menu at Nick's Food to Go (240 Martin Luther King Jr. Drive S.E., 404-521-2220), a Greek takeout café in Grant Park. We had arrived about 10 minutes before his 8 p.m. closing and apparently he was in a hurry to end the day. Nick then turned and yelled at someone in the kitchen. Wayne froze, literally unable to order. I told him to go ahead and get the gyro plate. I ordered the lamb plate with fries.??This 15-year-old, tiny spot, which seems especially popular at lunchtime, is the kind of place many foodies romanticize. You get your crotchety but lovable owner, working with his wife and daughters. You get zero ambiance, just the smell of garlic. You get pictures of Kevin Rathbun happily devouring the food. You get food that is, well, uh…. ??I hadn't visited in years. I originally found the place likable – especially the daily specials like patitsio and lemon-baked chicken – but I don't share others' extreme enthusiasm. My roasted lamb, for example, was so garlicky and oily that I awoke after 12 hours of sleep (in a semi-upright posture to avoid reflux) still tasting the stuff. True, it's a huge portion served with fries and a salad. I couldn't eat half the fries and lamb and didn't touch the salad at all. Wayne's gyro, also featuring the lamb, was equally overwhelming.??So, if you're looking for a bargain, Nick's is the place to go to. If you're looking for good food, stick to the specials. I'll go back in another five years.??Rolling Bones redone??We finally got to Rolling Bones (377 Edgewood Ave., 404-222-2324) to sample the influence of chefs Reginald Washington and Todd Evans, who bought the restaurant with several others earlier this summer. Evans has made some mainly positive changes.??The most positive is the addition of a sandwich of pulled smoked duck with fig relish. Don't even think of putting barbecue sauce on this, even though it's served on the side. The sandwich is made with two big slices of Texas toast, so you can forget about actually eating it with your hands, unless you get sturdier bread than I did. But it's delicious.??The barbecue sauce has changed. It's thicker for one thing. I don't like it as much as the original, but Wayne liked it better. He ate it over the restaurant's brisket, my usual favorite here, that otherwise tasted unchanged.??Another major addition is smoked and grilled trout, available as a plate or a sandwich. The restaurant had sold out when we dined there. A salmon plate is also available now, along with smoked turkey. ??Side dishes are more substantial and include potato salad sprinkled with crispy bacon. There's also stewed tomato succotash that reminded me too much of canned Mexican corn. Other additions include sweet potatoes with maple butter, cucumber salad and corn on the cob with paprika butter.
More By This Writer
Friday January 3, 2020 11:48 am EST
Check out Food Terminal and B's Cracklin' Barbecue |
more...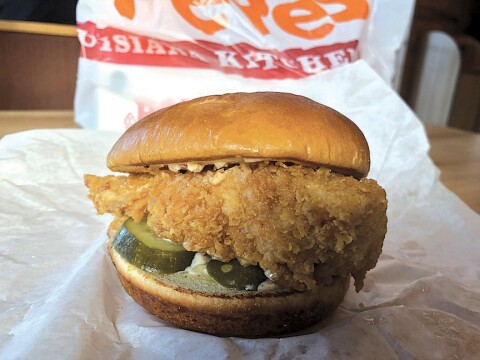 Wednesday December 4, 2019 06:20 pm EST
But there's more that's good in the 'hood |
more...
Monday November 4, 2019 02:15 pm EST
Twenty years ago during frequent visits to LA, I often visited a late-night taco stand on Santa Monica Boulevard, not far from Silver Lake. I stood at a counter outdoors and watched the nightlife while I ate perfect tacos. My usual impromptu dinner companions were two transgender hookers who called the taqueria their "safe space." Yes, I frequently hummed Lou Reed's "Walk on the Wild Side," a... |
more...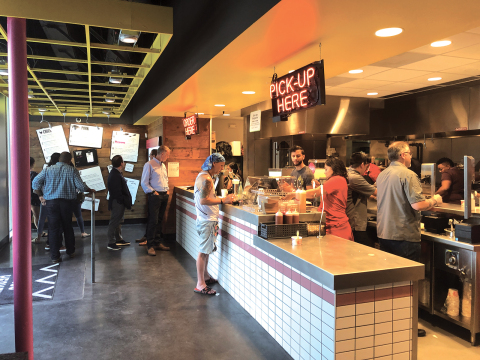 Thursday October 3, 2019 01:03 pm EDT
Velvet Taco and Vietvana stretch the limits |
more...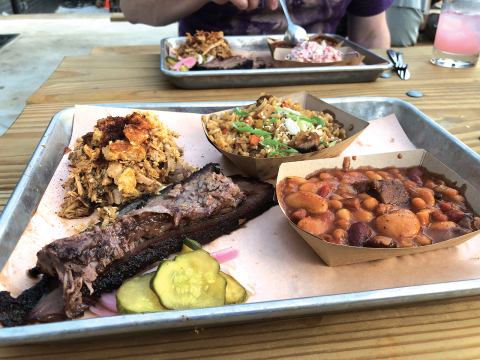 Wednesday September 4, 2019 06:04 pm EDT
Religious barbecue, tattooed pizza, and bejeweled ice cream |
more...
Search for more by Cliff Bostock