The Blotter's New Year's resolutions - 2011
Time for drastic changes
RESOLUTION NO. 1: Know where you're not wanted. In Edgewood, a huge multifamily feud broke out. One woman "looked as if she had lost some hair during the dispute," police noted. The whole thing centered around a pregnant 17-year-old girl and some pesky college guy who thinks he's the baby's father. The guy's family invited the girl's family to talk things over at their Whitefoord Avenue home.
"We came to talk to [[[his] mother about him harassing her about being the father of her child," the girl's sister said. "He has been sending crazy text messages and calling all times of the night to my mom and sister. They invited us in to talk. [[[The mom] felt like we was saying that her son wasn't good enough ... and she started to get outrageous ... she said, 'Y'all go,' and literally pushed us out."
The girl's family started to walk away when "three dudes" jumped out and "one of them was dressed like a girl." The sister added, "They threw rocks at us and beat my car with some gold thing." The preggo teen said, "The man dressed like a girl was chasing us with a gold fire pole."
A neighbor said people were throwing shoes in the front yard, and someone wielding a pole herded everyone out of the yard. Police charged about a dozen people — from both families — with fighting. No one was seriously hurt.
RESOLUTION NO. 2: GET OVER YOURSELF: You know that bitch/dude who thinks they are so much hotter than they really are? Don't be that person.
A 24-year-old woman said "one of her many enemies" vandalized her car near her home on Humphries Street. Her white Suzuki's front bumper was crumpled, the windshield was broken, and the drivers-side window was smashed out. The officer noted, "She did say that she has many enemies from her past and doesn't know how they found out where she lives or which one of her many enemies dating back to high school may have damaged her vehicle." The officer asked, "Why do you have so many enemies?" The woman replied, "Look at me, I mean, not to sound conceited, but look at me."
The woman's enemies (real or imagined) remain at large.
RESOLUTION NO. 3: DON'T LEAVE PRICEY SHIT IN A BAR: A 28-year-old man said his laptop computer was stolen from a bar in Little Five Points. At around 11:30 p.m., after sitting at the bar with his computer, he decided to leave for an hour and, yes, left his laptop behind. Shocker: It was gone when he returned. The man said he kept returning to the bar for several days to see if anyone found his laptop, but the answer was always "no." The man said he keeps his computer in a black leather bag with the words "University of Amsterdam" on it. (Ah, college in Amsterdam. Maybe that explains his unique brand of carelessness?)
Items in the Blotter are taken from actual Atlanta police reports. The Blotter Diva compiles them and puts them into her own words.
More By This Writer
Thursday July 1, 2021 01:36 pm EDT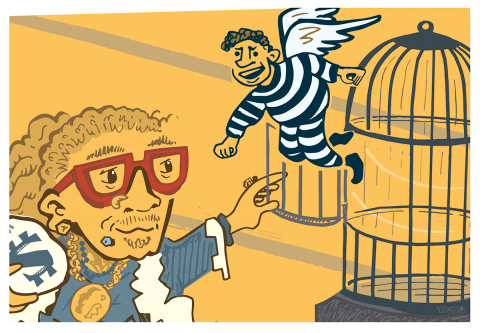 Wednesday June 2, 2021 06:26 pm EDT
Tuesday May 4, 2021 07:40 am EDT
Monday April 5, 2021 11:35 am EDT
Monday March 1, 2021 03:29 pm EST
Search for more by Lauren Keating
---