Theater Review - Tennessee Williams' mind games have Sudden impact




??When mental patient Catharine Holly declares "I just think I'm dreaming this. It doesn't seem real," she offers convenient advice on how to watch Suddenly, Last Summer. ??The 1958 play qualifies as one of the weirdest in Tennessee Williams' canon. It's the go-to work for detractors who want to decry the playwright's penchant for overheated extremes of human behavior. When Suddenly touches on lobotomies and sexual predation, it's just getting warmed up. Actor's Express' compelling production, directed by Melissa Foulger, implicitly suggests that audiences relinquish expectations for realistic roles developed in conventional, satisfying ways. It's more rewarding to view Suddenly, Last Summer as Williams' act of self-psychotherapy, energized with a kind of climactic cross-examination scene worthy of courtroom drama. ??From the outset, Suddenly presents the stage as a mindscape's dark jungle more than an everyday setting. Fronds hang over the set of a New Orleans mansion's overgrown garden, full of Venus flytraps and other primordial life forms. Wealthy Mrs. Venable (Shannon Eubanks) explains to young Dr. Cukrowicz (Joe Sykes), aka Dr. Sugar about her beloved, fortyish son Sebastian. Mother and son had the kind of relationship Oedipus would envy. Mrs. Venable holds a grudge against Sebastian's nubile cousin Catharine (Kate Donadio) for her "child's" besmirched reputation and death at a tropical hellhole called Cabeza de Lobo, or "Wolf's Head." (Symbolism alert!)??Suddenly's central onstage trio prove analogous to roles that recur in Williams' more respectable plays. Domineering Mrs. Venable, mentally frail Catharine and ambivalent, attractive Dr. Sugar find parallels in Amanda and Laura Wingfield and the Gentleman Caller from The Glass Menagerie. Those archetypes clearly loomed large in the playwright's psyche, while Sebastian can easily be imagined as Williams' worst possible version of himself, a dissipated poet who writes rarely, if at all. ??The playwright and this production's stagecraft talents make Suddenly, Last Summer feel like more than navel-gazing with Southern gothic accents. The actors bring out the sultry poetry in Williams' dialogue, particularly when Catharine recalls an erotic encounter the night of a debutante ball. Catharine describes a man who takes her parking at night: "I said 'What for?' He didn't answer, just struck a match in the car to light a cigarette in the car and I looked at him in the car and I knew 'What for.'" Donadio's line-reading has heat worthy of Maggie the Cat, and puts Catharine in the company of Williams' heroines who embrace their sexuality and are punished for it.??In Foulger's production, Eubanks' and Donadio's (mother and daughter offstage) performances play against Suddenly's central power dynamic. Donadio makes Catharine seem less like a sacrificial victim than a caged panther stalking the stage. Without the presence of her jailer, Donadio's Catharine would be something like a full-fledged femme fatale. (I was reminded of a remark Williams made about Elizabeth Taylor in the Suddenly feature film: "It stretched credulity to believe such a hip doll as our Liz wouldn't know she was being used for something evil.")??Meanwhile, Eubanks portrays Venable less like a dowager empress than a girlish coquette with a mean streak. When Dr. Sugar asks to see a photo of Sebastian, Eubanks sing-songs "Yes-indeed-you-co-ould!" Eubanks doesn't neglect the role's steely wrath, but she's not as intimidating as Mrs. Venable can be. Mrs. Venable has all the power and resources, but in this production, Catharine seems evenly matched. ??As Catharine's compromised family members, Jo Howarth and Bobby Labartino offer credible performances that help give the production some footing in reality. Overall, though, Suddenly Last Summer waves the real world bye-bye and ultimately feels more like a Jungian ritual along the lines of Equus or a Greek tragedy. Actor's Express brings out all the vitality in the work, but it connects more directly to the playwright's head than his characters' hearts.
More By This Writer
Friday January 11, 2019 10:14 am EST
Satiric humor spices up portrayal of institutional corruption |
more...
Monday December 10, 2018 01:11 pm EST
Netflix's new classic, "Roma" |
more...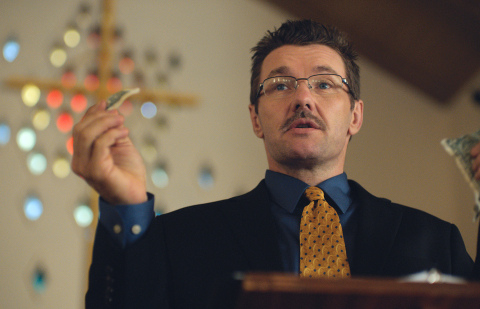 Thursday November 1, 2018 05:55 pm EDT
Joel Edgerton's gay conversion drama captures Southern homophobia better than the horror remake evokes its haunting predecessor |
more...
Thursday October 4, 2018 05:46 pm EDT
Bradley Cooper's remake of classic Hollywood romance gives Lady Gaga a de-glammed star turn |
more...
Sunday September 30, 2018 05:00 am EDT
New releases across genres share spotlight with other fall film events |
more...
Search for more by Curt Holman