Hollywood Product: Charlie St. Cloud
Zac Efron's latest film could use a little help from above
GENRE: Dark supernatural drama
THE PITCH: Based on the book The Death and Life of Charlie St. Cloud by Ben Sherwood, Charlie (Zac Efron) is brought back to life after a tragic car accident only to find out his younger brother Sam (Charlie Tahan) didn't make it. Charlie makes with Sam while on the other side, and soon learns he can still communicate with his dead brother from beyond the grave as long as he keeps his promise to meet him at sunset. Their special relationship is challenged when Charlie's interests turn toward amateur sailor Tess Carrol (Amanda Crew), whose failed attempt to circumnavigate the globe leaves her lost at sea and near death.
MONEY SHOTS: During an annual yacht club race, Charlie and Sam push their boat, the Splendid Splinter through the pack of sailboats as they fight to take the lead again other seasoned racers. As morbid as it seems, the graphic image of the fatal car crash is both painful and fascinating to watch.
BEST LINES: Charlie, now the town's cemetery caretaker, warns a marine about rubbing bird droppings off a tombstone, to which the marine replies "If I was going to rub one out, I wouldn't do it at a graveyard, St. Cloud." As the soldier turns he sees the comment is from his high school friend Sully (Dave Franco), who's "home" from the war. Charlie won't give over his latest issue of Pacific Yachting to Sam because he thinks his brother will wreck it. Sam jokingly snorts, "Oh, I'm totally gonna wreck it, repeatedly."
WORST LINE: Charlie runs into Florio Ferrente (Ray Liotta), the paramedic who brought him back from the dead, at a local cafe where they exchange pleasantries. Ferrente now a shell of his former self explains to Charlie, "I got the big C," referring to cancer.
PRODUCT PLACEMENT: Charlie patrols and maintains the grounds of the cemetery on a John Deer Gator. Tess' sailboat is plastered with sponsor labels, including Kodak and Sperry Top-Sider, the nautical moccasin shoemakers.
HEY WAIT A MINUTE, I'VE SEEN THIS BEFORE: Well not really, but there are elements from two supernatural films: The Invisibles and The Sixth Sense. If you're horror/sci-fi buff, you'll pick up on those moments immediately.
NUMBER OF GIRLS WHO SWOON OVER CHARLIE: 5
NUMBER OF GIRLS CHARLIE KISSES: 1
NUMBER OF EFRON CLOSE-UPS: Too many to count. I stopped at 24.
A GUIDE TO RECOGNIZING YOUR SAINTS: A pendant of Saint Jude shows up several times throughout the film. It first appears in the possession of Ferrente, later its bequeathed to Charlie. According to the Catholic Guide to Saints and Angels, Jude is the patron saint of desperate cases and lost causes.
BOTTOM LINE: What starts out as a sappy love letter between brothers slowly, and I mean slowly, turns into a sappy, melodramatic farce that's just impossible to embrace. Director Burr Steers' choice to make the film to skew younger for the Efron fans, sadly turns the supernatural relationship between the St. Clouds into a drawn out bore and forces the conflict of severing the connection mundane and anti-climatic. The film's high point is Efron and Tahan's genuine performances. The two actors do an incredible job of creating a credible symbiotic relationship on screen that's moving despite some sappy dialogue.
Efron proves he's more than capable of handling the dark, demanding role of Charlie, but with the shaky story, bland dialogue and muddy climax, even he can't keep this log afloat.
More By This Writer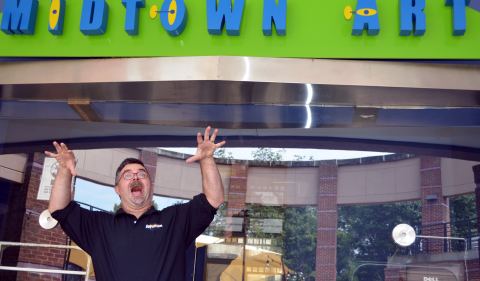 Monday September 10, 2018 04:26 pm EDT
Director Jim Farmer reflects on Atlanta's queer film festival |
more...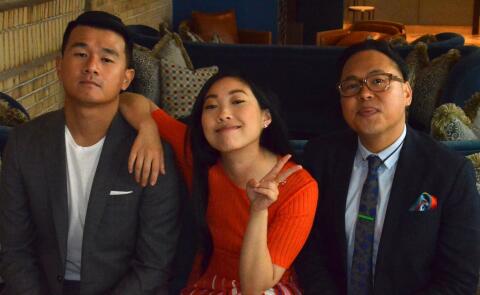 Friday August 24, 2018 05:00 am EDT
The cast of "Crazy Rich Asians" open up about what it means to take part in a film depicting Asian people and culture |
more...
Tuesday July 3, 2018 12:53 pm EDT
Having a day on the rapids is much closer than you think. |
more...
Friday June 8, 2018 04:23 pm EDT
Mondays nights in East Atlanta Village were relatively quiet. Now two weekly pop-up music events are trying to make Mondays a destination for good times and good music.
The Churchill Grounds jazz trio kicks off the evening's session at Jazz-Art Martini Mondays at Ten Atlanta. Playing traditional jazz favorites, the trio continues a longstanding tradition of allowing local musicians and...
|
more...
Thursday May 10, 2018 09:58 am EDT
Get your show idea on TV! |
more...
Search for more by Edward Adams