Photo Galleries - Cahoot with the Root
Eyedrum Art and Music Gallery held Cahoot With the Root, a benefit for WonderRoot Community Art Center on Jan. 23. The second annual fundraiser featured artists of all kinds during the evening of artistic spectacle.
(Photos by Jessica Cargle)
More By This Writer
Sunday August 30, 2009 04:00 am EDT
The "world's greatest beer" was available at the 6th Annual German Bierfest on Aug. 29 at Woodruff Park. Atlantans flocked to the late-summer event with friends, family, and colleagues to enjoy a great glass or two (or five )of German culture. Over 30 different German beers were poured.
(Photo by Jessica Cargle)
|
more...
Wednesday June 3, 2009 04:00 am EDT
The Earl was home to the U.S. Air Guitar Atlanta Regional Competition on June 1. The celebration of fake guitar-playing brought out the unabashed practitioners of air guitar awesomeness. The winner of the night was The Fro. Rock on. |
more...
Sunday May 31, 2009 04:00 am EDT
Screen on the Green drew the crowds, with umbrellas, chiars and waterbottles in hand, to watch Back to the Future. The first event of the season was held May 28 at Centennial Olympic Park. |
more...
Tuesday May 19, 2009 04:00 am EDT
The Mattress Factory Studios hosted a Spring Open Studios art event on May 16 from noon to 10 p.m. The group art show featured painting, photography, sculpture, and performance/installation art from several emerging and established Atlanta artists. Maxwell Sebastian, Todd Alexander, David Huff, Michi, Tony Hernandez,  Esteban Patiño, Dana Haugaard, Nicholas O'Neal Blume, Aaron Whitehouse, Jhymn... |
more...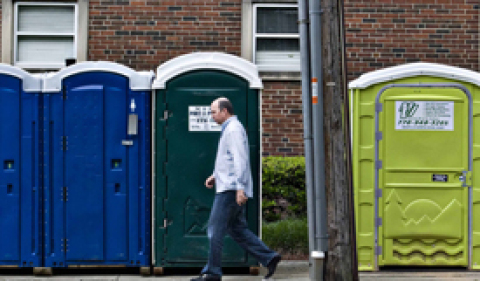 Tuesday May 12, 2009 04:00 am EDT
Sweet Auburn Festival 2009 |
more...
Search for more by Jessica Cargle