Food - First Look: Polaris
Dining under the iconic blue dome and all its '70s glory
When the Hyatt Regency hotel opened Downtown in 1967, it was a game changer. An early effort from Atlanta architect John C. Portman Jr., the effect of the hotel's stunning 22-story atrium, its space-age glass elevators, and Polaris, the blue-domed revolving restaurant set atop the building, was like science fiction realized.
Eventually, the novelty began to fade. Portman, and his imitators, replicated his insulated atrium-layout and exposed glass elevators to the point of exhaustion. Construction of newer, taller buildings slowly intruded on the panoramic views that had been Polaris' signature. Business dwindled and the restaurant closed indefinitely in 2004.
After a 10-year hiatus, the newly re-opened and refurbished Polaris has returned in all of its '70s glory. The revolving blue-domed restaurant is about back-to-the-future theatrics set against a 360-degree skyline view.
Design elements such as the host stand's vintage suitcases and servers outfitted like mid-century flight attendants are meant to transport diners back in time. The same goes for the literal trip visitors must take in one of the Hyatt's glass elevators up 25 stories to reach Polaris. Tulip-shaped and lined with sparkly white lights, the glass bubbles that float up and down the lobby's giant concrete columns look like a cross between something that fell off Cinderella's carriage and the Jetsons' flying car.
Floor-to-ceiling windows line the circular dining room, which slowly rotates around the stationary open kitchen once every 45 minutes. There is a communal table in one area, loungey couches with small round tables good for cocktailing, a swank bar area, and a section of intimately spaced two-tops.
If the design goal of the whole operation is to visually transport diners back to the 1970s, Polaris' food menu will yank you back to more recent times in a jiff. Executive chef Martin Pfefferkorn, also at the helm of the Hyatt's lobby restaurant Sway, oversees the kitchen with the help of chef de cuisine Rodney Ashley. It's evident that the chefs pay attention to seasonality and local sourcing (Spotted Trotter tasso ham, Sweet Grass Dairy cheese, etc.), but in general, the Polaris of 2014 seems to pick up right where the Polaris of 2004 probably left off. The menu reads like a postcard from the height of Atlanta fine dining, a time when highly conceptualized dishes were accented by dramatic, precious plating styles.
Every dish that hits the table looks like edible modern art. Medallions of sous vide pork tenderloin, for example, were nestled in perfect swooshes of smoky carrot purée and bookended with cubes of crisp and creamy potato pavé. A thin line of glistening balsamic reduction creeping out from under a buttery tart shell filled with ribbons of shaved squash and ricotta cheese looked like fine calligraphy.
The 12-item menu is currently in its fourth or fifth iteration since the restaurant reopened eight weeks ago, partly due to the kitchen's desire to maintain seasonality and its ongoing effort to respond to guest's feedback. Two throwbacks, a supple lobster cocktail starter presented sashimi-style and a deconstructed steak Oscar, have remained since day one. A bar-bites portion of bacon popcorn and rotating selection of some H&F Bread Co. bread with butter always appear on the menu, as well. There's usually at least one soup, most recently a puckery yellow pepper and corn, and a salad. The rest are a mix of small plates and medium-sized entrées that won't set you back more than $22.
The cocktail menu reads like most lists at upscale restaurants these days, but most drinks come laced with heavy-handed sweetness. The Oneiroi, named after the Greek spirits of sleep, is made with cayrum, allspice dram, saffron syrup, cream, and is served with an almond shortbread cookie resting across the mouth of the glass. It drinks like a saccharine sweet glass of Life cereal milk on the rocks. Polaris serves just a handful of beers, including Bud Light, Session Lager, UFO White, and Duck-Rabbit Milk Stout. The wine list is longer, and mostly focuses on popular selections with mass appeal.
Polaris is best experienced through light bites, stiff drinks, and good company. The 360-degree views and the restaurant's casual, accessible ambiance are reason enough for a visit.
More By This Writer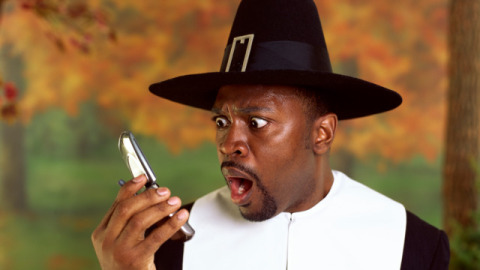 Friday November 17, 2017 06:57 pm EST
Our favorite hometown honky bitch, author Hollis Gillespie, came up with "The 5 Absolute Worst Thanksgiving Day Dishes" for her Shocking Real Life Writing Academy newsletter. Now we all have our own weird little food quirks, but very few sound as unappetizing as Thanksgiving sushi. Thanksgiving sushi? Really? That's just gross.
1. Bacon Mug: This is a giant mug made of fried bacon and filled...
|
more...
Wednesday July 19, 2017 08:09 pm EDT
ATL entrepreneurs and the spaces they call HQ |
more...
Thursday February 16, 2017 11:47 am EST
The founder of fourofour combines local artists, e-commerce and entrepreneurship |
more...
Thursday September 8, 2016 09:00 am EDT
Twain's Brewpub and Billiards' Executive Chef makes a satisfying and affordable meatless meal |
more...
Wednesday August 3, 2016 04:30 pm EDT
image-1
While the Hawaiian alphabet only has 12 letters, five vowels and seven consonants, dishes with Hawaiian flair can leave you scratching your head. Yet the Hawaiians are on to something when it comes to BBQ, creating the most tender and moist pork using to the islands' traditional kālua (KA-lua) baking method.
Waikikie Hawaiian BBQ (2160 Braircliff Road,...
|
more...
Search for more by Stephanie Dazey