Decade in Review - MUSIC: Top 101 Albums of the decade (2000-2009)
CL counts down Atlanta's greatest hits
In the unforeseeable future, a time capsule of the current decade will surface bearing Atlanta's aural stamp. This is what we hope it will sound like.
25) Anna Kramer (Self-released, 2004) Country charm meets Rolling Stones' energy on Kramer's first foray into recording music.
24) Pysche Origami, The Standard (Arcthefinger Records, 2005) Multilayered concept album fuels the body and soul while offering an alternative to Dirty South hip-hop.
23) Micranots, Obelisk Movements (Sub Verse, 2000) Atlanta transplants Kool Akiem and I Self Divine meld indigenous hip-hop with pan-Africanism.
22) The Rock*A*Teens, Sweet Bird of Youth (Merge, 2000) The last stand for Cabbagetown's sweetest, saddest and noisiest indie darlings
21) Cee-Lo, Cee-Lo Green and His Perfect Imperfections (Arista, 2002) A Southern kaleidoscope of head-banger rock, gospel, soul and introspective hip-hop leaves strange fruit hanging from the solo debut of Goodie Mob's Yoda.
20) Carbonas, Carbonas (Goner, 2007) Razor-sharp, teeth-gnashing, buzz-saw, black shirt, kick-in-the-gut, punk rock angst.
19) Supreeme, Church and State (Self-released, 2004) Grady High's finest go global as international playboys with laissez-faire attitude and wet dreams to spare.
18) Janelle Monáe, Metropolis: The Chase Suite (Wondaland Arts Society/Bad Boy, 2007) The conceptual cybergirl from outer space seduces humanity with theatrical vocals and a syrupy sweet, electro-pop romp.
17) Zoroaster, Voice of Saturn (Terminal Doom, 2009) Psychedelic metal grooves that reach into the farthest reaches of the stoned cosmos.
16) Gaelle, Transient (Naked Music, 2004) Haitian native and veteran Wamdue Project vocalist unveils a hypnotic set that combines sensual, personal songwriting with dancefloor lust.
15) Donnie, The Colored Section (Giant Step, 2002) Socially conscious debut from Atlanta's tormented soul sojourner.
14) T.I., King (Atlantic, 2006) Manchild in the promised land fulfills his proclamations with king-sized anthems, mythical street swagger and a penchant for pop hooks.
13) Van Hunt, Van Hunt (Capitol, 2004) Seductive pop songwriting and a refined approach to soul mark the debut from sophistifunk's would-be prince.
12) Tenement Halls, Knitting Needles & Bicycle Bells (Merge, 2005) Former Rock*A*Teens frontman still chasing Cabbagetown ghosts through a haze of reverb and heartbreaking melodies.
11) Prefuse 73, Vocal Studies + Uprock Narratives (Warp, 2001) Cut-n-paste vocal chirps blended with abstract beats that took blip-hop to a higher level.
10) Gnarls Barkley, St. Elsewhere (Downtown/Atlantic, 2006) Nothing's crazier than the psychedelic, soul-searching suite from odd couple Danger Mouse and Cee-Lo.
9) Gentleman Jesse, Gentleman Jesse (Douchemaster, 2008) Former punk rocker rises above to flesh out the craft of powerful and concise pop songwriting.
8) Pastor Troy, Face Off (Universal Records, 2001) The pastor of crunk blurs the line between heaven and hell in this maddening, self-conscious psychodrama.
7) Black Lips, Let It Bloom (In The Red, 2005) The fuzzy, garage-rock album that made people say, "When did these guys get good?"
6) India.Arie, Acoustic Soul (Motown, 2001) Self-love wrapped around acoustic chords and earthy lyrics make for an innovative debut from one of Atlanta's favorite singer/songwriters.
5) OutKast, Speakerboxxx/The Love Below (LaFace, 2003) 'Dre proves he's bigger than hip-hop with an experimental disc of love and longing, while Big Boi grants the 'hood a sonic holiday.
4) Mastodon, Leviathan (Relapse Records, 2004) The perfect balance of shining production, warped tempo shifts and murky metal. Mastodon's true masterpiece.
3) Deerhunter, Cryptograms (Kranky, 2007) Spaced-out resonance, distortion, avant-pop hooks and automatic nostalgia define the quintessential Deerhunter album.
2) Danger Mouse, The Grey Album (Self-released, 2004) The Jay-Z/Beatles fusion defined the decade and elevated the ironic mashup to the level of original art.
1) OutKast, Stankonia (LaFace, 2000) The stanky duo conjures up a surreal slice of Southernfuturistictechnoghettofunk.
The rest are alphabetically listed below, minus the commentary. Each album listed was issued by artists based in Atlanta at the time of release.
4th Ward Afro-Klezmer Orchestra, East Atlanta Passover Stomp (4th Ward Afro-Klezmer Orchestra, 2009)
Adron, Adron> (New Street Records, 2008)
All Night Drug Prowling Wolves, All Night Drug Prowling Wolves (The Colonel Records, 2008)
All the Saints, Fire on Corridor X (Touch & Go, 2008)
Anthony David, Acey Duecy (Soulbird/Universal Republic, 2008)
Binkis Recs!, The Reign Begins (Day By Day Entertainment, 2003)
The Black Lips, The Black Lips (Bomp Records, 2003)
Blame Game, Honey and Salt (Stickfigure, 2005)
Bobby Ray (aka B.o.B.), B.o.B. vs. Bobby Ray (Self-released, 2009)
Bobby Ubangi, Inside the Mind of Bobby Ubangi (Rob's House, 2009)
The Bonaventure Quartet, The Secret Seduction of the Grand Pompadour (Self-released, 2008)
Cadillac Jones, Junk in the Trunk (Harmonized, 2003)
Caroline Herring, Lantana (Signature Sounds, 2008)
Clemente, The Teeth Measure the Need (Moodswing, 2004)
The Close, 20,000+ (Moodswing, 2000)
The Coathangers, The Coathangers (Rob's House, 2007)
Cody Chesnutt, The Headphone Masterpiece (Ready Set Go, 2002)
Col. Bruce Hampton, Songs of the Solar Ping (Brato Ganibe, 2008)
Collective Efforts, Medicine (Arcthefinger, 2006)
Crime Mob, Hated On Mostly (Reprise/WEA, 2007)
DANGERDOOM, The Mouse and the Mask (Epitaph/Ada, 2005)
DJ Drama & Young Jeezy, Trap or Die mixtape (Gangsta Grillz, 2005)
Dungeon Family, Even in Darkness (Arista, 2003)
Ekundayo, Get Right or Get Left (Prideland, 2006)
Electrosleep Int'l, Electrosleep Int'l (Stickfigure, 2003)
Good Friday Experiment, Spread Out Inside (Shakedown, 2004)
Gringo Star, All Y'all (Self-released, 2008)
Hawks, Barnburner (Army of Bad Luck, 2009)
The Howlies, Trippin' With the Howlies (Over Under, 2008)
Jaspects, The Polkadotted Stripe (Jaspects Music Group, 2009)
Jax, Sharper Images (Serious Knock Entertainment, 2007)
Jeffrey Bützer, The Garden of Scissors (Lona, 2009)
Jiva, Sun and Moon (Expansion, 2006)
Joi, Tennessee Slim Is the Bomb (Joilicious, 2006)
Joyce Brookshire, Cabbagetown Ballad (EMWorld, 2005)
Judi Chicago, x 1,000,000 (Aljera Music, 2007)
Juju B. Solomon, Juju B. Solomon (New Street, 2007)
Julie Dexter, Dexterity (Ketch A Vibe, 2002)
Kelsy Davis & the Radical Soul, Break the Mold (Azure Blue Entertainment, 2006)
Killer Mike, I Pledge Allegiance to the Grind Vol. 2 (SMC Recordings, 2008)
Klimchak, The Beat and the Buzz (Klimchak Music, 2004)
Larvae, Empire (Ad Noiseam, 2005)
The Lids, The Lids (Rip Off, 2004)
Lil Jon & the East Side Boyz, Kings of Crunk (TVT, 2002)
The Liverhearts, Ornament (Self-released, 2008)
Little Country Giants, Sing Pretty for the People (Little Country Giants, 2006)
Ludacris, Back for the First Time (Def Jam, 2000)
Magicicada, Everyone Is Everyone (Public Guilt, 2006)
Mars Ill, Backbreakanomics (Gotee, 2003)
MF Doom, Operation Doomsday (Sub Verse, 2001)
Michelle Malone, Sugarfoot (Valley, 2006)
Minamina Goodsong, Time for Breakfast (Arcthefinger, 2001)
Nomen Novum, Paradises (Operation Get Jacked!, 2009)
Noot d' Noot, Cash for Gold (Shakedown, 2009)
No River City, This Is Our North Dakota (Self-released, 2003)
Ocelot, The Quiet Storm (Moodswing, 2002)
Pill, 4075: The Refill (Medicinal Music/D5M LLC, 2009)
P'taah, Staring at the Sun (Ubiquity, 2003)
The Rent Boys, Goodbye for Good (Self-released/2000)
Richard Bicknell, Baby Lightning (Self-released, 2003)
Richard Devine, Lipswitch (Warp/Schematic, 2001)
Rising Appalachia, Scale Down (Unwound, 2007)
The Selmanaires, Here Come the Selmanaires (International Hits, 2006)
Shannon Wright, Dyed in the Wool (Quarter Stick, 2001)
Slick & Rose, Objects in the Mirror (Soul Hippie Music Group, 2003)
Snowden, Anti-Anti (Jade Tree/Stickfigure, 2006)
Some Soviet Station, Some Soviet Station (Moodswing, 2006)
Spree Wilson, Evil Angel (Self-released, 2009)
Supreeme, Supremacy (Radio Collection, 2006)
T.I., Trap Muzik (Atlantic, 2003)
Tinsley Ellis, Moment of Truth (Alligator Records, 2007)
Untied States, Instant Everything, Constant Nothing (Distile, 2009)
Usher, Confessions (LaFace/Arista, 2004)
Warm In The Wake, American Prehistoric (Livewire Recordings, 2007)
Witchdoctor, The Diary of an American Witchdoctor (Williams Street, 2007)
Yelawolf, Ball of Flames: The Ballad of Slick Rick E. Bobby (Self-released, 2007)
Editor's note: The release year for Mastodon's Leviathan has been corrected. It dropped in 2004. Thanks for catching.
More By This Writer
Sunday December 27, 2020 04:00 am EST
The city in the forest' keeps its tree canopy on fleek |
more...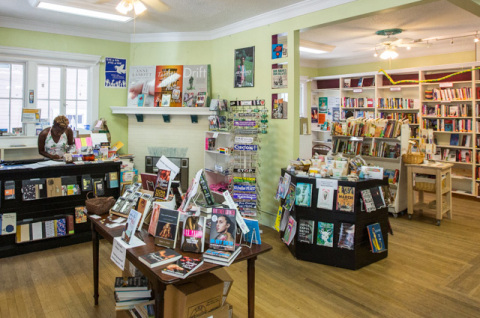 Sunday December 27, 2020 04:00 am EST
Let's get lost in the stacks with some moody media |
more...
Sunday December 27, 2020 04:00 am EST
Museums to enrich your summertime social studies |
more...
Sunday December 27, 2020 04:00 am EST
Where urban preservation meets suburban aspiration |
more...
Monday October 21, 2019 03:08 pm EDT
Explore these rap-related cultural landmarks in Atlanta |
more...
Search for more by Rodney Carmichael
array(3) {
  [0]=>
  int(242)
  [1]=>
  int(669)
  [2]=>
  int(700)
}