What's next for Fort McPherson?
Wednesday February 3, 2016 01:05 pm EST
>
The latest plan to wake up the 1,300 acres of neighborhoods that spoke off from Fort McPherson is a compromise of sorts: a compromise between a neighborhood's dreams of what could sprout here, and what market analysts believe can thrive. Or, as one consultant put it at a packed community meeting last week at Atlanta Technical College, the plan lives in the practical space between what "your kids … want for Christmas," and when you consider, "What can we afford?"
The compromise under the tree is a Livable Cities Initiative Study for the Oakland City/Lakewood Area, the latest in a litany of studies on the area once envisioned to become a bioscience and jobs hub, and itself the update of a 2004 plan. But it is the first to come at a key moment when it could truly be implemented, said Brian Hooker, the executive director of the Fort McPherson Implementing Local Redevelopment Authority, the state-created entity overseeing the former base's next phase.
"This time is different," Hooker said. "The timing is now."
As the fog of the recession lifts, a $45 million stretch of the Atlanta Beltline is being built north of the site. More than $100 million more is pouring into a film studio helmed by Tyler Perry, whose controversial sale was approved last year and will see 330 acres of the former fort site transformed into a Hollywood backlot.
With that kind of cash, Hooker said, developers are interested — which means that this study, unlike others, could produce construction soon. If finalized by FMLRA and the Atlanta City Council, this could be the roadmap between what is approved to be built here.
The other difference this time around: neighborhood input. Unlike other plans that struck residents as out-of-touch impositions, this draft was developed through four community meetings, 20 interviews with stakeholders, 600 survey responses, and a string of meetings with community groups. "The whole goal is that over the last several years we have listened continuously," said Joyce Shepherd, an Atlanta City Councilmember who reps the area and also sits on the authority's board. "And what you will see tonight is a result of that listening."
Still, residents, business owners, and organizers in the audience had questions as to whether the proposed redevelopment could push out mom-and-pop businesses, could displace existing residents, or could be out of touch with the culture of the neighborhoods.
Planners had an answer for that: any projected "displacement" was a "long way off," Hooker said. And the idea of culture or small businesses being rooted out? Someone had to grow into the office and retail space that planners envisioned: why not mom-and-pop shops. "This is something we do together; you help us," Hooker said. "We're counting on your support to make this community as exciting and dynamic as it needs to be."
The plan, so far, envisions the 1,300 acre-area growing around three separate hubs. Market analysts envisioned each hub supporting a different mix of new shops, parks, housing blocks, public plazas, senior housing and youth centers, and outlined each hub as having a different feel, singular to what could grow in that particular area.
Between those hubs, thoroughfares will sprout bike lanes, new trees, and wider sidewalks – initiatives that planners hope will turn the walled fortress of a dormant fort into a walkable, connected neighborhood, which in turn will help spread development into empty parcels. Across it all, a smattering of public art projects and quirky recreation could embolden the area and make it a draw; planners schemed up everything from a glow-in-the-dark skate park to artsy mini-golf courses in public plazas.
On Fort McPherson near the Lakewood/Ft. McPherson MARTA station, planners envisioned a "main street" of larger shops swirling around an open, public plaza that would be "themed" around the area's relation to the fort and to the movie studio – and could come to include a public amphitheater, a community theater, and architectural touches that point to Hollywood glitz. "To build spaces that remind people of what they're watching on TV could create a draw for the area," said Bill de St. Aubin, CEO of the Sizemore Group, an architecture firm enlisted to consult on the plan.
Larger retailers that require wide sites could roost in the brand new development more easily, said de St. Aubin. And those retailers, according to market analysis presented in the meeting, would likely include a grocery store, a hardware store, and a home furnishings store whose customers would include both neighborhood folks and film PAs looking for a quick prop. In nearby vacant commercial office space, anything from a veterinarian to a home health center could set up shop. Townhouses could grow nearby.
Planners envisioned a "village core" at the area's natural hub for traffic: where Dill Avenue crosses Lee Street and Murphy Avenue, and south to the Oakland City MARTA station. There, planners envisioned affordable housing and non-profit commercial space in the near future, followed quickly in the next five years by new mixed-income rentals and new, neighborhood-oriented shops.
Where Lee Street and Murphy Avenue swing across Sylvan Road, near the northern edge of the study area, planners envisioned the sort of development that has followed the BeltLine everywhere: new restaurants, higher density housing, and office space. In that area, they stressed that greenspace and existing neighborhoods need to be preserved, and transportation between the Beltline and neighborhoods to the south should be improved – in order to better serve residents, and to bring that economic momentum down to neighborhoods in the south. Office space near the Beltline could support artsy endeavors such as flex office or a maker's studio but it should also "keep jobs in that area," said Deanna Murphy, an associate of the Sizemore Group.
Past that, the plan saw the northern edge of the Fort along Campbellton Road as an ideal stretch for community-focused projects – including a senior center and a youth recreation center; a space for workforce training and education; and parks, among other perks. (But first: planners are aware it is in dire need of a repaving.) In Sylvan Hills, planners saw the opportunity to transform vacant land into public parks, to improve streetscapes, and to capitalize on the MARTA station with new high density housing and shops nearby. "There is a beautiful character to the neighborhoods here and some great connectivity and we think that is something that needs to remain," Murphy said.
Through all of this development, residential growth will continue naturally, planners said. Right now, without any of these improvements, market analysts predict the area will see about 18 renovations or new homes per year; about 11 duplex or townhome sales per year; and about 17 new apartment unit rental units rented per year, said de St. Aubin.
But the plan seemed to be missing something. And maybe someone was missing from the room of about 200 people who had come out to the meeting. "If y'all came to see Tyler Perry, he's not here tonight," Sheperd said.
Planners touched on how Perry's development could affect the area without giving any details as to what his project will look like. Rather, de St. Aubin said that the studio would not bring as much cash as some residents might have thought. "The honest truth about the movie industry is that it's quite insular," de St. Aubin said. "Expecting a lot about the Tyler Perry Studios… is a little bit of wishful thinking."

Gamba Stewart, a representative of the Sylvan Hills Neighborhood Association who helped conceive the plan as part of a subcommittee of community reps, said that the plan seemed to truly involve neighborhood feedback. "I have seen where they took direct community input and the plan changed," Stewart said.
The main concern from residents now is that some of these great ideas get implemented, and fast, said Adrianne Serrano Proeller, a representative of Capitol View Manor Neighborhood Association. "I'm optimistic. I'm hoping that this comes about, that the plan is actively pursued, because I've seen LCI's that weren't implemented."
Still, Proeller didn't see much mention of the litter problem – would there be new trash cans? And Norece Blount, a resident who has lived in her home off Murphy Avenue, to the North of the site, for 19 years, loved the plan but didn't see any talk of improving public safety before glitzy shops came in. Her area has blighted buildings and criminal activity, she said. "Those are really some of the things pulling the community down," she said. "They're listening, but you got to be in here to see what we see. What we really need are some more police officers."
If it did all come to fruition, wouldn't there be a new problem, wondered Simone Heath, a Master's candidate in planning at the Georgia Institute of Technology. She asked if existing residents would ever be displaced. Not any time soon was the answer.
"I get excited about people talking about property values going through the roof," Hooker said. "But that's a long way off…We're here to execute a specific mission, and that's to create an environment that supports the community."
"This community right now is in the water, underwater," Sheperd said. "We want better for our community. It's not just about pushing people out. It's why, economically, can they not do any better?...We cannot stay at income levels at $17,000…We need good jobs where they can make good money, stay in their community, reinvest in our communities."
More By This Writer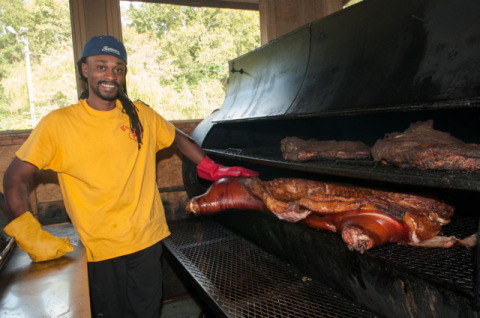 This outstanding neighborhood pub, complete with an upstairs Belgian bar that has potent brews on tap, offers roughly 215 beers. The menu's beer descriptions are humorous and approachable. The service is so friendly, no one will look you askance if you simply order a bottle of Sweetwater 420. |
more...
Search for more by