First Look: Cooks & Soldiers
The new Castellucci Hospitality Group restaurant offers a curated tour of Basque country cuisine on the Westside
In 2012, on a wine-scouting trip to Bordeaux, Atlanta restaurateur Federico Castellucci III (the Iberian Pig, Double Zero, Sugo) tacked on a 150-mile drive down the coast to Spanish Basque country. In San Sebastián, the beach town known as the epicenter of Basque cuisine, he hit two Michelin three-star restaurants in one day. But it wasn't those fancy pants meals that inspired him to open a new restaurant in Atlanta — it was the old city's maze of casual and social pintxos (read: Basque tapas) bars.
The Basque country's food scene is intoxicating, especially the pintxos — bar after bar packed with people living exuberantly in the dark of night, all mingling over small glasses of sidre (the local cider) or txakoli (the local wine) and plates filled with paper-thin jamón Ibérico, oil-drenched anchovies on thin slices of crunchy bread, or plump bites of ethereal foie gras at bargain prices. So I was thrilled to see someone attempting to bring a bit of that scene to Atlanta. Sure, Barcelona Wine Bar does a nice job conveying the Spanish love of food and drink, as does Castellucci's own Iberian Pig, but neither focus on the remarkable cuisine found in the region along Spain's northern coast.
Open since late November in the Elan Westside building on Howell Mill Road, Cooks & Soldiers doesn't try to recreate an authentic San Sebastián pintxos bar. You get the traditional pintxos, new-school pintxos that favor techniques from molecular gastronomy, a handful of wood-grilled dishes — a nod to the asadors that dot the Basque countryside — and just about every type of alcoholic beverage you're likely to find in a Spanish bar. The result comes across a bit like the EPCOT version of Basque dining — enough to give you a feel for it, but clearly tailored to an American audience.
??
The restaurant looks and feels like many contemporary Atlanta restaurants: smartly dressed hosts waiting to check you in, hanging glass bulbs lighting the room, a long glass window lining one wall with a view into the busy kitchen. A banquette with bold red leather separates the long, narrow, and typically packed bar from the main dining room. Painted tiles on the floor and a few hanging legs of Spanish ham above the bar area clue you in to the Spanish theme.
Executive chef Landon Thompson, born and raised in Georgia and a veteran of the Iberian Pig, oversees the menu, which is rooted in Basque essentials. There are a half-dozen traditional pintxos on toast for around $6 each. Toppings range from the simple, as in pan con tomate (zingy tomato sauce on chunky toast), to the more exotic boquerones (white anchovy) and spicy blood orange marmalade. If the main ingredients sound interesting to you, give them a shot. That's what pintxos are all about.
Next come the pintxos especiales ($7-$18 for typical small plate portions). Some, like the riff on steak tartare, go the molecular gastronomy route. Chunky cured tomato replaces the beef and an orange orb of faux-yolk made from carrot juice sits delicately in the center. Traditional beef tartare flavors like housemade Worcestershire, capers, and mustard pair nicely with the bright tomato sweetness. Grilled octopus with charcoal-black potatoes get a modernist touch from pale green rosemary powder and a pipette full of rosemary oil that you get to drizzle over the charred-but-tender tentacles.
??
Beyond the pintxos, there is a small selection of grilled dishes meant for sharing, ranging from a $22-plate of four massive Madagascar prawns served over smoky charred onion to a huge dry-aged, bone-in rib eye for $74 that's enough for four to share. The steak is served with a side of sauce bordelaise made from red wine, veal and pork demi-glace, plus some bone marrow mixed in.
The bar menu reps Basque country well, with dry Basque sidre, fizzy txakoli by the glass, a few variations on "gintonics" (short for gin and tonic) that Spain loves so much, craft beer on tap, fancy cocktails, and some nice Rioja amidst a mostly Spanish and French wine list. I was thrilled to see one of my favorite wines ever — the spellbinding (and pricey) Remelluri Blanco. The cocktails, though, could use more balance — as in a blood orange gintonic overrun by fruit, nary a note of gin nor tonic to be found.
As for service, the staff is stretching to master a wide range of Spanish details on a menu packed with foreign terms that may require explanation for most. They'll get there.
For a quick and fun tour of Basque cuisine, try Cooks & Soldiers. Plough through the pintxos, have a few glasses of sidre and txakoli. It's a tasty and suitably authentic adventure, enough to inspire you into researching your own trip to San Sebastián, where the full experience awaits.
More By This Writer
Monday February 19, 2018 04:59 pm EST
Gloriously anachronistic and free from all frills, Mt. Paran Country Store makes Buckhead work |
more...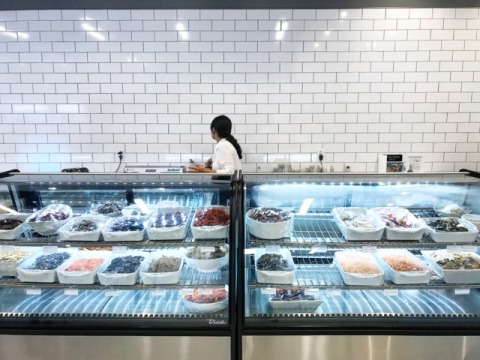 Wednesday January 3, 2018 06:00 pm EST
It's the Korean take-out shop you never knew you needed |
more...
Thursday November 30, 2017 01:54 am EST
Eduardo Porto Carreiro. It's a damn good name for a sommelier, isn't it? Exotic, complex with a touch of mystery? The man himself, like his actual title he was just promoted to beverage director for all Ford Fry Restaurants is more down to earth. After establishing a notable wine career in Los Angeles and New York, Porto Carreiro moved to Atlanta in March, along with his "very pregnant wife"... |
more...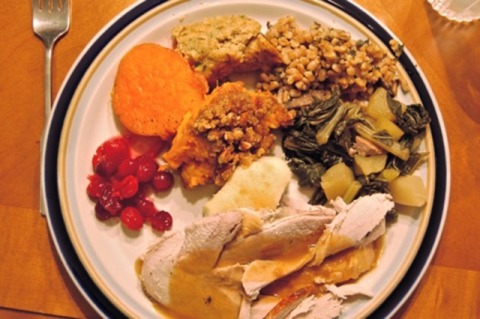 Friday November 17, 2017 06:49 pm EST
Our family Thanksgiving meal was fabulous, but it wasn't the turkey or the cranberries or the dressing that really distinguished it from other meals it was the gravy. Gravy is the glue (forgive the unappetizing term) that brings the Thanksgiving meal together. It bridges the turkey to the dressing to the cranberries to the rolls. It magically works with just about everything. I could (almost)... |
more...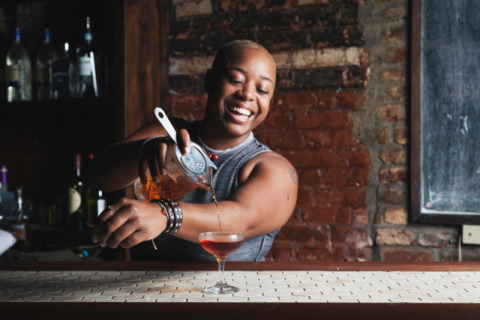 Monday November 13, 2017 06:31 pm EST
If there were an award for smiling-est bartender in town, Tiffanie Barriere, a.k.a the Drinking Coach, would surely be a finalist. Barriere may be best known for her long stint seven and a half years running the award-winning drinks program at One Flew South, the restaurant/bar that literally set the bar for airport awesomeness. But to Atlanta's tight-knit bartender community, Barriere is like... |
more...
Search for more by Brad Kaplan