First Look: Superica
Ford Fry's "Mex-Tex"
We all know Tex-Mex, but what exactly is Mex-Tex? In the hands of Ford Fry, the answer entails a funky dose of Austin-weird, a hearty shake of Mexico flavor, and some Krog Street swagger. This is Superica, Fry's intown Mex-Tex concept that joined his trail of Atlanta restaurant concepts in February. And I don't say the word "concept" lightly, but Superica is so studied in its elevated Tex-Mex unstudied-ness, so crafty in its attention to detail, that to call it just a restaurant seems not quite right.
Fry and executive chef Kevin Maxey are both proud Texans, eager to show off the inextricable bond between their home state and its neighbor to the south. Just look at the way they use hipster Spanglish — the "hours of operación," "la lunch," and "el dinner" — or the way the warehouse confines of Superica's Krog Street Market space get decked out in artsy, borderland garage chic: ornamental chain-link fence, industrial-strength concrete block walls, cowboy- and/or cattle-related bric-a-brac, shrines to Our Lady of Guadalupe. Oh, you came for nachos and margaritas? Superica has those, too.
Superica is a restaurant, after all, with a full bar, serving lunch and dinner daily, and breakfast on the weekends. While it's one of the most recent additions to Krog Street Market, Superica already feels like a main attraction, with its big, bold name in lights outside on the welcoming patio. Like the rest of the market, Superica is drawing crowds, especially on weekend nights when a small mezzanine corner of the boisterous restaurant turns into a stage for local music acts like the Sweet Auburn String Band.
Diners chow down on freshly made chips and salsa (brought to your table, free of charge), then settle in to a menu that starts with basics like guacamole, tacos, and enchiladas, and blooms into a hodgepodge of more intricate dishes like chicken mole, mesquite-grilled quail, or whole roasted red snapper with avocado-tomatillo salsa.

The Tex-Mex standards are mostly a notch (and a few pay grades) above other similar joints around town. You can pay $8 for guacamole, $11 for queso fundido con chorizo, or $10 for a small plate of bean and cheese nachos. The prices may be north of the border, but there's enough artistry from the kitchen to make Superica's attention to detail seem worth the extra pesos. The queso fundido, for example, comes with fresh tortillas that are basically soft, griddled flatbreads, perfect for scooping up the gooey mess, plus a tart tomatillo salsa on the side that cuts right through the cheesy/meaty richness with precision. Nachos come rather delicately plated, atop a thicker and crunchier style of tortilla that holds up well to the spread of silky refried beans. Superica makes five different types of tortillas each day for various dishes, using both corn and flour — the tortilla game here is on point.
After the chips or queso quell the munchies, you can get serious with a very large cup of sopa de tortilla (at $5 probably the best deal on the menu) that impresses with a rich and deep broth, heavy on ancho chile, plus a perfect pile of sliced radish, stringy cheese, crisp tortilla strips, and plenty of smooth avocado.
When it comes to the meatier options, Superica makes nice use of mesquite and oak in its wood-fired grill. A dish of grilled quail ($17) shows off some mesquite magic, with four perfectly smoky little birds served on the bone. The somewhat inexplicable accompanying side dish of dense, almost rubbery pork tamales drenched in chili con carne, however, does nothing to complement the delicate quail meat. Among the larger plates (dubbed "platos Supericos") the tampiquena ($26) delivers an indulgent overload of marinated skirt steak nestled against super-cheesy enchiladas with a sunny-side-up fried egg on top.

For something slow-cooked, Superica's staff is sure to recommend the tacos de barbacoa ($14 for three), which feature tender brisket with crisp edges, somewhat obscured by a thick pile of cabbage and cilantro. Or maybe the pollo con mole enchiladas ($13), where morita chili-braised chicken sits under a pool of mole poblano that strongly calls to mind a cinnamon- and chili-heavy Mexican hot chocolate that's been sitting on the stove a touch too long, to the point of almost being burnt. Maxey says they use a mixture of mesquite-grilled fresh chili peppers and dry chilies, and that the mole, with its complex list of ingredients, comes out a little differently each time.
To get you properly in the Mex-Tex party mood, Superica serves a handful of beers on tap (including Corona Light, yo!) and wines by the glass or bottle, but the real action is with the margaritas and Mexican-themed cocktails featuring combos like mezcal with pickled shrimp garnish, or hibiscus with Havana Club rum. You can stick with a basic, icy margarita de la casa made with el Jimador Reposado ($8), or explore oddities like the Vampire Weekend ($10), which combines house-made horchata with spiced rum, grated cinnamon, and nutmeg. My wife took a sip, struggled to pinpoint the flavor profile, then rightfully proclaimed it to be a ringer for charoset juice — that liquid left at the bottom of the bowl of the traditional Passover mixture of apples, nuts, spices, and wine.
As your auto-shop-shirt-clad waiter brings you another load of chips and goes into detail describing the puffy taco dinner, just imagine you're in Austin, taking in a local band, sipping on a margarita, diggin' on all the good things that Mexico has brought to the Lone Star State and beyond. What a concept.
More By This Writer
Monday February 19, 2018 04:59 pm EST
Gloriously anachronistic and free from all frills, Mt. Paran Country Store makes Buckhead work |
more...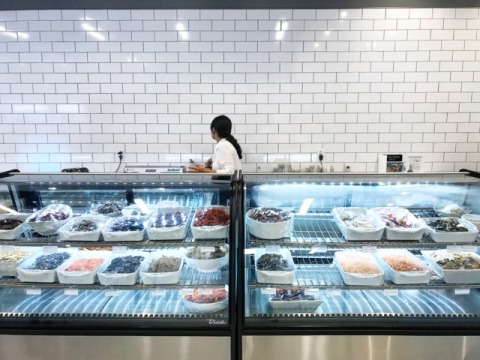 Wednesday January 3, 2018 06:00 pm EST
It's the Korean take-out shop you never knew you needed |
more...
Thursday November 30, 2017 01:54 am EST
Eduardo Porto Carreiro. It's a damn good name for a sommelier, isn't it? Exotic, complex with a touch of mystery? The man himself, like his actual title he was just promoted to beverage director for all Ford Fry Restaurants is more down to earth. After establishing a notable wine career in Los Angeles and New York, Porto Carreiro moved to Atlanta in March, along with his "very pregnant wife"... |
more...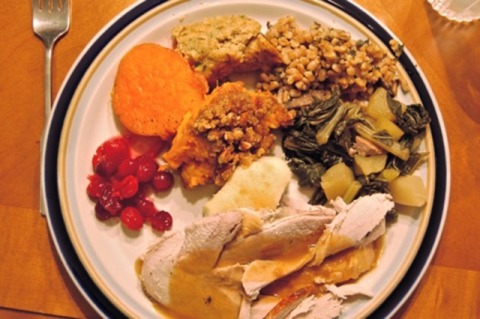 Friday November 17, 2017 06:49 pm EST
Our family Thanksgiving meal was fabulous, but it wasn't the turkey or the cranberries or the dressing that really distinguished it from other meals it was the gravy. Gravy is the glue (forgive the unappetizing term) that brings the Thanksgiving meal together. It bridges the turkey to the dressing to the cranberries to the rolls. It magically works with just about everything. I could (almost)... |
more...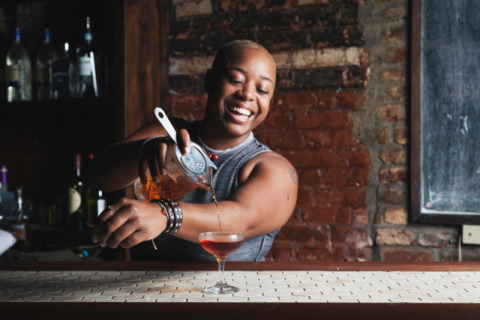 Monday November 13, 2017 06:31 pm EST
If there were an award for smiling-est bartender in town, Tiffanie Barriere, a.k.a the Drinking Coach, would surely be a finalist. Barriere may be best known for her long stint seven and a half years running the award-winning drinks program at One Flew South, the restaurant/bar that literally set the bar for airport awesomeness. But to Atlanta's tight-knit bartender community, Barriere is like... |
more...
Search for more by Brad Kaplan