$20 Dinner with Zach Meloy (1)
Dining on a budget: Recipes and receipt
Crispy Korean rice cakes with black bean purée, heirloom tomato, mint, and Cotija (Serves 4)
Ingredients?* 1 packet of Korean rice cakes, cut into 1-inch segments
?* 1/2 pound black beans, rinsed and soaked overnight
?* 1 shallot, chopped
?* 1 clove garlic, peeled
?* 1 extra-large heirloom tomato, cut into irregular shapes
?* 3 or 4 sprigs of mint, leaves picked
?* 2 tablespoons Cotija cheese
?* 4 tablespoons olive oil
?* Salt and pepper
Directions: Drain beans and place in a large sauce pan. Add shallot and garlic clove and cover with 4 cups of water. Bring to a boil and reduce heat. Simmer until the beans are very tender. Strain beans, reserving cooking liquid. In a food processor, purée beans on low, adding the cooking liquid until you have a smooth consistency. Season with salt and pepper to taste. Keep warm.
In a large, heavy-bottomed saute pan, heat 2 tablespoons olive oil until lightly smoking. Add rice cakes and saute until crispy and golden. Remove and drain on a plate lined with a paper towel. Season with salt and pepper.
In a small bowl, toss tomato pieces with salt, pepper, and remaining olive oil.
To plate: Ladle bean purée in the base of a large plate. On top, arrange tomato and rice dumplings in a scattered fashion. Add a spoonful of Cotija cheese and top with picked mint leaves.
?
Roasted squash with pumpkin seed sauce, charred onion, and double-smoked bacon (Serves 4)
Ingredients?* 2 small crookneck squash, halved from stem to blossom
?* 1 large zucchini, halved from stem to blossom
?* 1 small white onion, chopped
?* 4 ounces green pumpkin seeds (pepitas)
?* 1 large yellow onion, sliced into 1-inch slices
?* 1 serrano chile, chopped
?* 4 tablespoons olive oil
?* 1 cup cold water
?* 1/2 bunch of cilantro, chopped
?* 1/2 pound double-smoked bacon, thickly sliced
?* Salt and pepper
Directions: Toast pumpkin seeds in a large dry pan until golden. Set aside. In a medium sauce pan, heat olive oil to smoking. Add chopped white onion and serrano chile. Stir to coat and cook until soft. Add toasted seeds. Stir to coat. Add cold water and bring to a boil. Reduce heat and simmer until onions are very soft and pumpkin seeds have plumped. Combine pumpkin seed mixture and chopped cilantro in a blender and purée until smooth, adding a little water to control the consistency. Season to taste with salt and pepper.
Heat 2 tablespoons oil in a cast-iron skillet. Season both sides of the onion slabs and add to pan. Cook undisturbed until face of onion slice is charred. Turn and repeat on other side. Separate slices into individual rings. Set aside.
In a 400 degree oven, roast bacon in a sheet tray until edges are crispy but not charred. Cut into smaller squares. Keep warm.
Heat a large cast-iron skillet over medium heat. Add olive oil. Season cut side of squash and zucchini liberally with salt and pepper and place facedown in the hot skillet. Cook until golden and crispy. Flip and continue cooking until warmed through but still firm to the touch. Remove from heat and cut into irregular shapes.
To plate: Spoon green pumpkin seed sauce on the base of the plate. Arrange squash, zucchini, and onion rings randomly on the sauce. Tuck bacon squares into the spaces between the veggies.
?
?
Packet of Korean rice cakes: $1.39
?Black beans: $1.69
?Shallot: 54 cents
?Heirloom tomatoes: $3.63
?Mint: $1.19
?Cotija cheese: $2.89
?Crookneck squash: 53 cents
?Zucchini: 86 cents
?Green pumpkin seeds (pepitas): $2.99
?Serrano chile: 10 cents
?Cilantro: 60 cents
?Double-smoked bacon: $3.44
?Tax: 60 cents
?TOTAL: $20.45*
Cheats: 1 clove garlic, olive oil, salt, pepper, 1 small white onion, 1 large yellow onion
*We know he went over the $20 limit but, come on, he only used one of the three tomatoes he purchased.
More By This Writer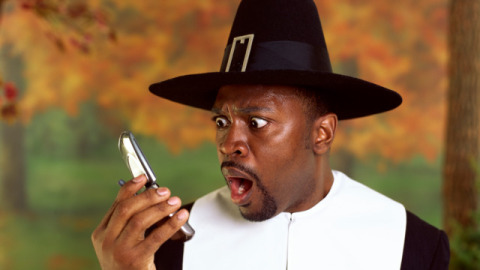 Friday November 17, 2017 06:57 pm EST
Our favorite hometown honky bitch, author Hollis Gillespie, came up with "The 5 Absolute Worst Thanksgiving Day Dishes" for her Shocking Real Life Writing Academy newsletter. Now we all have our own weird little food quirks, but very few sound as unappetizing as Thanksgiving sushi. Thanksgiving sushi? Really? That's just gross.
1. Bacon Mug: This is a giant mug made of fried bacon and filled...
|
more...
Wednesday July 19, 2017 08:09 pm EDT
ATL entrepreneurs and the spaces they call HQ |
more...
Thursday February 16, 2017 11:47 am EST
The founder of fourofour combines local artists, e-commerce and entrepreneurship |
more...
Thursday September 8, 2016 09:00 am EDT
Twain's Brewpub and Billiards' Executive Chef makes a satisfying and affordable meatless meal |
more...
Wednesday August 3, 2016 04:30 pm EDT
image-1
While the Hawaiian alphabet only has 12 letters, five vowels and seven consonants, dishes with Hawaiian flair can leave you scratching your head. Yet the Hawaiians are on to something when it comes to BBQ, creating the most tender and moist pork using to the islands' traditional kālua (KA-lua) baking method.
Waikikie Hawaiian BBQ (2160 Braircliff Road,...
|
more...
Search for more by Stephanie Dazey