Shop local with Root City Market
Plus: Ice Age Fest at Fernbank and Peach Party Atlanta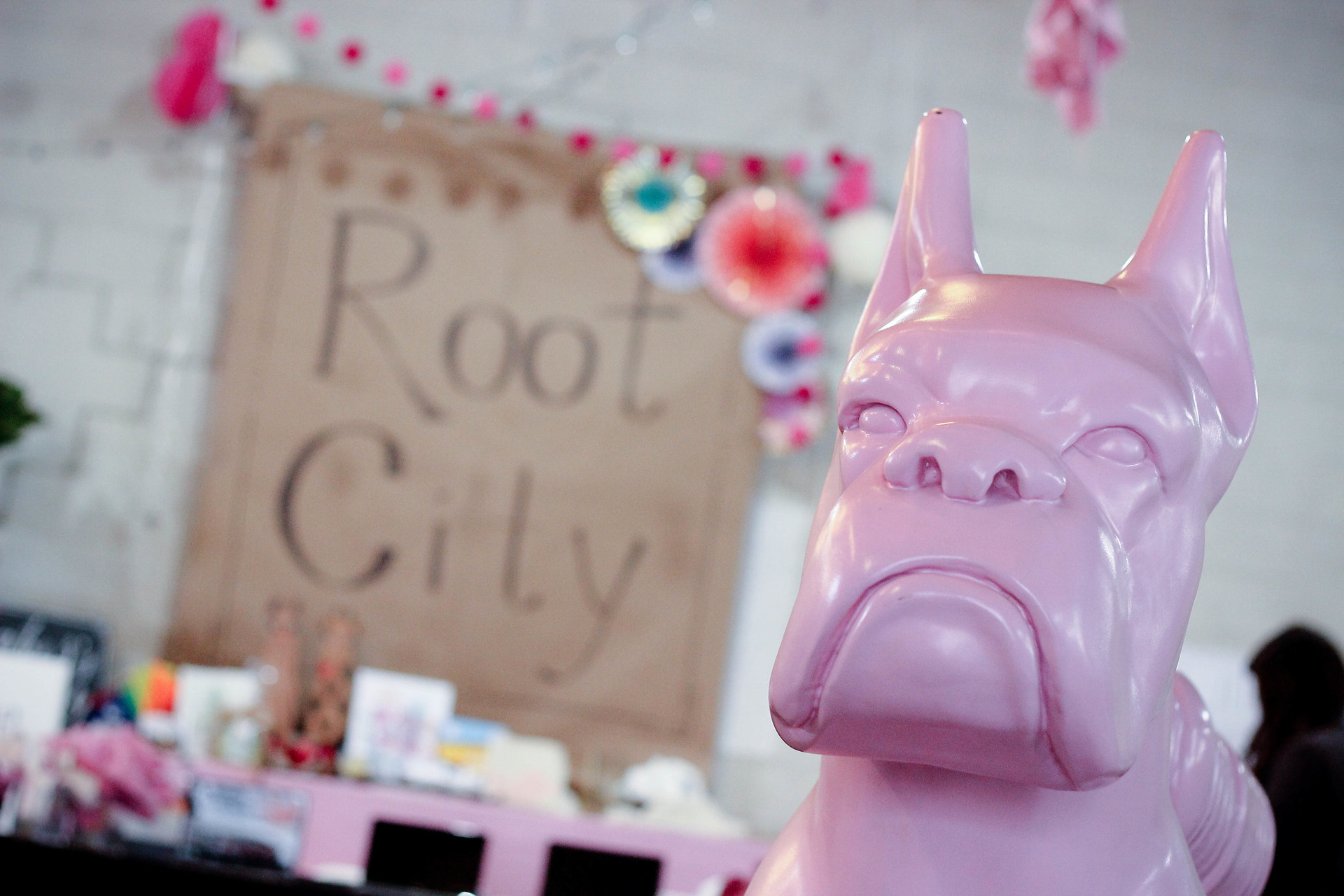 Celebrate shopping local and handmade artisanal goods at
Root City Summer Market
. Root City aims to support up-and-coming makers and businesses by giving those in Atlanta the chance to support and shop local goods. Root City Summer Market will include a variety of local "makers and artists," as well as a DJ, food, games and even the Photo Bus ATL. Makers and artists will also give talks, exploring their processes, inspiration and love of their craft.
Donations suggested. 10 a.m.-4 p.m. Sat., June 17. Stove Works, 112 Krog St. N.E. www.hellorootcity.com.
Fernbank celebrates the opening of its newest exhibition,
Mammoths and Mastodons
, in
Ice Age Fest
, on Sat., June 17. The "most captivating, interactive exhibition since the Ice Age,"
Mammoths and Mastodons
takes museum visitors on a journey back in time to when the prehistoric mammals roamed the Earth, and offers unique opportunities like creating your own cave art and feeling the teeth and fur of the mammoths and mastodons. Ice Age Fest will feature other hands-on activities including games, crafts and more.
Cost included with museum admission. 10 a.m.-2 p.m., Sat., June 17. Fernbank Museum of Natural History, 767 Clifton Road N.E. 404-929-6300. www.fernbankmuseum.org.
Founded to "inspire participants to achieve a higher level of knowledge, expression, and appreciation for Latin music and dance," the
Atlanta Bachata Festival
is now one of the largest Latin dance festivals in the Southeast. Described as "four days of non-stop fun, themed night parties, spectacular showcases, and workshops," the festival also aims to promote cultural awareness.
$30-$190. Through June 19. Sheraton Atlanta Hotel, 165 Courtland St. N.E. 678-895-6955. www.atlantabachatafest.com.
As issues of police brutality and racism in the criminal justice system enter mainstream political consciousness, protests and conversations across the country have increasingly taken place. In
Race and Our Police Force: A Community Conversation
, folks of Atlanta continue the conversation. The event will be an open discussion about "the effects that race plays on internal operations of the police departments and racial perceptions of police officers from an external perspective." The expert panel discussion will feature Atlanta Chief of Police Erika Shields and will be moderated by CNN journalist David A. Love, followed by an audience Q&A.
Free. 2 p.m., Sat., June 17. Actor's Express Theatre Company, 887 W. Marietta St. N.W. 404-607-7469. www.truecolorstheatre.org.
Kick off summer in the heart of the city with the return of
Atlanta Art Garden: Art Show, Market and Beer Garden
. A bi-monthly art market and beer garden exclusively curated by and for Atlanta art and art enthusiasts, the Atlanta Art Garden will include live musical performances and an artist market to fulfill all of your art enthusiast's needs. Featured artists include Katrina Kennedy, Nomadic Manny and India Calhoun Nabarro.
$5-$10. 7 p.m., Fri., June 16. 258 Auburn Ave. N.E. 404-623-8222.
To celebrate National LGBT Pride Month, Atlanta Pride, Atlanta Queer Literary Festival and Charis Books and More have partnered to bring
Stonewall Reading Celebrating Our Literary Ancestors
. LGBT Pride Month occurs yearly in June in honor of the 1969 Stonewall riots in New York City. The reading will honor previous LGBT and queer writers like Langston Hughes, Gloria Anzald̼a, James Baldwin, Audre Lorde and Truman Capote.
$5 suggested donation. 7:30 p.m., Wed., June 21. Charis Books and More, 1189 Euclid Ave. N.E. 404-524-0304. www.charisbooksandmore.com.
Feeling stuck and uninspired?
Destroy/Rebuild: Phase 1
presents the perfect opportunity to get you out of your artistic rut. Destroy/Rebuild is an ongoing, collective group project launching on Sat., June 17. Its goal is to "bring together many different artists to destroy works of the past in order to create the materials for new work." In its first phase, artists are invited to collectively destroy their previous works of art. From its remains, artists will rebuild something entirely different.
Free. 7 p.m., Sat., June 17. The Mammal Gallery, 91 Broad St. S.W. 678-744-7095. www.mammalgallery.com.
The annual Peach Drop has nothing on
Peach Party Atlanta
, returning to the Peach State on Fri., June 16. First celebrated in 2012 to commemorate the city's vibrant LGBTQ community, Peach Party has partnered with popular venues like Heretic, Xion, Ten and Jungle to make this year's celebration even bigger. DJ Twisted Dee will open the party at Xion on Fri., June 17, and RuPaul's Drag Race Phoenix will perform at Jungle on Sat., June 17.
$24-$110. Fri.-Sun., June 16-18. Various locations. www.peachpartyatlanta.com.
Rotten Peaches is a collective "aimed to bring a solid space for queer women in Atlanta to dance, party, network, and be themselves." Rotten Peaches is hosting its next event,
Sweet N' Low
, this Sat., June 17, and calls on all those wanting to dance, sweat and drink. The night will feature music by DJ Aasha.
$5-$10. 10 p.m., Sat., June 17. Murmur, 100 Broad St. S.W. www.facebook.com/rottenpeachesat.
In our increasingly busy and chaotic reality, sound immersion therapy's (SIT) benefits seem more and more appealing: stress relief, restful sleep, increased focus and heightened energy levels are only a few of the benefits that come with SIT. Healium Center calls on Atlanta locals to indulge their auditory senses to "a new level of consciousness, relaxation and healing" in
HealiUm's: Sound Immersion Therapy
. The 90-minute therapy session will include a "personalized virtual ???sound bath' of cleansing and rejuvenation."
$21 suggested donation. 7 p.m., Sat., June 17. Healium Center, 344 Candler Park Drive N.E. 404-216-8877. www.healiumcenter.com.