Making yoga better
Rutu Chaudhari's mission to move the practice beyond pricey pants and fancy poses
AGENT OF CHANGE: Rutu Chaudhari, owner of All Life is Yoga and founder of the Dharma ProjectJoeff DavisTucked inside an Inman Park studio with a stylish yet unassuming red-framed glass fa̤ade, a petite businesswoman is planning a revolution in yoga. Rutu Chaudhari, owner of All Life is Yoga, wants to expand the footprint of yoga beyond cool pants, designer mats and power poses. It's not that she has anything against these trendier trappings of the practice, per se. But, she admits, it frustrates her that mainstream yoga is promoted in a way that misses the mark on more than one level.
First, the diversity thing.
"Yoga came from India, but in the West, it's not an Indian practice," says Chaudhari, who has been teaching yoga for 13 years. "When we think about who does yoga, there's a particular image that comes to mind. And, it's often an affluent, white woman.
"There are communities of people that need yoga, but I think the biggest barrier is that they don't see themselves represented," she continues. "I'm not saying that one group shouldn't have access. It's just that one group has far more access to it than others."
In response to the dearth of diversity, she started the Dharma Project, a nonprofit organization that offers a variety of self-care practices, including yoga and mindfulness, to public service organizations and the communities that they engage with. Her plan is to start with the leadership of these organizations and leverage those relationships to bridge into communities.
"We want to focus on public servants as a starting point and start bringing practices like mindfulness and yoga to teachers, to police officers, to social workers, to nonprofit leaders," she says. "If they take care of themselves, it means they're more available, more productive, more clear in the work that they do. And the work that they do matters for all of us."
The Dharma Project is just under a year old and has not formally announced partnerships at this point; however, Chaudhari is actively working to develop and roll out its programming. Last year, because of the project, she and seven other social entrepreneurs were granted six-month fellowships by the Center for Civic Innovation to evolve their nascent concepts. The fellowship provided business development workshops, mentorship, advising and leadership training.
TEACHABLE MOMENT: Chaudhari works with a student at her All Life is Yoga studio.Joeff Davis
While building out the infrastructure of the Dharma Project and soliciting clients, she's also moving her vision forward through inclusive initiatives within her studio. Currently, she's working to recruit 10-15 police officers for a pilot session of yoga, and on Aug. 19, she begins leading a 200-hour teacher training that will last nine months to take a step toward inclusion and accessibility. She believes that if yoga teachers looked more like a broader scope of the communities that exist in the city, it would draw others to the practice.
"I want to train more people of color, more in the LGBT community, larger body sizes, people with different shapes to their bodies, men, people that are sort of left out," Chaudhari says. "Right now ... we're leaving the majority of people out."
Her second frustration with mainstream yoga deals with the mindfulness issue or the lack thereof. "Yoga is not a form of athleticism," she says. "The essence of the practice is to teach you to become self-referential not to perform a pose."
From her perspective, that commercialization has transformed a sitting, contemplative practice that is thousands of years old to a series of postures that have only been around for roughly 150-200 years. She explains that, in reality, the postures should only take up a small portion of a yoga session and that they should come after the meditation portion. This is a sore spot for Chaudhari because when she began practicing yoga in college more than 15 years ago, it was the aspect of mindfulness that helped her to more effectively manage her own challenges with anxiety, depression and body image.
"It's been made into a fad," she laments. "But underneath all of that nonsense, there's the fact that this truly works and gives people a way to better the quality of their life, an outlet for their stress, a way to tap into peace and be self-aware, improve their relationships."
All Life is Yoga is a unique practice in the city, and Chaudhari is fine with that. And, she says, she's not in competition with other studios because her purpose is clear: to expose as many people as possible to the power and transformative capacity of yoga.
"I don't want yoga to be a luxury. I want it to be a way of life."
All Life is Yoga, 27 Waddell St., Suite D. 404-491-9027. www.alllifeisyoga.com.
More By This Writer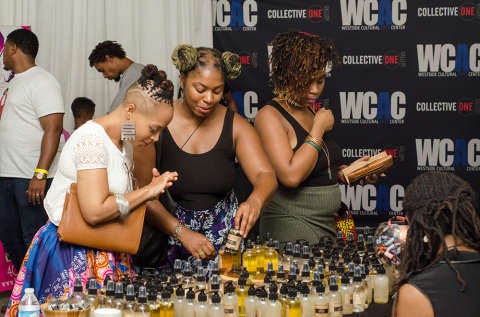 Thursday September 14, 2017 12:00 am EDT
Commerce and community come together at the Village Market ATL |
more...
Wednesday March 22, 2017 10:33 pm EDT
How intown residents fought the powers that be - and won |
more...
Search for more by Kennedy Spencer