Luba Lukova designs justice in new MODA exhibition
The Bulgarian designer and illustrator doesn't serve any ideology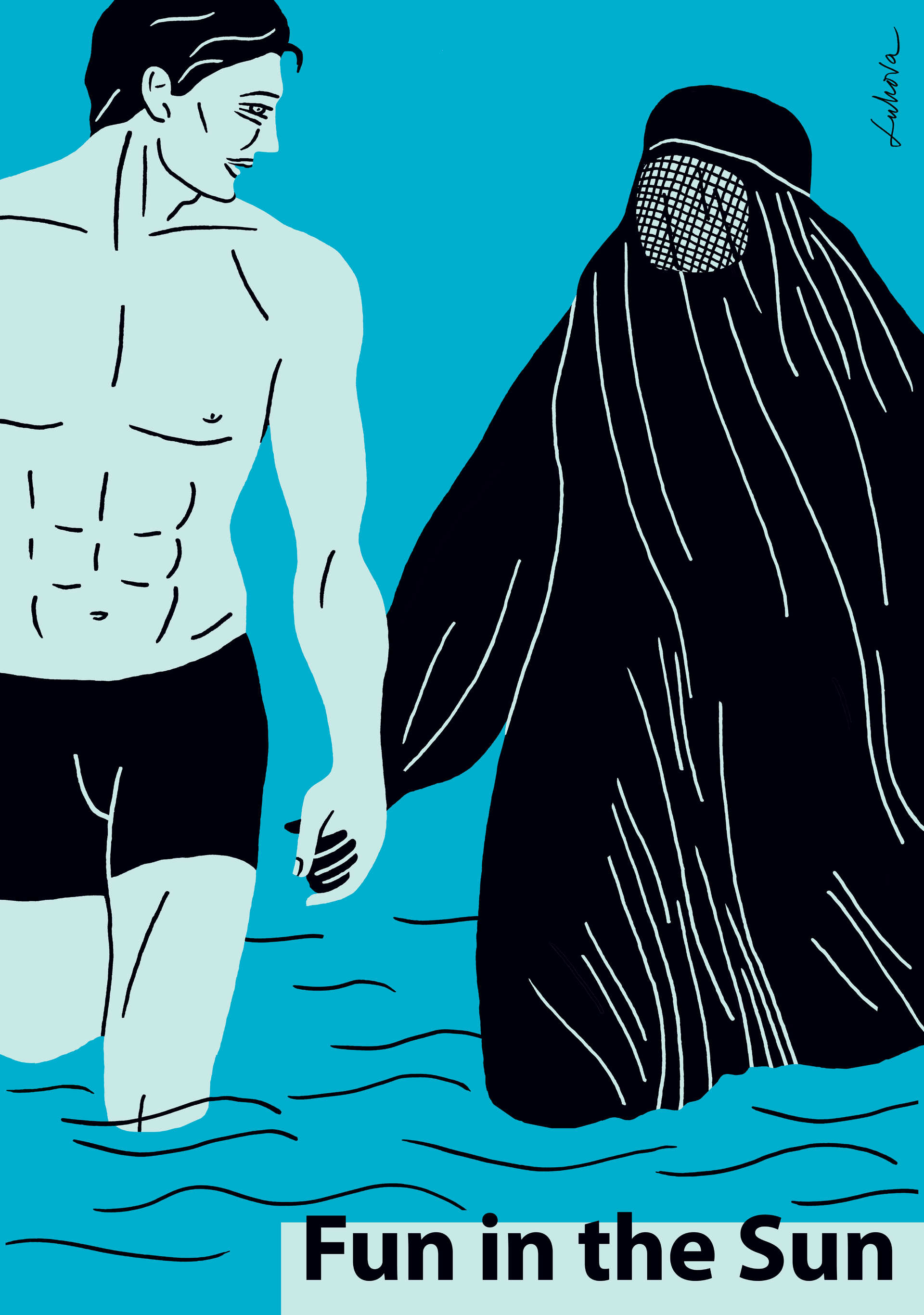 As I sit with designer Luba Lukova in the Museum of Design Atlanta (MODA), a group of young children bursts loudly into the space, sprawling over the pile of beanbags in the center of the room and amusing themselves with an interactive element of Lukova's
Designing Justice
exhibit. The interactive wall invites museum-goers to identify the social issues that impact them. Knobs that read "sexism," "gun violence" and "incarceration" connect with string from large spools on the wall, creating a web of multicolor lines. The posters lining the other walls reflect social issues in more subtle ways.
Just feet from the grid of knobs is an arresting illustration of a woman wearing a burqa, a loose, full-body covering worn by women in some Islamic traditions, holding an ice cream cone next to a tank-top-clad man who is licking his own dripping cone. The woman will not be able to partake in the fun of the ice cream cone, as her face is completely covered by her burqa. The piece is titled "I Scream".
Shortly after the fall of the Berlin Wall, the Bulgarian illustrator and designer Luba Lukova dropped a plastic bag containing her portfolio at the front desk of the New York Times. She was staying in the city for only a few weeks after participating in an international show in Colorado. When she returned to pick it up the next day, she was offered a job. From that day on, Lukova has never stopped working, going on to illustrate for the NYT Book Review, the Times' op-ed pages, Time and the Wall Street Journal, among many others.
Her current exhibit, Designing Justice, opened June 3 and is on display at MODA through Sept. 3, is a collection of her work from 1996 to 2017, all of which feature striking social commentary and imaginative renderings of a vast range of social issues. The posters on display are shockingly simple in their design, drawing upon bold colors and strong lines to create messages that viewers will be able to realize in seconds. Her incredibly bold designs seem tailor-made to fit the wide hallways, open spaces and sleek walls of MODA's galleries. How are they different than normal walls? I couldn't tell you, but even the toilets in MODA are impeccably designed, so there's probably something special going on with those walls. The images strike at the core of the many dialogues occurring in the United States and the world beyond.
People are quick to label Lukova's work "political" because of Imagery like "I Scream." Lukova doesn't see it that way. "When you call something political, that, to me, immediately puts it a little bit down," she says, "like I'm not doing something because of my high ideal but because I want to serve some ideology. I think ideology is ... kind of manufactured to controlled people in a way, while an ideal is something very noble and something about the most beautiful aspects of humanity." She doesn't mind if people want to call her art political, though. "You can call me whatever you want, but the work says it all."
Lukova's work is relevant to current events in Atlanta, too. Two posters in the exhibit that comment on the gentrification of Lukova's home in New York remind Laura Flusche, MODA's executive director, of current talks in Atlanta. "Luba made those in reaction to the place where she lives, Long Island City, but they are such important discussions happening that every time I look at them I think about the conversations we're having in the city, as well."
Debates swell around the development of Turner Field, the expansion of the Atlanta Beltline and who's fit to continue (or correct) the legacy of Mayor Kasim Reed, and discussion gets heated over issues of gentrification and homelessness in and outside of City Hall. Residents and politicians face decisions that cities all over the country are having to make.
All of Lukova's designs are as straightforward and accessible as "I Scream." She doesn't hide her meaning behind complex imagery or abstract thought. "I am not this artist that will do something absolutely impenetrable or something that is obscure and then put a long statement and you have to read the statement to understand my very deep thoughts," she says. "I want the images to reach immediately." Lukova asserts the importance of creating designs that are accessible to all viewers by not only making comprehensible art but also by making it affordable. In the MODA shop, she has a set of small posters, replicas of those shown in the exhibit, for viewers to buy.
Perhaps the most impressive part of Lukova's work is that it seems to be timeless. While the earliest of her pieces was conceived 21 years ago, each one resonates with current social and political issues. Lukova's designs, like all "good" art, transcend their own influences to apply to global conflicts that any viewer will be able to feel connected to.
Designing Justice. $5-$10. June 3-Sept. 3. Museum of Design Atlanta, 1315 Peachtree St. N.E. 404-979-6455. www.museumofdesign.orghttp://local.creativeloafing.com/event/museum-of-design-atlanta/designing-justice.
More By This Writer
Catch four of the contributors at the Decatur Book Festival on Sat., Sept. 2.
Thursday August 31, 2017 06:22 pm EDT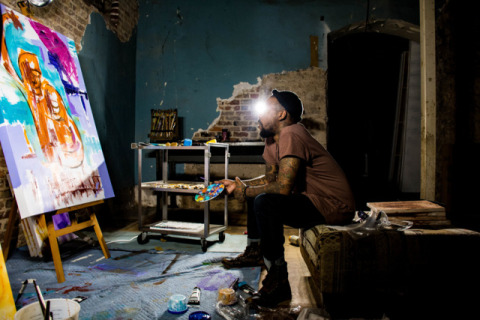 Miya Bailey's upcoming exhibition at Notch8 Gallery showcases a visual reminiscence of his childhood
Wednesday July 5, 2017 05:31 pm EDT
City of Ink founder and Notch8 co-founder Miya Bailey showcases a visual reminiscence of his childhood with Broken Stories. In his only exhibition at Notch8 for 2017, Bailey experiments with a variety of styles, resurrecting forgotten characters and images from the '60s, '70s and '80s. Broken Stories allows Bailey to work through his personal demons while also reminding viewers of things they... |
more...
Women-run comedy group Critical Crop Top's latest show melds physical comedy, political satire and fart jokes
Tuesday June 20, 2017 07:13 pm EDT
The Serenbe forest becomes a stage with zip lines and overhead sets
Monday June 5, 2017 06:39 pm EDT
Search for more by Elizabeth Wolfe