Room for conversation
Downtown's Ébrik Coffee Room started as a business but became a community
One day, a regular at Ébrik Coffee Room walked in and slapped a magnet onto the pastry case. It read, "Syrians Welcome Here."
"What do you think?" he asked co-owner Abbas Arman. "Sorry, am I putting you in hot water?" At the time, the Syrian refugee crisis was making headlines domestically and internationally. Abbas hesitated for only a moment. Two years later, the magnet remains.
Ébrik (or ibrik, pronounced ay-BREEK) is the Arabic word for a traditional Turkish coffee pot — small with a long handle, often made of copper. Since Abbas and his two business partners opened on Park Place in February 2014, their Downtown coffee shop has become known for its social consciousness, sense of community, and all-around comfortable vibes. I fell in love with Ébrik during my first semester as a Georgia State grad student and instantly felt welcomed. Later, as an editor at Creative Loafing, I was grateful it remained just a short walk away. 
The shop is one of the few places that illustrates how closely connected GSU and Downtown are. At Ébrik, students stand in line with university staff, police officers, construction crews, local office workers, and people who just need a place to hang out for a bit. "We didn't understand that we would become part of a community," Abbas says, "and even create our own kind of community."
A SCAD graduate designed the original Ébrik's cozy interior. Deep navy coated the walls. Reclaimed wood from West End's LifeCycle covered the bar. Abbas says a Yelp reviewer described the space as "like your cousin's loft." He thinks the description is accurate. "It's trendy and industrial and whatnot," he says, "but it's your cousin's. Like, you're home."
Abbas and his brother, Ibrahim, also a member of the Ébrik team, grew up in Chicago with Palestinian parents. Abbas studied biology at Northeastern University but says he never did anything with his degree; instead, an entrepreneurial spirit led him to gigs like refurbishing electronics. After his family relocated to Atlanta, he moved here to be closer to them. The idea for Ébrik came when his sister, a student at GSU, mentioned that Downtown lacked independent coffee shops. Abbas asked around but says investors told him no one in the neighborhood would be interested in $4.50 cups of coffee or healthy food options. "They would try to patch it up with nice words: 'Oh, the demographics are kind of different,'" Abbas says. "You know exactly what they're talking about." In this way, Ébrik's very existence is an act of defiance.
The shop's signature chalkboard changes regularly and has featured the words of artists and activists like Linda Sarsour, Rumi, Robin Williams, and Dick Gregory. An adjacent bulletin board holds signs that read, "Stop profiling Muslims" and "Palestinian Human Rights" alongside thank you cards from loyal customers and flyers for local social movements. Over the past year, Ébrik has become a safe haven for those on the fringes of Trump's America. Everyone is welcome join in on the fellowship, sipping craft brews, traditional Turkish coffee, Cuban espresso, and Persian tea. Air-roasted beans come from Land of A Thousand Hills and sandwiches and hummus are boxed in-house. Decatur's Ratio Bakeshop provides cinnamon rolls, croissants, and other baked goods. 
Many Ébrik employees began as customers. When hiring, Abbas looks for people who will maintain the shop's warm and welcoming atmosphere. A second language is a plus; employees speak Arabic, Vietnamese, Portuguese, Spanish, and Somali, respectively. "I think we've all kind of lived in different spaces," says Abbas. "When you speak another language, you have an another culture in your life … and that's what helps us connect with each other and with others."
Manager Julie Tran, a third-year journalism student at Georgia State, joined the Ébrik family the summer after she graduated from high school. It was her first real job, and she didn't know anything about coffee. During the interview, Abbas asked her about a negative experience that she turned into a positive. Tran told him about evacuating New Orleans at 8 years old because of Hurricane Katrina, and how writing about it inspired her to pursue journalism.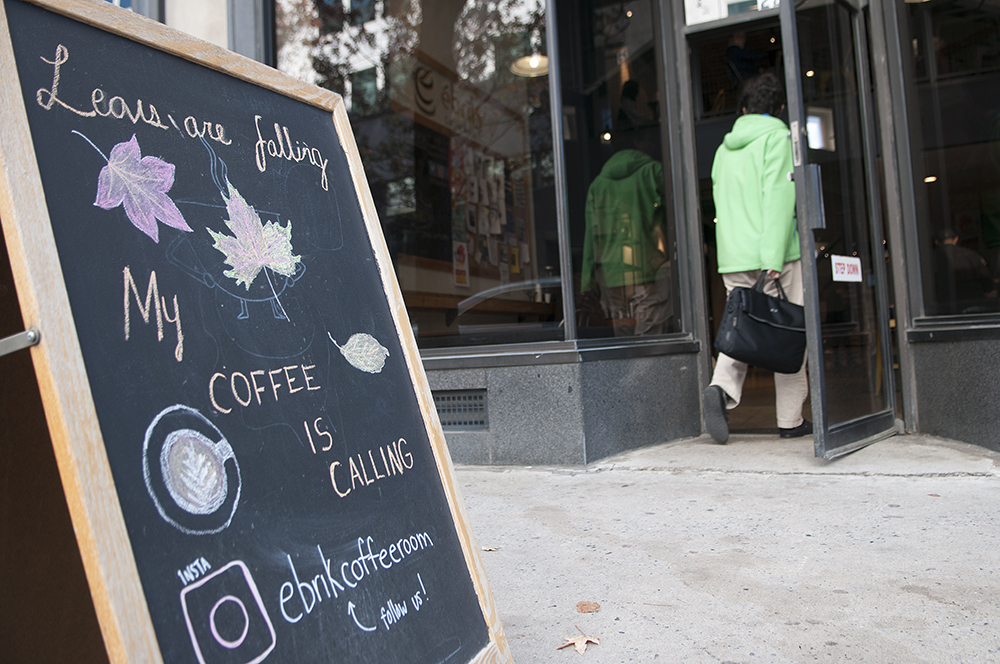 The value of that experience came back in an unexpected way one night in September, when a woman fleeing Hurricane Irma made her way into Ébrik. She stayed for hours until closing. "You could tell in her eyes that she was scared," Tran recalls. "She didn't know what to do." So Tran and another employee lent the woman a charger for her dying phone, gave her their remaining pastries for free, and helped her look for an Airbnb. 
That human connection, and her ability pay it forward in someone's time of need, touched Tran. When she told friends about the experience, one suggested she create a storytelling platform on social media, similar to Brandon Stanton's Humans of New York. So Tran began posting portraits of Ébrik's baristas and customers on the new @peopleofebrik Instagram account, sharing bits of info about who they are in the captions, from favorite beverages to personal mottos. "The photos are great, but it's more [about] knowing people on a personal level," she says.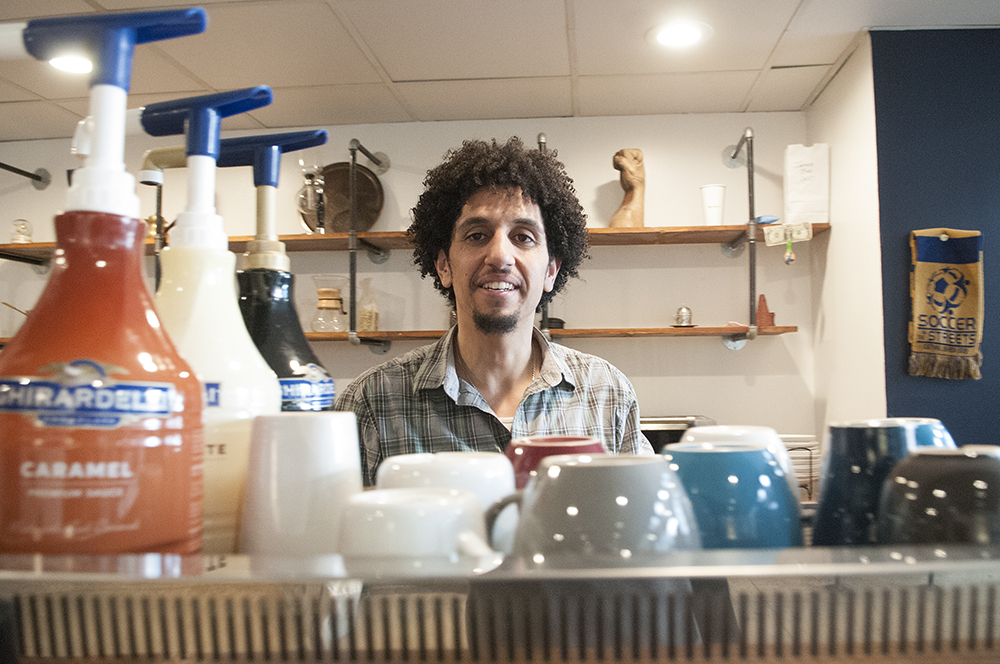 The team's passion for human connection is paying off. This past spring, Ébrik opened a second location on East College Avenue in Decatur, beside Agnes Scott's campus. Next, they'll debut a third in Sandy Springs. Abbas is mum on a potential opening date, but he's confident that he and his team can continue to replicate the vibe that sets them apart.
In October, the original Ébrik moved two doors down into a spacious corner spot that once housed a beauty school. The new Downtown space, at 22 Park Place S.E., adds a serious amount of square footage — and even a second story — but it's still the same old Ébrik.
"Hello! How you doin'?" Ibrahim calls from behind the wood-paneled bar as I walk in for the first time. The magnet is still there. So is the chalkboard; it simply reads, "grateful." Hip-hop tunes mingle with the whir of the espresso machine. I make my way past chattering students to a seat upstairs. It feels like home.
---