Trash Panda: Who are these guys and what are they up to?
With 'Heartbreak Pulsar' the indie rock trio examines human interaction and commitment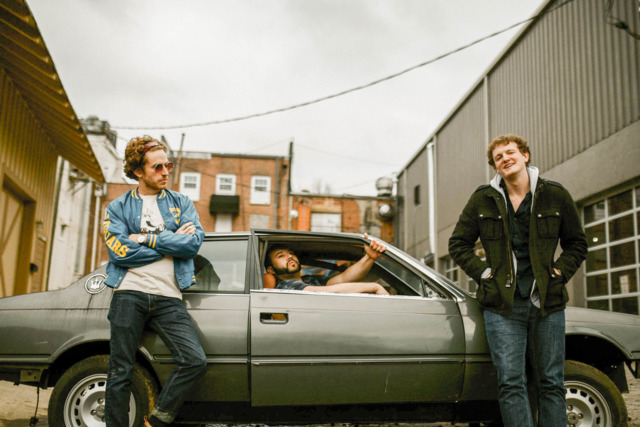 Trash PandaKaitlin Flint
A strange brew of psychedelic grunge, pop, punk, and blue-eyed soul collide, adding blissful flavor to Trash Panda's multifaceted sound. When it comes to tying down a single genre to label the Atlanta trio, Trash Panda is a modern day honey badger, with its pleasant, "I don't give a shit" demeanor. Who cares as long as you're having fun, right?
While the group is all about having fun in the name of sheer Instagram-worthy decadence as seen in the "Atlanta Girls" video, that's only part of the story. The guys posses a deep understanding that the city scene has tarnished relationships, as beauty only runs skin deep.
Now, the group has some new music coming together, including the single "Heartbreak Pulsar." The song is taken from  the forthcoming LP, Starclimber, which is set to arrive in early 2018. In the meantime, CL has the first look at the song's video.


In 2015 vocalist and guitarist Patrick Taylor, bassist Max Hewett, and drummer Mitch Standfield came together to form Trash Panda, ready to hit the streets running. Since releasing the group's first single, "Off," in July 2016 the band has gained a Spotify following of more than 53,000 monthly listeners.
Upcoming releases
"Heartbreak Pulsar," according to the group, is "an observation of techno-centric relationships," exemplifying the lack of depth and commitment in relationships nowadays. With social media being a considerably important part of society, lust and isolation seem to trickle through the cracks. The digital age provides the chance to easily stay connected and understand one another in new and exhilarating ways, but being too available seems to harness an undesirable trait.
The video sets scenes of two lovers swimming through a cosmic swimming pool over lyrics such as: "Seems like since 2015 if you care at all you're already too needy" and "you get your heart involved but your problems are never solved," which confront the lack of human interaction and cry out for raw and authentic relationships.
In the past, Trash Panda has thrived in an environment of experimentation with different genre combinations, and Starclimber only expands upon the group's outward movement.
What can fans expect from the new album?
Mitch Standfield: "It's kind of a punch to the throat in comparison to the Off EP. More developed songs, more flourished, but more raw. More stank."
Patrick Taylor: "Higher octane definitely. There are some deeper themes, too."
Max Hewett: "It's pretty eclectic; there are different genres we experimented with."


"Atlanta Girls"
"Atlanta Girls," released in July, represents none other than the city and the women who bring it to life. With a catchy chorus, electrifying guitar breaks and overall groovy-pop style played over images of women cutting loose in a drunken summer haze, the song seems to be a new rock anthem for rebellious youth.
While the lyrics undoubtedly glorify the women of Atlanta, there is a dark truth lingering between the funk-filled grooves, confronting the malicious aspects of night-life.
"Atlanta Girls" is such an upbeat song that holds the dark truth about Atlanta night life, can you explain the ideas and influences behind this song?
PT: The idea spawned from experience, seeing messed up shit happening when you go out.
MH: We were having a conversation about Buckhead. If you don't go out there often you forget how the nightlife can be, then go back and remember just how terrible it is.
MS: … and then you're just drunk, alone, and sad ... with a bloody lip.
Trash Panda plays at Aisle 5 with Chelsea Shag and the Pussywillows. $10-$15. 9 p.m. Sat., Oct. 21.1123 Euclid Ave. N.E. www.aisle5atl.com.