The art of preservation
Once needed for times of scarcity, canning and pickling are now some of the hottest ways to prepare fresh food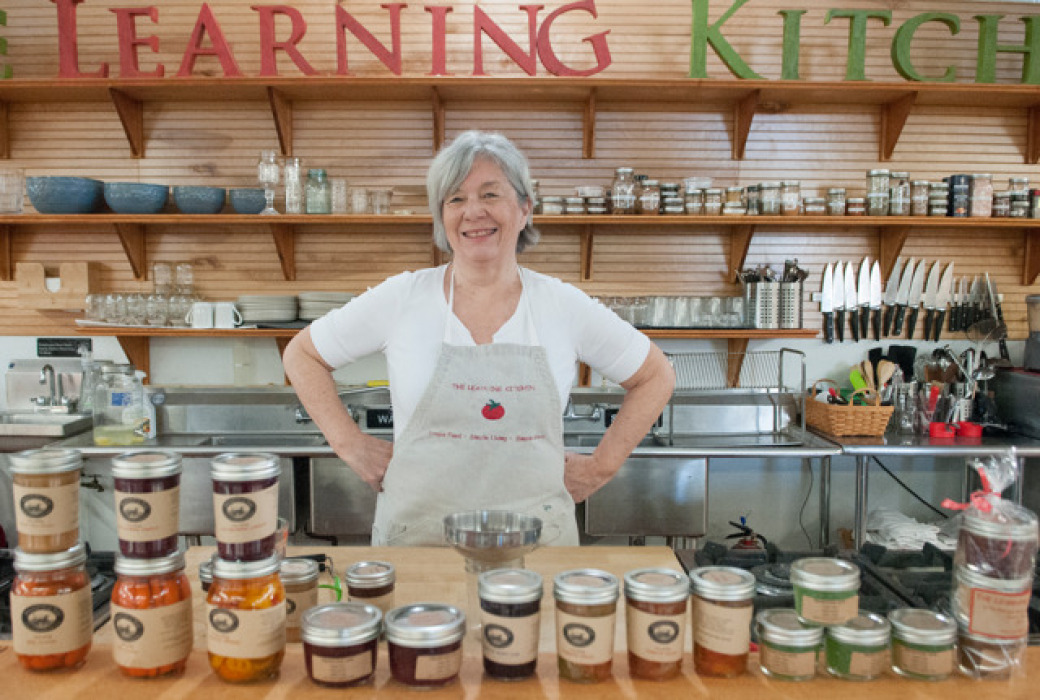 THE PRESERVATIONIST: Lyn Deardorff of Preserving Now teaches canning and pickling classes at Sweet Auburn Curb Market's the Learning Kitchen.
Attitudes about food preservation have changed. Once a seasonal necessity to prepare for times of scarcity, then mostly forgotten at the midcentury outset of industrialized food production, chefs today are returning to canning and pickling as creative ways to prepare fresh food.
Chef Zeb Stevenson of Watershed on Peachtree is one such canning aficionado. "I do it, and I do it a lot, because it's responsible and smart, but also because I just plain love the work," he says. "You are serving something that has been transformed. It's texturally different, the flavor is different, and it's a different eating experience. For the Watershed, it's taking the best things and making sure we have them for as long as we possibly can." (No pun intended.)
Stevenson has been fermenting vinegars for over six years and is USDA certified in canning. Over the past few years, he's watched his once niche hobby spread across the city's dining scene. Call it inspiration, or competition; Atlanta chefs tend to do the same things around the same times. "It means we live in a community where people are inspired by each other and that drives quality upwards," says Stevenson, who welcomes the trend. "The quality of pickled and canned goods that chefs in Atlanta are offering now is far greater than what it was three or four years ago because we are all learning together and sharing techniques."
There are key scientific differences between the most popular processes of preservation. In pickling, high acid is used to render food shelf-stable, while canning uses high heat and pressure to do the same thing. The two are only similar in the fact that they both get sealed in a glass jar. Preserving usually takes 30 minutes prep time, 20 minutes of pressure canning, and then as much as two hours to cool properly. It's a serious commitment, but for canners like Stevenson it's often paired with other prep work or turned into a soothing Sunday evening activity.
If canning is pure preservation, pickling is its playful cousin. Each time he pickles, Stevenson says he feels like he's conducting a little science experiment, or creating in a way that reminds him of his days as an art student at Cornell. In the spring, he jumps at the short bamboo season (10 days this year!) and goes into hyperactive pickling mode. This season he bought 200 pounds of fresh bamboo and spent two weeks cleaning, prepping, and pickling it in half-gallon glass jars. "I've somehow become Atlanta's bamboo whisperer and ambassador," he laughs, "because I buy more of it than any other chef in the city."
YES WE CAN: Zeb Stevenson of Watershed pickles more bamboo than any other chef in the city.Courtesy WatershedOf course, Stevenson is by no means the only master pickler in town. Once a chef understands the mechanics, he or she can add in an array of flavors and ingredients to personalize the process. South City Kitchen chef Jason Starnes makes jumbo lump crab cake with pickled cherry; Ecco's Brent Banda tops foie gras torchon with saffron-pickled fennel; Chris Edwards of Restaurant Eugene cans a "winter picnic" featuring spring and summer preserves with strawberries, blackberries, and more.
Lyn Deardorff of Preserving Now has made a twilight career out of preserving the very process of food preservation. A home canner for more than four decades, she retired from her corporate career in 2010 and spent the summer canning, eventually teaching friends how to do it once she realized how few resources there were for learning the "lost art." Courses in food preservation from Cornell University and UGA led to more official classes and workshops, and recently she found a home at Sweet Auburn Curb Market's the Learning Kitchen, where she and several other instructions offer crash courses in canning and other classic culinary arts. Workshops such as Canning 101 Immersion teach the basics of preserving fruits, pickling, and canning tomatoes. 
"A lot of chefs have no background in canning — and it scares me," Deardorff says. "Culinary schools don't necessarily train anything in canning, and it's never been curriculum that's popular enough." But she hopes the tide is turning. "There are some good restaurants in town that are doing preserved foods, and I think they have gone the extra mile to learn."
Drew Van Leuven, co-owner and executive chef of Seven Lamps, is one chef who has educated himself on the world of pickling. His restaurant in Buckhead not only pops a pickle on just about every plate, but has also replaced traditional bread service at the start of the dining experience with a charcuterie board, packed with pickled veggies and crème fraiche. It's a lighter way to begin dinner, rather than filling up on carbs, says Van Leuven. "It's served as a way to wake up your palate, get your taste buds moving and ready your mouth for dinner."
There's no doubt summer is the strongest season for canning, but fall and winter keep things going with seasonal produce like cranberries, apples, pears, squash, and root vegetables. In October, Seven Lamps pickled its last batch of tomatoes for the season, 100 or so pounds that Van Leuven hopes will last throughout the winter. "Our process is essentially canning, but we will put in a ginger and thyme pickle. It's not to overly flavor the tomatoes, but give them a little hint," he says. "Pickles have the potential to add so much flavor that food calls out for, in many ways more than salt."
If a restaurant is lucky enough to keep jars on the shelves, canned food tends to only get better with age. Watershed plans the year ahead in relation to the preserved foods Stevenson expects to have on hand. It's hard to lay down a hard rule for how long foods should be canned, but on average a softer vegetable usually requires a week to reach peak flavor, while firmer vegetables, such as carrots, could take months for the brine to fully penetrate.
"It's a lot of trial and error, but the beauty of it is that there is no real error," Stevenson says. "You still get to enjoy something delicious, and you are taking some knowledge away from what you would do different next time."
More By This Writer
Tuesday February 27, 2018 05:07 pm EST
Victoria Shore brings a love of pastries and a playful spirit to Krog Street Market newcomer Recess |
more...
Friday January 26, 2018 10:06 pm EST
The Common Market Georgia helps small-scale farmers into large-scale kitchens |
more...
Tuesday November 14, 2017 10:54 pm EST
Spiller Park Coffee was batting a thousand. The Ponce City Market stall, co-owned by James Beard award-winning chef Hugh Acheson and barista extraordinaire Dale Donchey, was bustling, the accolades rolling in. But Donchey wanted to grow further, to open a brick-and-mortar location in which to hang his proverbial cap. And this fall, he and Acheson have done just that, with a standalone spot in... |
more...
Friday November 10, 2017 04:01 pm EST
Enter Nakato and you have to choose: left or right. To the left, a tranquil, elegant space with a sushi bar opens out to traditional dining rooms, lined with rice straw mats and separated by silent sliding wooden doors. To the right, boisterous clapping cheers on hibachi chefs in a circus of cooking.
In the middle is Sachiyo Nakato Takahara, the third generation owner of the 45-year-old...
|
more...
Thursday October 26, 2017 04:20 pm EDT
Decatur's traditional Mexican bakery celebrates Dia de los Muertos with sugar skulls, pan de muerto and mariachi music |
more...
Search for more by Grace Huseth