Time and Place: L5P Halloween Parade
Dancing with the devil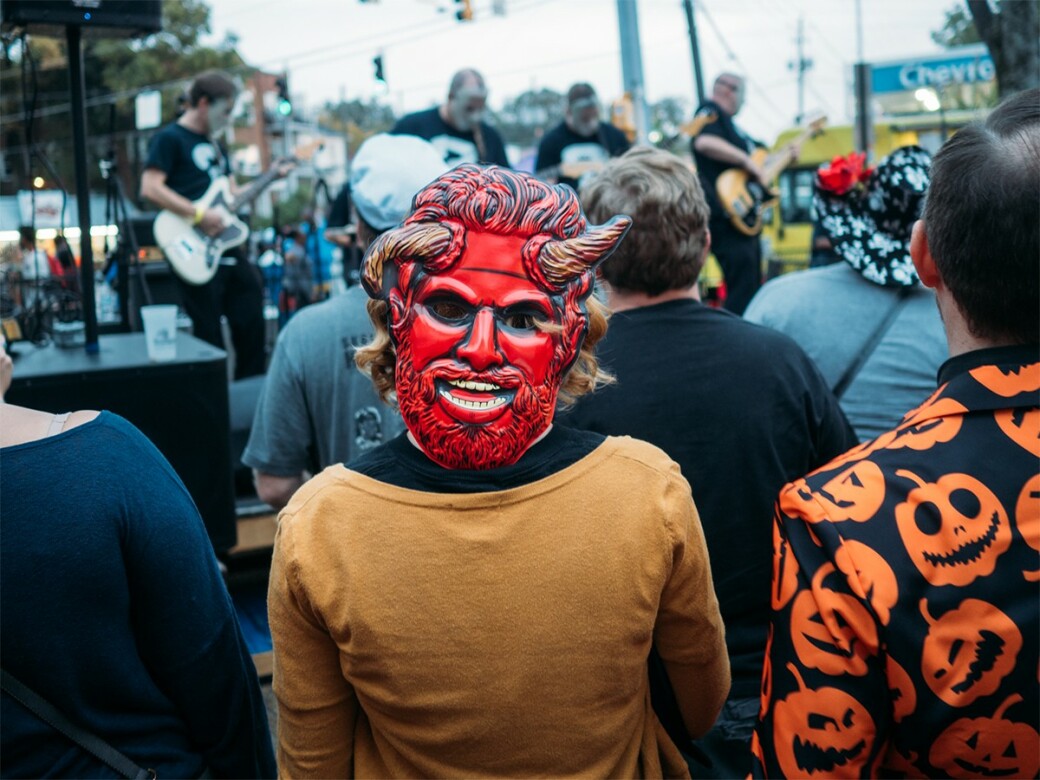 I wandered down to the Little Five Points Halloween Festival and Parade on Saturday and planned on catching a few bands at Star Bar and Findley Plaza, where this photo was taken. I was there watching Mystery Men, a local instrumental surf rock group, when I saw the creepiest thing I'd seen all day. A devilish figure was staring at me, dancing to the music of the masked men on stage. As "he" danced, the hair of the woman donning the mask was moving through the eyelids of the mask, looking strangely like little worms. I pointed out the spectacle to my friends who agreed that it was both a creepy and super cool sight, and the soundtrack made it even more fitting. 
I had brought a little camera that I take on travels and immediately took a shot and a little video to remember it by. I love the expression on the devil's face, both happy and slightly sinister, and it was interesting to see that Satan is down with the beard fad as well. 
I wanted to point out my love for the mask to its wearer, but didn't want to interrupt her enjoyment of the music, so I continued to take it all in. 
Overall, it's good to see that L5P is staying weird.
More By This Writer
Thursday April 30, 2015 10:20 am EDT
Matthew Smith
3:17 p.m., April 26, 2015, 675 Ponce de Leon Ave. NE


On Sunday, I rode my bike down the Atlanta Beltline's Eastside Trail to Ponce City Market, where a friend of mine was set to perform in Nick Cave's sold out show, "Up Right: Atlanta." Admittedly, I originally thought that Nick Cave, the Australian musician, was the one putting on this show, and I was hoping he'd be...
|
more...
Friday January 30, 2015 08:58 pm EST
Over furious waves of feedback, Parquet Courts proved that despite all of our disconnectedness, we can come together and experience something real |
more...
Search for more by Matthew Smith
array(10) {
  [0]=>
  int(1)
  [1]=>
  int(149)
  [2]=>
  int(1276)
  [3]=>
  int(104)
  [4]=>
  int(564)
  [5]=>
  int(201)
  [6]=>
  int(526)
  [7]=>
  int(1182)
  [8]=>
  int(575)
  [9]=>
  int(732)
}

---