Cooks & Soldiers prepares for Tamborrada
Executive chef Landon Thompson tells us what to expect at the upcoming Basque-style celebration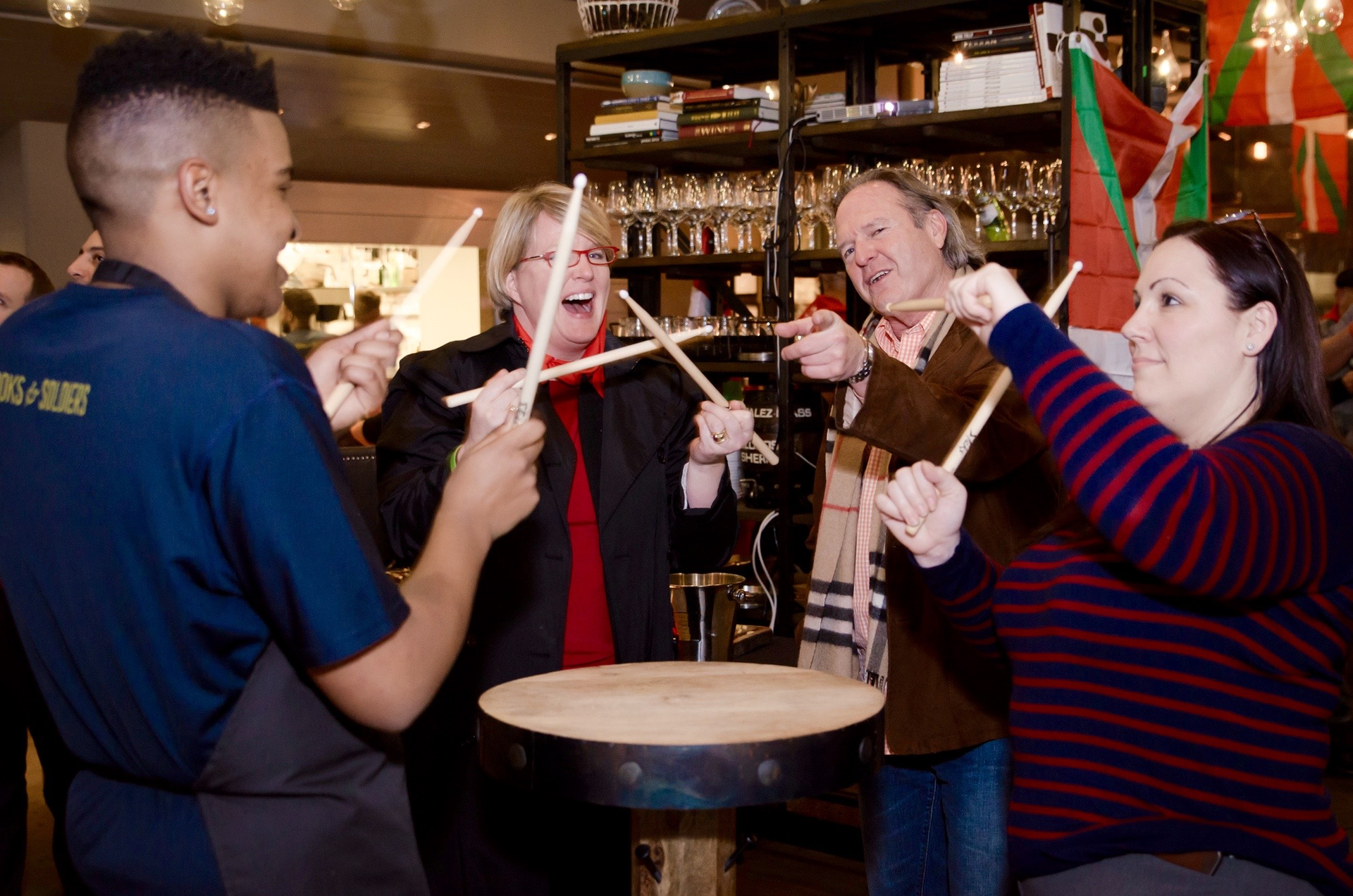 Every year on January 20th, the good people of San Sebastián, a city in Spain's Basque region, gather at midnight in the old town square to raise the San Sebastián flag. Thus kicks off 24 hours of Spain's loudest annual festival: Tamborrada. The townspeople, known locally as
donostiarras,
dress up as cooks and soldiers and march through the streets, dancing and beating drums in time to the city's anthem, "March of San Sebastián," until midnight the following day.


The festival dates back several centuries to the Peninsular War, when Napoleon took over the city and burned much of it to the ground. French occupiers would march around San Sebastián beating their drums to show dominance, and soon local women fetching water from the city's fountains began beating their buckets to mock the troops. The practice became symbolic for San Sebastián's sense of strength and cheer in the face of strife, and eventually grew into the massive celebration it is today, bolstered by local culinary clubs that make up an important part of the city's social life.
Here in Atlanta, pinxtos bar Cooks & Soldiers takes its name from the annual Basque celebration. Last year, the restaurant went a step further and hosted its first annual Tamborrada festival.
On Thursday, Jan. 19, Cooks & Soldiers will recreate Tamborrada West Midtown-style for the second year in a row. We chatted with executive chef Landon Thompson as he prepares for an evening of traditional Basque bites, booze, and entertainment.
No value assignedYou're from Georgia originally. What led you to Basque culture and food?
​I had spent the last four or so years heading up the kitchen of The Iberian Pig in Decatur (our sister restaurant) as chef de cuisine. In doing so, I amassed true adoration for the region and cuisine but still felt that something was lacking. I missed my hard taught, and hard learned, old school French techniques.
Have you been to the real Tamborrada?
​Although I have been to San Sebastián, we went in July so we missed the Tamborrada celebration. We learned a lot about it during our visit, however, and love the fiercely independent attitude of the Basque people, as well as their obsession with good food, good drink, and having a good time.
How do you intend to recreate that here in Atlanta?
We plan to recreate the vibe and attitude of this great celebration for an entire night by setting up multiple food action stations and satellite bars all around the restaurant offering craveable options such as the bikini, an assortment of Basque meats and cheeses, whole roasted pig, paella, and the almighty chuleton. There will also be music, dancing and all other sorts of mostly harmless fun!
This is the second annual Tamborrada at Cooks & Soldiers. What's changed since last year and what's staying the same?
​I must admit, I wasn't present for our first Tamborrada ​celebration as I was in Hawaii on my honeymoon. I was around for all of the planning, however, and from what I heard from everyone who was there, the first year was a major success. We won't be changing too much other than slight rearrangements to help improve the flow for everyone. So if you enjoyed yourself last year, come on back! You can expect the same amazing experience (we of course have a few tricks up our sleeves).
What dishes are you most excited to serve this year?
I'm a major carnivore so between the whole roasted local hog and mountain of prime bone-in ribeye we'll be serving, I'm pretty content​ (except for my gout). I'm especially excited to serve our paella this year, though. New to the lineup, this is an item we've been perfecting over the past few months. A big hit on Friday night as we would prepare it on our Howell Mill patio in an extra-large (nearly four feet wide) paella pan, and now a regular event on Sunday afternoons, it's sure to be a crowd pleasure! See you there?
Tamborrada. $45-65. 6-11 p.m. Thurs., Jan. 19. Cooks & Soldiers, 691 14th St. N.W. 404-996-2623. www.cooksandsoldiers.com. Tickets here.