Premiere: Material Girls unveil second single 'Tightrope'
Plus, the band talks more about the power of mystery and honing a 'desperate and arrogant' sound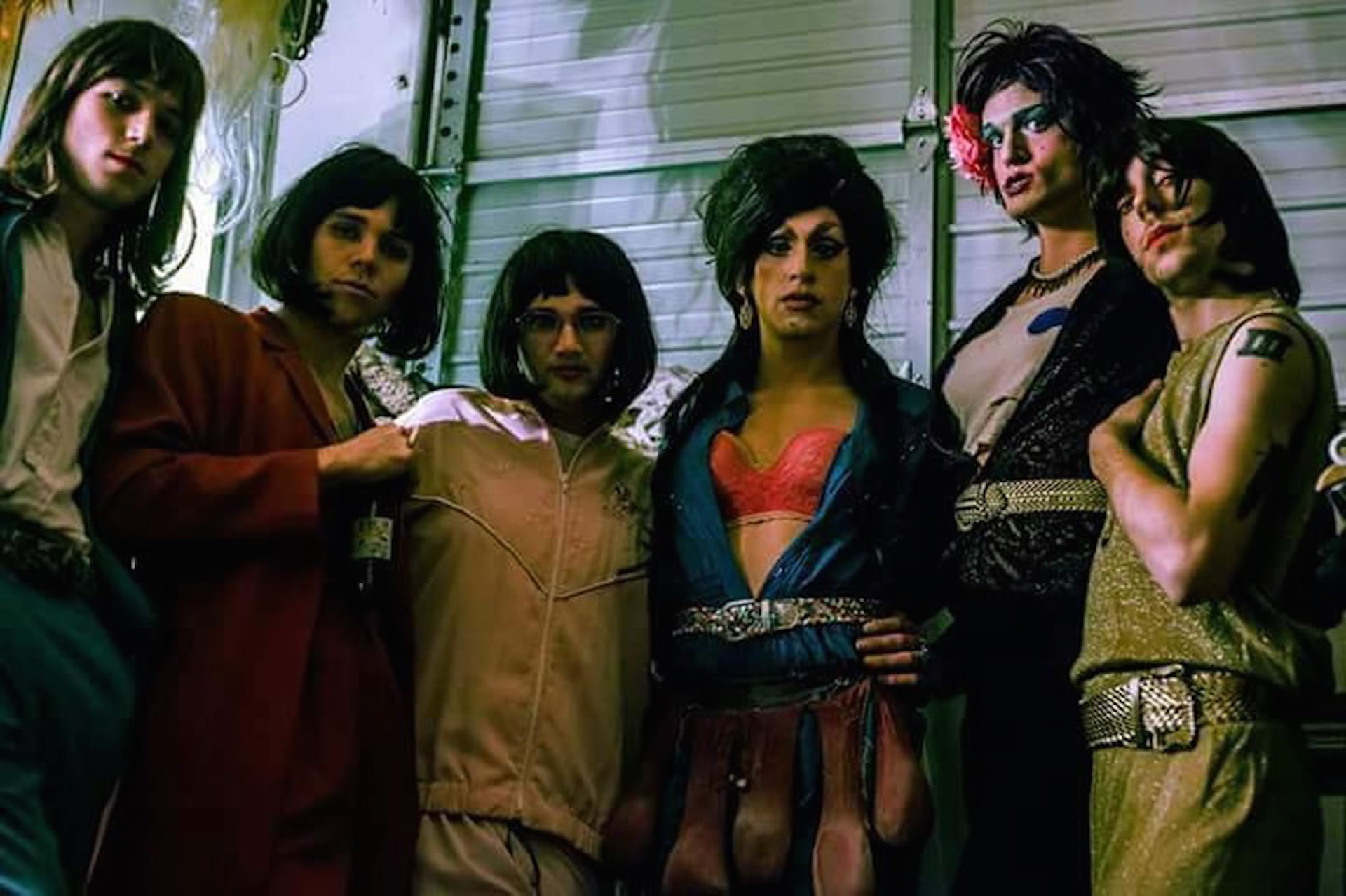 Not much information exists about recently-formed Atlanta band Material Girls, and the group likes it that way. The six-piece outfit featuring members of Slang, Concord America and Chief Scout debuted in late 2016 with just 33 copies of a lathe cut 7-inch record, sharing only one song online via a conspicuously sparse Soundcloud channel. The first single, "Drained," tantalized with spooky sleigh bells, jangly piano, braying horns, and deep, moody vocals reminiscent of Ariel Pink and Leonard Cohen. It was a promising track, and for listeners left wanting more, there was almost nothing to be found.
Today Material Girls tease the internet a bit more, releasing the B-side of the record with CL's premiere of "Tightrope."
Though the dark vocals and signature trumpets and saxophones remain, the song reveals a jauntier and more sardonic tone. The energetic bass and spoken-word lyrics ("I ask for advice / I fuck it up twice") evoke influences ranging from the Talking Heads to Ought. The band members spoke with CL via email about the B-side, social media ennui, the allure of the unknown, and what's in store for Material Girls' future.


Who are Material Girls?
Material Girls are comprised of six musicians with multiple responsibilities and roles within the group. We have two snarling guitar players, one of which sings in a nasty deep crooning voice. We have a very tall, bellowing trumpet player who also happens to be a very adept organist and a wild banshee of a saxophone player who accompanies the tunes with light percussion. Our bass player writes some of the most winding and playful bass lines and also happens to be quite a snappy drummer, and our drummer, who also occasionally plays bass and sings a number of his own, plays with ferocity and precision.
When and how did you form the group?
The formation of Material Girls came to pass without really having a specific path in mind but a destination. No maps and no trails so we take machetes and cut the plants down and stomp our fucking heels through the muck and figure it out as we go. We could be miles away. We could be standing right on top of it. That is very exciting to us. Our expectations are low and our ambitions are very high.
Describe Material Girls in three words.
Material Girls cannot be described in three words. Desperate and arrogant. Lovely and harrowing. A big rolling fucking cacophonous calamity.
Tell me about the new track.
"Tightrope" is the b-side to our first single "Drained," which our friend Ethan Rose of Funky Frankenstein Records very lovingly handmade into 33 copies on his own lathe in his house. Lyrically, "Tightrope" concerns being crippled by indecision and uncertainty. Not facing the truth, not facing reality, saying one thing and doing another, rationalizing things within yourself so you can sleep at night, endless procrastination. Things we all have in common.
There's not much information about Material Girls online. Why is that?
When you have access to everything, nothing is impressive. There's nothing to be surprised about. Your interest cannot be piqued that way. The whole social media universe is just flooded with horse shit anyways. You end up being washed away amidst a wave of horse shit, and the tide is always high. Soon enough there will be another picture-filtering application so people can share all what they ate for breakfast or the kinds of things they drunkenly shout in a loud nightclub and all kinds of things for you to not give a fuck about while your day is wasting away spent following someone else's boring life. And then when will they have a chance to listen to Material Girls? Probably never. They are too busy.
Is your limited run record available for purchase?
Our record is for sale at our upcoming shows but there are only a few copies left, so I would suggest purchasing one prior to the show so you can not only secure yourself one of the last copies of a limited edition record, but you can leisurely put it in your car so you won't have to stand around holding it all night.
What does the future hold for Material Girls?
Material Girls are going on a small east coast tour in a matter of weeks, stopping in D.C., New York, and Philadelphia before we come home and play at the infamous Southern Comfort Restaurant and Lounge on March 2. We will release more music as the year progresses.
With Muuy Biien, DiCaprio, Shepherds, and Mannequin Lover. $5. 9 p.m. Sat., Jan. 28. The Earl. 488 Flat Shoals Ave S.E. 404-522-3950. www.badearl.com.