Premiere: Man Up, Yancey's 'Oversensitive'
New video channels the group's ongoing personal and stylistic evolution


Over the past year, Man Up, Yancey has rode a wave of changes: More shared songwriting between singer Yancey Ballard with guitarist John Pierce and bassist Grahm Naylor, a rotation of drummers (currently Ryan York), '90s damaged heartbreak ditched for a queer cruxed post-punk style. Not to say queer narratives weren't always present, however, Yancey Ballard's journey beginning Hormone Replacement Therapy has altered the band's path fairly dramatically.
"I feel like this video is like a sweet kiss goodbye to my voice," Ballard says. "It made us have to write all new songs because my voice changed so quickly, changing the style I sing in because it is constantly getting lower. I'm not able to hold a note most of the time so I do more spoken word now. I feel like it's affected how I think and write as well but I don't even know how to articulate that."
"Oversensitive" is a portrait of post break-up anxiety, the most yearnful number on last year's Blue Fuzz EP. The earlier "Opinion" video explored the dissonance of self-perception, both directed by Decatur native Cory Ferreira and assisted by Dorian McNall and Ari Fouriezos. Mica Levine's performance in "Oversensitive" switches between femme rage and sultry complacency, Ferreira noting: "The psychotic break references two ideas of self, and that's not to exclude the implication of another character, especially through the dual layout of the video."
Man Up, Yancey is one of a few bands upping queer visibility in Atlanta's local music community that for has long been cis-led, often male and often straight. With a fresh set of songs to be released later in the spring, the band's newly developed sound contributes to a long history of Southeast jangle pop (cue Pylon and the 1980s Athens post-punk sound). As these older tracks are no longer performed, "Oversensitive" is a last documentation into the Atlanta band's past, their fruitful beginnings now clearing way for future developments.
Man Up, Yancey plays 529 tonight (Wed., Feb. 1), with Vita & the Woolf and If I. Free (donations at the door). 9 p.m. 529 Flat Shoals Ave. 404-228-6769. www.529atlanta.com.
More By This Writer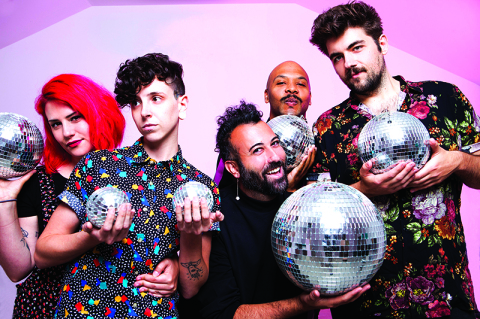 Friday October 5, 2018 11:24 am EDT
WUSSY allows photographers and writers the ability to communicate and express without censorship  |
more...
Thursday October 8, 2015 04:00 am EDT
6 local artists on creativity and queer identity |
more...
Search for more by Sunni Johnson
array(1) {
  [0]=>
  string(6) "orphan"
}