50 YEARS - 1981: The Second Jimmy Carter's Expressway Fight
A legacy of resistance: How intown residents fought the powers that be - and won - Kennedy Spencer, Mar. 2017
Cathy Bradshaw and many of her neighbors know what it feels like to fight a former U.S. president and win. The story of their journey to victory was recently depicted in the Inman Park pop-up exhibit Pickets, Protests and Parkways. And, while the exhibit showcased artifacts representative of key events of years past, some residents believe it is particularly relevant today.
"There are so many parallels with what they did that it's like a how-to manual for activism today," says Cristy Lenz, an Inman Park resident and co-organizer of the exhibit. "We've got to do more than marches because it's gotten to the point where none of us can afford to not have activist on our resume. Whether you can devote 10 minutes or 10 hours, everyone can find a cause they're passionate about — like Trump's immigration ban or affordable housing around the Beltline — and get involved. Do something.
"Long before Inman Park became home to bike lanes, its annual festival and Tour of Homes, and Freedom Park, it was considered a "blighted urban community." In fact, due to the dilapidated condition of many of the historic Victorian homes and more than 200 acres of empty land that was overgrown with kudzu, Inman Park and many of the neighboring communities were on the short list to become a casualty of development plans that were set in motion back in the 1960s.
Through the years, several elected and appointed officials offered solutions to hide, if not eliminate, the wart on the nose of Georgia's capital city. And, in 1981, when ex-president Jimmy Carter was deciding on a location for his library, he and Mayor Andrew Young and Georgia Department of Transportation Commissioner Tom Moreland made a deal to create what would be known as the Presidential Parkway. The plan would've placed a high-speed expressway with truck traffic and five bridges over the intown neighborhoods and, among other things, placed a playground just a fence away from the new expressway.
Infuriated homeowners were galvanized. The line for a David and Goliath battle had been drawn. In spite of what the politicians and many others in the local business community thought, residents of the affected areas — artists, professors, lawyers, stay-at-home moms and the like deep in the trenches of home renovation and raising kids — knew the value and potential of their properties. And they were willing to fight.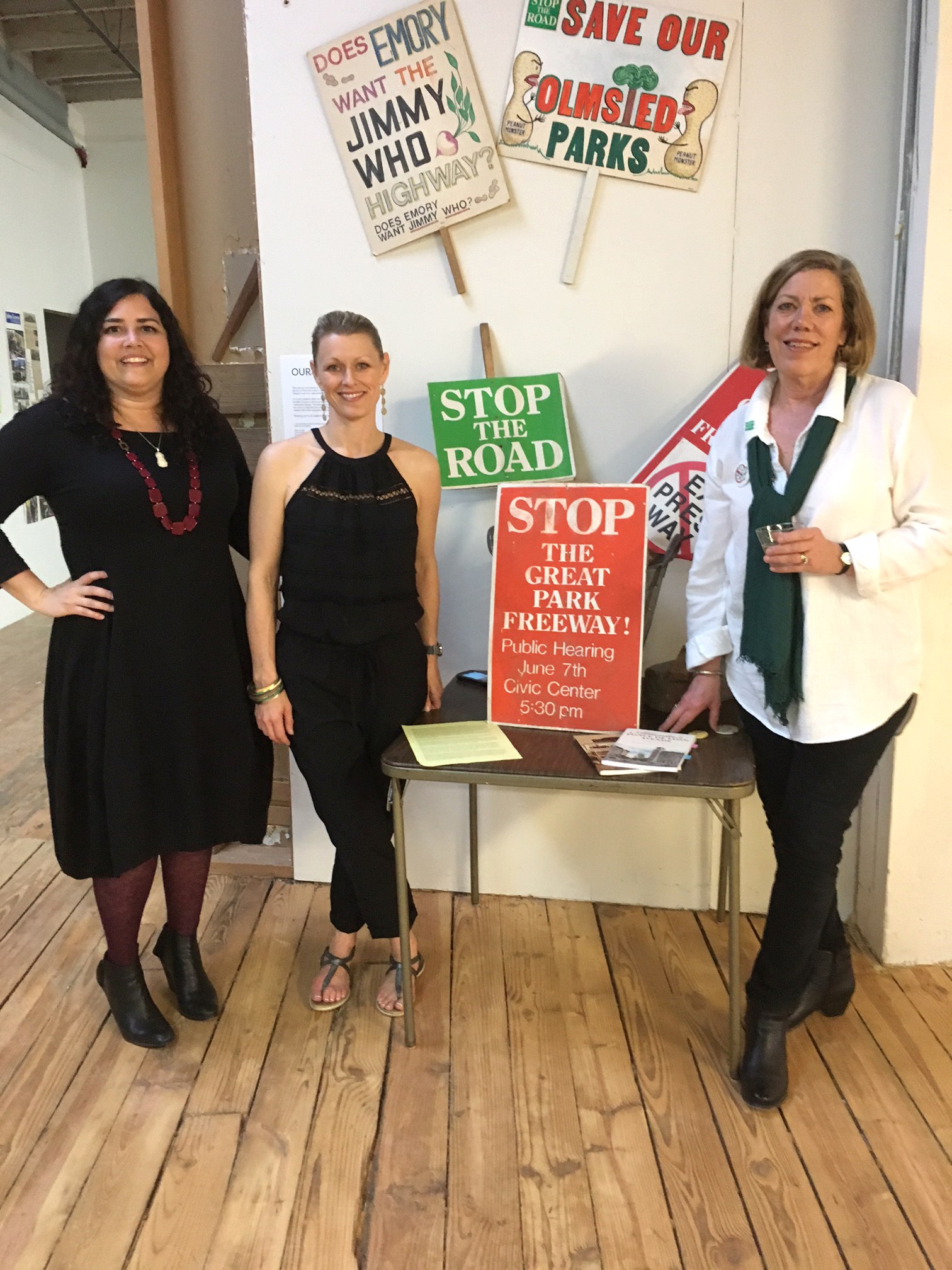 "Pickets, Protests and Parkways" organizers Cristy Lenz (from left) and Sandi Parker with Cathy Bradshaw, past president of C.A.U.T.I.O.N.Judy Clements
Joining Inman Park neighbors, homeowners banded together from Poncey-Highland, Candler Park, Druid Hills, the city of Decatur, Lake Claire, Virginia-Highland and East Lake, and they strategized a multi-point attack. Legal and political matters were handled by C.A.U.T.I.O.N. (Citizens Against Unnecessary Thoroughfares in Older Neighborhoods), and Road Busters was set up as the protest arm.
Both groups worked tirelessly. Road Busters barricaded bulldozers, tied themselves to trees and came to the fight ready to be arrested — and often were. C.A.U.T.I.O.N. coordinated litigation, fundraising, volunteers and lobbying. They also interviewed political candidates to determine who was anti-road and got the word out. In the era before cell phones, fax machines, email, Facebook and Twitter, the volunteers created phone trees, block captains and posted fliers around the city to make things happen and to mobilize thousands of people.
"We knew that just because a certain set of people were in office, their term would end one day," Bradshaw says. "We knew that even though we were fighting an ex-president, we had the power to have our voice heard."Ultimately, the activists were able to get 64 pro-neighborhood candidates elected to various political offices, including roles in Atlanta City Council, the Fulton County Commission, the DeKalb County Commission, and local representatives to the House and Georgia Senate.
The reward for their labor — a halt to the high-speed freeway plans — came not long after Gov. Zell Miller urged for a compromise soon after his election in 1990. All vested parties, including each of the neighborhood organizations, had a chair at the table. At the end of it all, Freedom Parkway had a green light. It was to be an at-grade, low-speed highway with no truck traffic and no bridges over city streets to provide access to the Carter Center. The remaining 200 acres were to be made into a city park with biking and jogging paths.The entire movement spanned about 30 years, with C.A.U.T.I.O.N. and Road Busters turning up the heat more intensely the final decade until the ink was dry.
Bradshaw, who played a key role in C.A.U.T.I.O.N., is modest when she reflects on her role in a movement that helped save some the city's most cherished communities. "I never set out to be an activist. I was a mother and a homeowner," she says. "I got involved just because I was passionate about saving our neighborhood."