First Slice 3/28/17: Whatever happened to Sen. David Perdue?
Plus: Cats love you. No, seriously.
Tuesday March 28, 2017 09:57 am EDT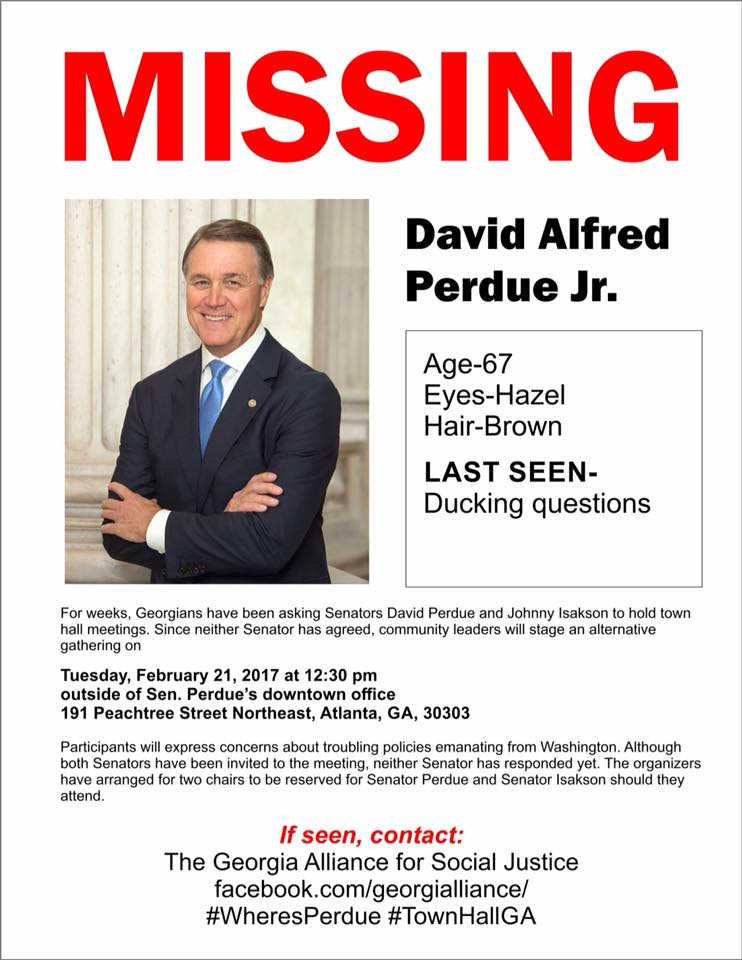 The Georgia Alliance for Social Justice and 159 Georgia Together have launched a campaign looking for bmissingb Sen. David Perdue; activists say hebs not held a public forum to meet with his constituents since the November election. Yesterday, five billboards went up in Atlanta, Sandy Springs, Savannah, Brunswick and Sea Island, seeking the senatorbs whereabouts.


Ibll have the steak: For the first time ever, bird flu was discovered in a flock of chickens in Chattooga County, northwest of Rome, Georgia.B
Thousands are expected to lose their food stamp benefits this week if they donbt find a job, thanks to the statebs mandated work requirements.B B
No goal: USA Hockey and members of the U.S. women's national hockey team still havenbt come to an agreement over the teambs threat to boycott the IIHF Womenbs World Championship; they just want a living wage and some help on transportation costs, dammit.
Forget everything you thought you knew about cats: A new study found that felines really do enjoy human contact.
More By This Writer
Plus: ArtsATL opens its Luminary Awards nominations
Monday August 7, 2017 01:44 pm EDT
Plus: RIP Chantek
Wednesday August 9, 2017 01:15 pm EDT
Plus: Hurricane Irma hangover
Tuesday September 12, 2017 01:41 pm EDT
Plus: How Equifax screwed up so royally
Wednesday September 20, 2017 03:41 pm EDT
Plus: Confederate monument in Decatur gets tagged
Monday September 25, 2017 01:13 pm EDT
Search for more by Kimberly Lawson