In a silent way
Signal and the Noise showcases new music for silent films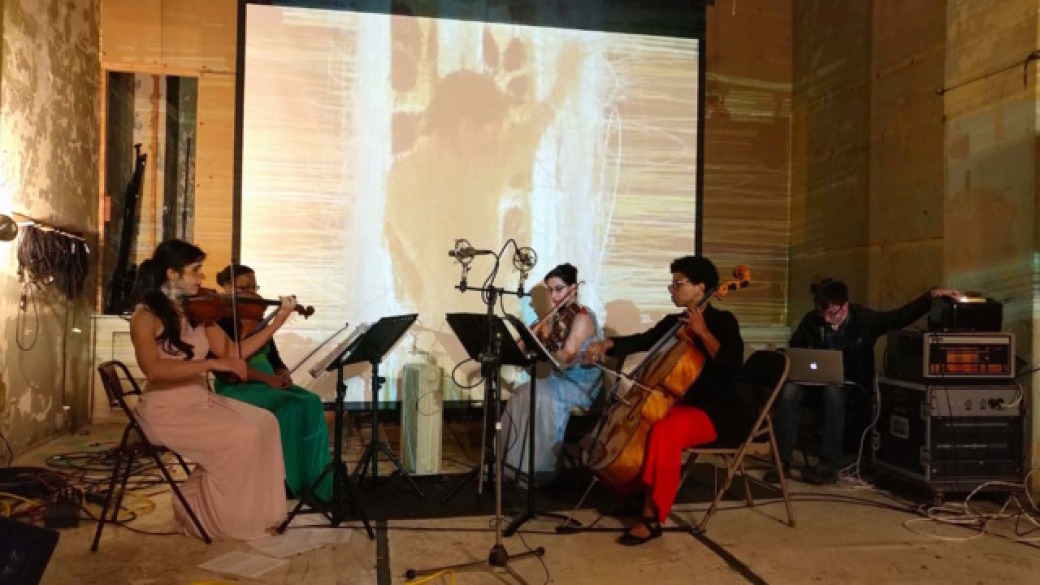 MADNESS TAKES ITS TOLL: Cantos y Cuentos performs music for A Page of Madness, Sun. Jan. 21 for Eyedrum's Signal and the Noise series.
Silent film screenings with live musical accompaniment are almost as old as film itself. At the turn of the 20th century, owners of the first commercial cinema houses relied on music, usually performed by a solo pianist or small ensemble, to mask the noise of clunky projection equipment and enhance the entertainment experience.
Signal and the Noise, a three-part Sunday night series at Eyedrum January 7th, 14th, and 21st, puts a contemporary spin on this time-honored format. Organized by violinist Tracy Woodard, founder of the string quartet Cantos y Cuentos, Spanish for "stories and songs," each program in the series features area musicians performing original music for three silent films, Alice in Wonderland (1915), Dante's Inferno (1911), and A Page of Madness (1926).
"I got the idea for the series from an amusing conversation with a composer who was hired to score a cutesy princess movie, but the director wanted everything to sound like Hitchcock's The Birds," says Woodard who serves as executive director of the Atlanta Contemporary Ensemble. "I thought, 'I would totally pay to see that.'"
On Jan. 7, Beverley, an Athens-based duo featuring vocalist and keyboardist Monique Osorio and violinist Sahada Buckley, accompany Alice in Wonderland, which was written and directed by W. W. Young and starred Viola Savoy as Alice. According to Osorio, who performed with Killick Hinds at Mammal Gallery in November, Beverley will eschew a score of any kind, preferring to "use the film and its images to inspire a musical improvisation."
On Jan. 14, Signal and the Noise presents Dante's Inferno accompanied by Davis Petterson (percussion and electronics) and Paul Mercer (violin, viola). An Italian production directed by Giuseppe de Liguoro, Dante's Inferno is considered by many scholars to be the oldest surviving feature film. It was re-released in 2004 with a soundtrack by Tangerine Dream.
Under the moniker the Ghosts Project, Petterson and Mercer have performed raga-inflected, jam-friendly music for more than a decade with various guest musicians. "The sounds that we specialize in will marry quite well with the visuals of the film," says Petterson.
For the series' final installment, Woodard leads Cantos y Cuentos through a minimalist score composed by the violinist for A Page of Madness. Directed by Teinosuke Kinugasa, who was inspired by the surrealist and expressionist trends in literature, cinema, and art flourishing in Europe at the time, the 1926 film is widely acknowledged as one of the signature examples of experimental filmmaking during cinema's formative decades.
A Page of Madness posits a disorienting world from the point of view of a sailor who toils as a janitor in a lunatic asylum. The sailor took the menial job to be close to his wife, who was committed to the asylum after she almost drowned the couple's child out of despair over her husband's neglectful behavior. Non-linear sequences, frenzied editing, starkly contrasted lighting, and imaginative visual effects create a nightmarish atmosphere filled with demoralizing anxiety and taut emotional tension.
Accompanying A Page of Madness will be Woodard (violin), Martha Oceguera (viola), Alana Bennett (cello), and Paul Stevens (singing saw). The quartet will hold one rehearsal with the film to become familiar with transitional scenes. Otherwise the music is totally improvised. "Because it's a story about love and nightmares in Japan, the music draws from my childhood summers spent in a Rinzai monastery in upstate New York," says Woodard. "It's very percussive, with lots of chanting and rhythmic breathing."
More than a century after the advent of moving pictures, Signal and the Noise suggests the combination of silent cinema and improvised musical accompaniment remains an alluring proposition both for performers and audiences.
Signal and the Noise presents Alice in Wonderland Sun., Jan. 7; Dante's Inferno Sun., Jan. 14; and A Page of Madness Sun., Jan. 21. $7. 8 p.m. (each Sunday night). Eyedrum Art & Music Gallery, 88 Forsyth St. 770-676-1605. www.eyedrum.org.