Great Southern Beer Fest kicks off in ATL on April 28
Show your appreciation for local beer from Georgia and our neighbors  
The inaugural Great Southern Beer Fest is kicking off in Atlanta before rolling through Birmingham, Jacksonville, and Chattanooga. The festival features more than 75 beers from prominent breweries from all over the South including Alabama's Good People Brewing Company and North Carolina's Wicked Weed Brewing. In addition to tasting a variety of beers, delicious food is available from Southern-inspired local chefs, a blind beer tasting, lawn games, live music, and more. General admission tickets include all the beer tastings you can handle and a commemorative full-sized mason jar. We do love our mason jars down here. Y'all be safe, designated driver tickets are available at a reduced price. Rain or shine, 21+ only.
$46-$55. 1-6 p.m. Sat., April 28. John Howell Park, 797 Virginia Ave. N.E. www.greatsouthernbeerfest.com. 404-624-9453.
More By This Writer
The local rock band releases its own collaborative beer for charity on May 24.
Thursday May 24, 2018 05:00 am EDT
Hop City Craft Beer & Wine and SweetWater Brewing Company have collabed with ATL-native alternative rock band Manchester Orchestra to create a brew worthy of a gold medal, to say the least. Taking its name from the single "The Gold," pulled from the group's latest record, A Black Mile to the Surface, the golden ale is 6.1 percent ABV and brewed with Golden Promise grain and seeped in Mandarina... |
more...
Nappy Roots and Monday Night Brewing combine forces to release the Humdinger on May 18
Friday May 18, 2018 12:25 pm EDT
Imagine if Monday Night Brewing and Kentucky-based rap quartet Nappy Roots had a baby. Well, they kind of did. The two are teaming up to release the Humdinger, an imperial rye stout steeped with Ugandan vanilla beans and aged in Kentucky Bourbon barrels. The brew is named after the group's 2008 record titled the Humdinger, which features tracks such as "Good Day" and "Small Town," both of which... |
more...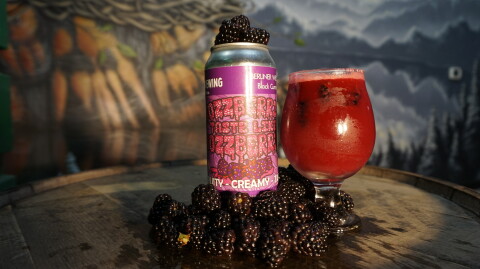 Bubbles, bubbles everywhere, but not a drop to drink… yet
Thursday May 10, 2018 01:43 pm EDT
So much time and so little to do. Wait, strike that. Reverse it. Pontoon Brewing has a jam-packed weekend of pure imagination planned and you won't even need a golden ticket to attend. The brewery is releasing Snozzberries Taste Like Snozzberries, a Berliner Weisse style sour flavored with tart boysenberries and black currants, and finished with vanilla and lactose milk sugar to produce a fruit... |
more...
The summer six-pack even beer drinkers can achieve
Thursday May 10, 2018 12:23 pm EDT
Well friends, we've had some strange weather this year, but we're bound to feel that famous Atlanta heat sometime soon. When that happens, it'll finally be time to crack open a cold one... or six. Your neighborhood craft brewers already have you covered with new seasonal releases and a couple of classic summer faves.
SweetWater Brewing Company | Tropical Lover Berliner Weisse

If you...
|
more...
Tuesday May 8, 2018 12:39 pm EDT
Zoo Atlanta's Memorial Day festival returns for its 11th year |
more...
Search for more by Alex Patton