GRAZING: Boulevard of foodie dreams
Eating away on the Memorial Drive corridor
Memorial Drive has turned into a boulevard of foodie dreams in the last year. Eight new restaurants have opened and several more are on the way. Let's take a quick tour.
We'll start at Memorial's intersection with Hill Street where the hideous George, a blocks-long apartment complex, frowns at its legendary, supremely kitschy neighbor, Daddy D'z Barbecue. The George contains two restaurants: Your Pie and Farm Burger. Both are chains that offer "fast casual dining," meaning you get cooked-to-order food for a price that's moderately higher than classic fast-food poison. This is the main trend in the restaurant industry, and many are saying that Ronald McDonald and his colleagues will soon be pink slime in a graveyard. I doubt it.
Farm Burger's selling point is grass-fed beef.  You can go to their website and see pictures of cows smiling because they are free to roam grassy fields before being ground into antibiotic-free burgers. The problem with grass-fed beef is that it's so lean and clean that the flavor is often just not there unless it's cooked with great care. I decided to experiment and ordered a burger topped with pork belly. Nobody knew if the pig was grass-fed, but I figured, hey, at least it would add fat. I combined it with local goat cheese and a slice of tomato. Not good, unless you like really gooey, gamy pork belly. Instead, do what I always did in the past: Drown that ground-up cow with everything from oxtail marmalade to pimento cheese. The condiments are the flavor source. Chicken, vegetarian, and pork burgers are also available, along with baroquely seasoned, messy fries.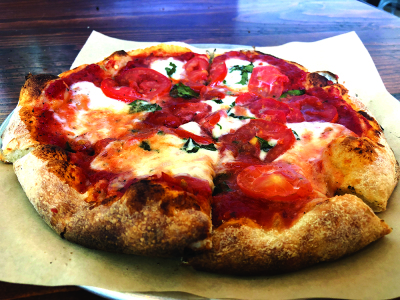 Your Pie, like Farm Burger, offers countless ingredients to top your 10-inch pie. I felt like an indecisive zombie surrounded by impatient kids during my first visit. I ended up creating a margherita: fresh mozzarella, tomatoes, and basil. I'm ashamed to admit that I liked it. The crust was crispy, not too chewy, charred, and soft in the pie's center. You can pick white, wheat, or gluten-free dough. I also tried the tiramisu gelato, which was a fail. I'm still not convinced it wasn't just straight-up coffee gelato. Bonus points: The menu lists the calorie content of every ingredient. Now you know why you're fat.
Moving east, we are confronted by another major burger option, Grindhouse Killer Burgers, a local chain that former attorney Alex Brounstein started in the Sweet Auburn Curb Market 10 years ago. The new location, a former roadhouse, seats 200 inside and out, and the wait is sometimes longer than the wait for Donald Trump to toss you some paper towels after a hurricane. There are areas where your pet can graze on Astro Turf while you play shuffleboard or eat your beef, turkey, or veggie burger. The beef is ground chuck and brisket – fed on god knows what – and is usually delicious, no matter your choice of ingredients. I tried my usual Apache with New Mexico green chilies soon after they opened and it was so wet and mushy I couldn't pick it up. Things were much improved my next visit. I even returned a third time to try the Impossible Burger. This isn't grass-fed beef. It is grass – a vegetarian meat imposter that actually works, but it will cost you an extra $2.50 per patty. An alternative veg-burg is made from black beans. Messy fries available. 
Grant Park Market, a grocery store and restaurant, is the Candler Park Market's sister. It anchors the Larkin, a mixed-use property developed by the Krog Street Market folks, who of course demand brutally self-conscious, under-stated style. The Market itself is shiny and woody, but not too woody, with a long bar and community tables. (Fuck back support.)
  It's open for breakfast, lunch, and dinner. Since burgers are overtaking Memorial, I decided to try theirs, and it's the best of all.  A full pound at dinner, served with garlic-parsley fries, it's topped with American cheese, pickled red onions, caramelized onions, a barely detectable smear of avocado, lettuce, and some bread-and-butter pickles. Yes, the pickle-onion flavor is redundant, but here's the big surprise: The beef is grass-fed and perfect! I also ordered a not-so-small plate of cubes of Manchego cheese marinated in garlicky olive oil, combined with a compote of dried figs and cherries, all topped with almonds. Honestly, the ingredients didn't come together too well, but there are many other choices. Both my dishes would feed two normal people, and even I took half my meal home.
Two new coffee houses have opened, both of them on the Cabbagetown side of Memorial. The larger is Brother Moto. It's actually a do-it-yourself motorcycle repair shop that adjoins a huge, zennish industrial space with uncrowded tables for sipping coffee and hanging with your laptop. You can also shop for t-shirts and other moto merch. Pastries are the only food available at the coffee bar in the back, but they're from Proof, which means you can get the best almond croissant in town. I ordered a cortado and was happy even though it was quite bitter. I like bitterness.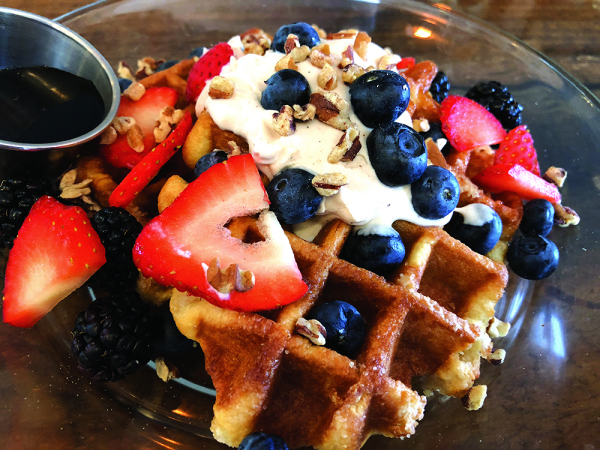 The other coffee house is Petit Chou ("Little Cabbage" because it's in Cabbagetown). It has been around longer than most of these venues – long enough that the interior, mainly a large square bar with a few tables, is looking pretty messy these days. There's also a patio for pollinating your nostrils. Peitit Chou is open for breakfast and lunch. I've found the morning food, including the pastries from Alon's, mainly good, but not particularly exceptional. This trip, I found an excellent exception — the absurdly decadent Belgian waffles with pearl sugar, blueberries, strawberries, nuts, maple syrup, and house-made whipped cream spiked with cinnamon and vanilla. I might as well have swallowed a bottle of Ritalin, I was so jittery afterward. In the past, I've enjoyed the chicken liver mousse and the avocado toast. Espresso drinks are well prepared.
Moving farther east to Reynoldstown, we come to the Golden Eagle, located in the old train depot that was home to H. Harper Station for a while. This is the most serious venue on Memorial. The low-lit décor is spectacularly retro, right down to its gold reel-to-reel tape recorder from which the grunts and groans of James Brown emerged during my visit. The problem here is that the Eagle is a far better cocktail lounge than restaurant. Most of the menu is small plates for sharing. The best on my table was the fisherman's stew, whose mussels surrounded a big fat chunk of pork belly. Next best was duck confit with roasted Brussels sprouts and Cipollini onions. I also liked the trio of three fat oysters topped with lump crab and bread crumbs. A Japanese pancake with dried fish flakes and cabbage was a little gooey for my taste. Generally, the food should be better, considering that the restaurant is operated by the owners of Ladybird Grove and Mess Hall.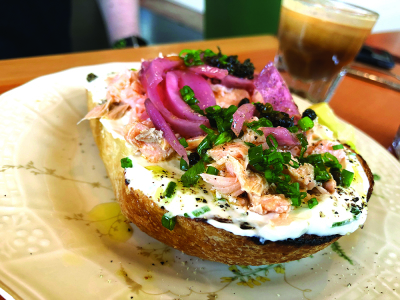 The owners do merit some redemption for operating a breakfast-and-lunch spot, Muchacho, in the front of the train depot. This is my favorite new restaurant on Memorial. I usually order tacos, especially a vegetarian one made with strips of roasted poblano peppers. The barbacoa and al pastor are both as good as you'll find anywhere on Buford Highway. There are also poke and grain bowls, plus toasts. My favorite of the latter features a dramatically large helping of smoked salmon. I've also eaten a deliciously grilled version of the Cuban medianoche sandwich. Finally, they make one of the best cortados around, and the pastries, inspired by former culinary director Taria Camerino, are mainly flawless. Why is it called Muchacho? Every time I go, I ask the staff and nobody knows or has ever thought to ask the owner. Weird. I'm not going to ask him either. I want to see how long it takes for the staff to ask.
This is not the end. At least three more new restaurants are planned at the Larkin, including another pizzeria and a ramen shop. And, of course, there is a group of older restaurants already on Memorial, including my favorites, Daddy D'z and Home Grown, plus Tin Lizzy's, Six Feet Under, Republic, Octane, and Java Cats. I live in Grant Park and I'll never go hungry again.
More By This Writer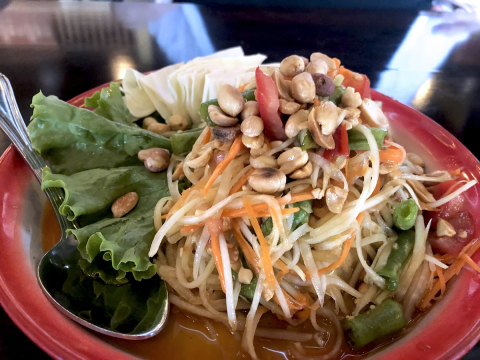 Thursday July 1, 2021 02:12 pm EDT
From Buford Highway to Chattahoochee Avenue — that's a lot of territory, indeed |
more...
Thursday June 3, 2021 09:53 am EDT
Lunch at El Viñedo Local, dinner from Krystal, lecturing cheap tippers, exploring new foodie media |
more...
Monday May 3, 2021 12:42 pm EDT
Grazing surveys some Atlanta hot dogs |
more...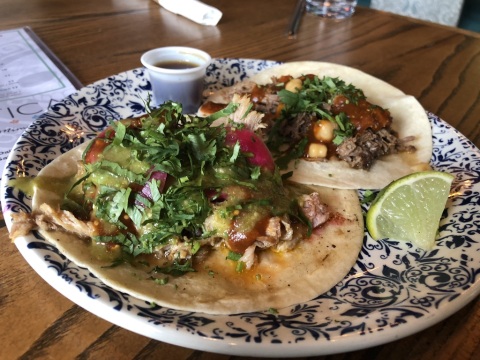 Tuesday April 6, 2021 01:32 pm EDT
The borderless menus of Botica and Mukja |
more...
Thursday March 4, 2021 10:01 am EST
And a cheap fix you can buy right off the shelf |
more...
Search for more by CLIFF BOSTOCK
---