HIGH FREQUENCIES: Violent Femmes reflect where we are
Brian Tairaku Ritchie on the past and present
Heading over to the Chastain Park Amphitheatre (sorry, that will always be its name to me, no matter what company has paid however many thousands of dollars to have their name attached to it) the other night, I realized something. Both the bands I was going to see, Echo & the Bunnymen and Violent Femmes, I had first seen at 688 when they were just starting out and were virtually unknown except for the people who followed what was then called new wave and punk music in the early '80s. Both bands had sold-out shows at the small club on Spring Street at a time when Chastain was offering Johnny Mathis, James Taylor, the Four Tops, and Anne Murray to its wine-and-cheese crowd. That's when it hit me. Fuck, are Echo & the Bunnymen and Violent Femmes the Johnny Mathis and Anne Murray of today!?! Has the Class of 688 gotten so old that its members would rather see a band at an outdoor dinner theater rather than in the small, sweaty confines of a rock club with cheap drinks, dirty toilets, and drugged-out employees? More so, were Echo & the Bunnymen and Violent Femmes now considered mainstream, or even worse, oldies acts that could draw the season-ticket crowd that attended concerts at Chastain more to be seen than to see a show? I swear, as my ticket was scanned and my body was being searched with a metal detector, I thought I saw my life flash before my eyes.

Walking down the long granite stairs towards the orchestra pit, I saw that the scene was not as bad as I'd feared. This was a "no tables, no coolers, or carry-ins" show, so people wouldn't be there with their candelabras and catered spreads, noshing until the final encores. And the audience was somewhat sparse. Not a good sign for the promoter, or for the band to reach the ticket sales point of receiving a percentage of the gross during the settlement, but it did show that the usual Chastain Park elite still weren't ready for two bands who proudly wore their alternative hearts on their sleeves to be background music for their dinner party.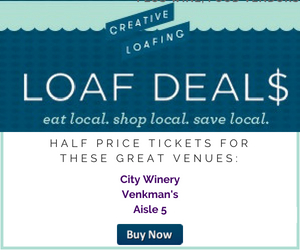 Echo & the Bunnymen, or, rather, Ian McCulloch and Will Sergeant with assorted side musicians, proved better than I expected. While it's the power of their songs that draws you in, the execution was tight and on the money. Performing a no-nonsense set that included "Lips Like Sugar," "Bring on the Dancing Horses," Rescue," "The Killing Moon," and "The Cutter," they also paid tribute to a couple of influences with versions of "Roadhouse Blues" and "Walk on the Wild Side."

By the time Violent Femmes were ready to take the stage, the seats began to fill, the sun was starting to set, and people were ready to sing along every chance they got. Coming out of a side door stage right, the band — including original founders guitarist and singer Gordon Gano and bassist Brian Tairaku Ritchie, joined by the Horns of Dilemma, a group of horn and percussion players — marched past the front row of fans, through a second door, and onstage to begin their first song. The party had started, and with a set list heavy on songs from the self-titled first LP — yet with enough tracks from the group's later albums to note their long-term evolution — the audience didn't want it to stop. And, judging from the energy and enjoyment emanating from those onstage, neither did the band members themselves.

Before the show, Violent Femmes bassist (and multi-instrumentalist) Brian Tairaku Ritchie met backstage with Rob Foster, Geni Skendo and Andrew Hartzell, who later, in the Horns of Dilemma with Blaise Garza, would join the Femmes onstage. For the moment, with a number of different flutelike instruments from around the globe gathered on a coffee table in a dressing room, they were trying out the various instruments and commenting on the unique designs of many of them. Ritchie, a shakuhachi flute master, explained to a less-versed friend the differences between the instruments and demonstrated the different sounds that could be made with them.

After the concert, I threw Ritchie some questions echoing my concerns about Violent Femmes playing a place like Chastain — and whether or not he accepts that what once was alternative is now mainstream.

You guys seemed to really be enjoying yourselves onstage. Is that commonplace these days? Or did having the Horns of Dilemma with you have something to do with it?

We always enjoy the shows because we are improvisers. We keep the music alive by changing the set every day. We don't use a set list. That way we can react to the circumstances. Some of the songs also contain group improvisation. The Horns of Dilemma have been a feature of the shows since almost the beginning.

Our current lineup, with John Sparrow on drums and Blaise Garza on sax, is the best we've had and the tightest. They are both younger guys who came up as fans of the Femmes and were heavily influenced by us before even joining the band. Blaise has been playing with us on and off since he was 14.

The march through the crowd onto the stage, a tribute to Sun Ra?

Marching is a dramatic thing we have been doing since 1984. In fact, a recent bootleg surfaced from Columbus, Ohio, where we marched in and out of the show with Steve Mackay of the Stooges on sax. Sun Ra is a huge influence on us in many ways. I brought the Arkestra to Tasmania to play at MONA (the Museum of Old and New Art, Tasmania) three times already. That's how much I love them.

In 1983, the year Violent Femmes first played Atlanta, typical concerts at Chastain included Johnny Mathis, James Taylor, the Four Tops and Anne Murray. Do you think Violent Femmes have reached such stature in American pop culture?

We are still underground in a sense. Those artists you mention were ubiquitous on television. That doesn't happen anymore for rock bands
The band holds a different significance …

We are repositories of American music. We play a huge range of the stuff. We're entertainers, too, but consider ourselves musicians first.

When you guys first started out, did you think, "Oh, yeah, 35 years from now we'll still be doing this?"

Nobody thought that. When we started rock 'n' roll itself hadn't been around for 35 years. For sure we all thought we'd be lifelong music makers, but wouldn't have thought we'd still be going as the Femmes.

What do you think is the band's lasting appeal? You seem to have more fans now than ever before.

We're lucky because young people keep getting into the band. This is due to the universal nature of the lyrics and also the rough musical approach. It hasn't dated. We are still influencing young bands.
---