HIGH FREQUENCIES: Another time, another place
Another time, another place
Anna is in town. She's my wife's 19-year-old niece from Japan. It's her first trip to the U.S. mainland. Before she arrived, she asked what I might want as a gift. I had been looking for a Japanese  SHM-CD version of June 1, 1974, the live album by Kevin Ayers, John Cale, Eno and Nico. You can buy SHM-CD pressings online, but at twice the cost of purchasing one in a store in Japan (not mention having to pay the additional shipping fee). Last night, after we picked her up from Hartsfield-Jackson, I got to hear the forty-plus year recording with a brilliance and depth not found in regular CD pressings.

This morning, while having breakfast, Anna asked if people in America still buy CDs. "Not as much," I said, admitting I'm still old school that way, and prefer a CD to downloads. "Do you download music?" she continued. I said I will on occasion.

"But you use Youtube, right?" In Japan, YouTube is the number one streaming source for music, beating out Spotify, Pandora and the other music services.

"I do, but I only for bands that I know. For listening to new music, I listen to playlists on Spotify." It turns out, in the U.S., YouTube now offers a redesigned desktop site, with its emphasis on music and playlists.. Just like on Spotify and Pandora, you can put together your own playlists or listen to curated lists for just about any genre. I asked who some of her favorite performers are.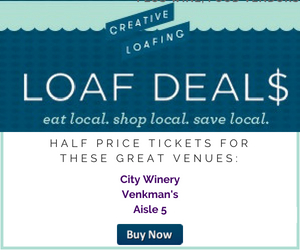 Without hesitating, Anna beamed, "Shawn Mendes and 5 Seconds of Summer." I'd never heard of Mendes, or 5 Seconds of Summer, the latter the Australian pop sensation performing at a sold-out show Wednesday, September 19, at the Coca-Cola Roxy Theatre. She couldn't believe I'd never heard of either — but she also asked why I listen to rock music.

I quickly changed the subject, telling her about the Eastern European Jewry origins of bagels, one of which she was eating for the very first time. A poppy seed bagel. With cream cheese.

Senseless Tragedy dept. … Condolences to family and friends of Joanna Steed, bass player for the Atlanta band Lord High Admirals, who was the victim of a drive-by shooting at band practice Sept. 5. A bullet entered a window of the house in Decatur where the band was rehearsing, striking the musician in the head. She died en route to Grady Hospital. With no witnesses to the crime, no one knows why the gunshots were fired, nor for whom the bullets were meant.

To be … and released dept. … AJ Ghent has signed a management deal with Atlanta's Red Light Management. Industry veteran Charlie Brusco and Darren Hagen should provide Ghent's career with the push it deserves, exposing the slide guitarist to a wider audience and allowing his talent to be heard outside the region. ... Drive-By Truckers, recording their new album in Memphis at the Sam Phillips Recording Service, not far from Phillips' original Sun Studio, were surprised when Rolling Stones frontman Mick Jagger stopped in the studio recently. Visiting Memphis to meet with Jerry Lee Lewis, Jagger was there to discuss the Sam Phillips bio pic he's producing based on Peter Guralnick's 2015 biography, "Sam Phillips: The Man Who Invented Rock 'N' Roll."  The film is set to star Leonardo DiCaprio. While Truckers fans are waiting for Patterson Hood and Co. to finish the new album, they can experience the first official release of Mike Cooley and Hood's original band, Adam's House Cat, when ATO Records releases Town Burned Down Sept. 21. Recorded in 1990, the album was never released as originally intended. … Speaking of reissues, Drivin N Cryin's 1997 self-titled album, produced by Kosmo Vinyl, is now in stores, remastered and re-released on vinyl for the first time. Re-dubbed Too Late to Turn Back Now, the LP is available through New West Records. Vinyl returns to Atlanta Sept. 26, in conversation at the Rose Library of Emory University. … And, if you aren't aware, the Hampton Grease Band's legendary Columbia Records double LP debut, Music To Eat, is back in stores for a limited time. Reissued by Real Gone Music, it's limited to 3000 copies pressed on peach-colored vinyl. Real Gone used the cleaned up masters first heard on the Shotput/Columbia CD version of Music to Eat, issued in 1996.

"If it's not fun, don't do it" dept. …As this column was being readied to post, we were saddened to learn of the death of Dick Richards, a long-time pillar of Atlanta's early punk/alternative/LGBTQ scene. Richards shot and produced the "American Music Show" and had the Funtone USA label with Ted Rubinstein. Without Richards, the early '80s Atlanta nightlife scene would not have visually been so brilliant documented by himself, Rubinstein and James Bond, nor would artists like the Now Explosion, the Peek Sisters and RuPaul have so fabulously burst upon the scene.
---