Kevin Scott's jam nights move to 529
King Psych Out Mondays put a new spin on an improv tradition
MONSTER JAMS: Kevin Scott's improv nights foster an environment where artists hone their skills via real-time collaborations with high-caliber musicians.
See our new CL radio site for all podcasts
---
Sponsored by

---
On Monday, February 4, bass player Kevin Scott kicks off an all new chapter for his long-standing weekly jam nights at 529. For 13 years, Scott's improv jam sessions have blended Atlanta's jazz, blues, rock, and improv scenes, while bouncing from the 5 Spot, Smith's Olde Bar, and the Elliott Street Deli & Pub where it flourished for eight years.
Over the last few years, Scott has spent much of his time playing bass with fusion guitarists John McLaughlin of the Mahavishnu Orchestra, Jimmy Herring and the Invisible Whip, and with the Wayne Krantz Trio. He also plays regular gigs with groups such as Forq, Matador Soul, the Wednesday Night Titans, and with saxophone player Donny McCaslin's group — who is, perhaps, best known for playing on David Bowie's albums Nothing Has Changed, Black Star, and No Plan.
He keeps a busy schedule. Still, Scott finds time to manage his ever-evolving weekly improv jam nights, and has fostered an environment where artists can hone their skills via real-time collaborations with high-caliber musicians.
Recently, Scott stopped by CL's Short Notice studio to talk about the history and the philosophy behind these weekly gatherings, which have become an Atlanta music institution. Some details have solidified since the interview took place.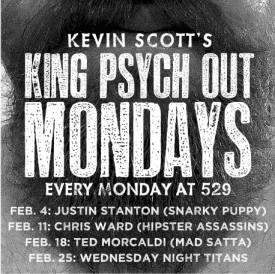 Now dubbed Kevin Scott's King Psych Out Jam, Snarky Puppy trumpeter and keyboard player Justin Stanton makes a guest appearance for the inaugural event, setting a night-long jam session in motion.
February's Monday night jams are filled out with more special guest: On Feb. 11, New York saxophonist Chris Ward of the Hipster Assassins performs. On Feb. 18, New York guitarist Ted Morcaldi (Mad Satta) makes a guest appearance. On Feb. 25, the Purkinje Shift plays the release party for its latest album, Threads. Later, Scott and drummer Zach Danziger unleash their pro wrestling-themed act, which they have dubbed Wednesday Night Titans.
Over the years, with each move to a new location, the spirit of Scott's jam night have been partially guided by the room itself, taking on new musical dimensions with each new location. Moving the event to 529 — a sonically calibrated music venue with a high-end PA in a neighborhood with heavy foot traffic — Scott says, will give the night a wholly renewed energy as he takes on more of a producer's role. "I will focus on the sound, the lineup, and if people are digging a solo, we'll let it go," Scott says. "I will be working on drawing out the atmosphere of the room."
Press play above to hear Scott and CL Music Editor Chad Radford's conversation.
Free (donations at the door). 9 p.m. 529, 529 Flat Shoals Ave. 404-228-6769. www.529atlanta.com.
Friday July 19, 2019 09:48 am EDT
Irrelevant Music Fest, Walken Tall, Peachfest, and more |
more...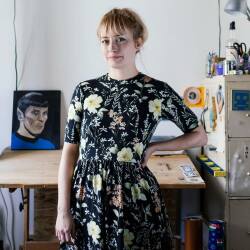 Podcast: Moon Bar Podcasts, Music Podcasts, Homepage, Music, Crib Notes
Thursday July 18, 2019 11:13 am EDT
Mother Kitchen+Bar honors the 50th anniversary of the Apollo 11 moon landing |
more...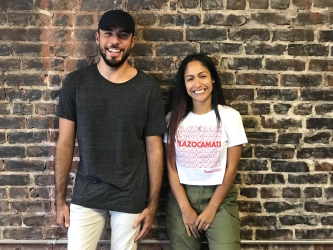 Podcast: Oye Fest Podcasts, Music Podcasts, Homepage, Music, Crib Notes
Tuesday July 16, 2019 03:51 pm EDT
Atlanta's premier Latinx music and arts festival brings a day-long block party and an evening of live performances to the Masquerade |
more...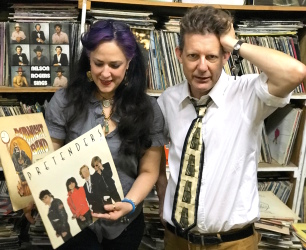 Monday July 15, 2019 04:18 pm EDT
Andy Browne and Lucy Theodora on Joe Strummer, primates, and writing their next album |
more...
Saturday July 13, 2019 09:59 am EDT
The rising country star on technology, the music industry, and his latest single 'Lonesome High' |
more...
Thursday July 11, 2019 09:19 am EDT
DIP at Smith's Olde Bar, Built to Spill at Terminal West, Attack of the Killer Tomatoes Festival, and more |
more...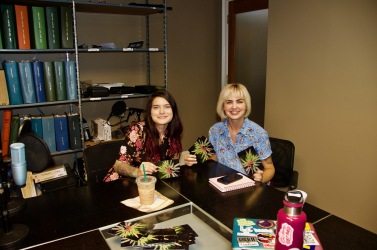 Monday July 8, 2019 02:12 pm EDT
Sophia Sabsowitz is the Curator at Pulp Books in West Midtown. She also spends a portion of each year trimming fresh cannabis crop in the infamous Humboldt County, Calif, familiar by most as the setting for the Netflix docu-series "Murder Mountain."
Sabsowitz's knowledge of cannabis flows directly into her creative life as a painter and current curator at Pulp Books, located in West Midtown,...
|
more...
Monday July 8, 2019 01:41 pm EDT
Some of you may know her for her hit song, "Cannabis Car," which helped expand her awareness of hemp across the nation. Aviva believes we should all be driving cars that run on cannabis and growing home hemp gardens for salads, paper, clothing. It may sound all a bit flower child, but did you know Henry Ford had cars running on hemp before it was outlawed in the US? If you're interested in... |
more...
Wednesday July 3, 2019 03:36 pm EDT
Special Fourth of JUly America bonus pack edition |
more...
Podcast: Visitors Podcasts, Music Podcasts, Homepage, Music
Tuesday July 2, 2019 02:38 pm EDT
'Nature Documentary' LP stamps in time a bygone era for South Broad Street |
more...