Weekend roundup for April 12-14
Amplify Decatur, Atlanta Film Fest, Trap Karaoke, and more weekend fun that's not to be missed
See our new CL radio site for all podcasts
Fri., April 12
— Blis., Mighty, Tenth Row, and Pike Co. at the Masquerade (Purgatory).
Few groups creating indie rock in the post-emo context tap into the raw passion and earnest sentiments that Blis. evokes. Each lyrical bar drips with tangible melancholy, And the instrumentation, which lies at an unexpected intersection of grunge and polished, modern rock production, accentuates the vocals while each song stands its ground. The group's latest release, No One Loves You (Sargent House), showcases the group's broad range of emotions and musical style. $10 (adv). 7 p.m. — Will Cardwell
— Joan Osborne plays the songs of Bob Dylan at City Winery.
Singer/songwriter Osborne tours supporting her nearly two-year-old Songs of Bob Dylan release. But those tunes never get stale, and in this politically fiery climate, Dylan's words are as pertinent today as when he wrote them for a different time and administration. Osborne wraps her smooth, soulful voice around radically different arrangements of this material, altering and often enhancing it. She infuses her style into Dylan material that spans over five decades, digging deep into his catalog and interpreting hidden gems like "Dark Eyes" and "High Water (for Charlie Patton)," among others. $38-$50. 6 p.m. — Hal Horowitz
— Joan Baez at the Atlanta Symphony Hall.
Environmental advocate, anti-war activist, and folk singer of the highest order, Joan Baez has worn many hats throughout her storied career. The legendary folk singer returns to Atlanta for a Friday night performance playing songs from her latest album, Whistling In the Wind and more. This show is also a stop on what's being called her "Farewell Tour," so catch her while you can! $79-$131. p.m.
— DMX at the Tabernacle.
At the start of 2019, DMX was serving time for tax evasion. Now, months after his release, the iconic rapper is touring one of hip-hop's landmark albums: It's Dark and Hell is Hot. DMX is hitting 34 cities to celebrate the 20th anniversary of his debut album, which spawned classic records such as "Ruff Ryders' Anthem" and "How's It Goin' Down." When the tour hits the city, hip-hop veterans and young enthusiasts alike will share an experience equivalent to opening a time capsule. With plenty of growling and Ruff Ryders vests galore, it should feel like 1998 again. $58-$254. 7 p.m. (doors). — Joshua Robinson
— The Pinx, HeY!ALLigator, Gnomonaut, Chrome Castle at 529.
The Pinx celebrate the release party for the group's latest album, Sisters & Brothers. Read Chad Radford's review of the album in this month's CL.
$12. 9 p.m. 529.
Sat., April 13
— Record Store Day.
The annual music shopping feeding frenzy, Record Store Day, returns this Saturday, April 13. Check CL's field guide to RSD 2019!
— Atlanta Grilled Cheese Festival 2019 Atlantic Station.
Celebrate National Grilled Cheese Day by attending the Atlanta Grilled Cheese Festival. Enjoy a mouthwatering assortment of grilled cheese, and variations on the dish, whipped up by some of Atlanta's tastiest food vendors. Restaurants from all over the city will be in attendance, grilling up all sorts of deliciously cheesy dishes to the delight of cheese enthusiasts everywhere. The festival will feature free grilled cheese samples, live music, an "adult zone," and a Bloody Mary Garden (21+). $28-$42.
— Intro to Ableton Class at the Bakery.
Join Atlanta Synthesizer Club member Aaron Artrip on a crash-course introduction of Ableton's music production software. Aaron will show you the basic of how to set up an audio interface and MIDI devices, and most importantly, how to use this software to make bopping electronic music! $5 donation suggested. 2-6 p.m.
— Amplify Decatur Festival Downtown Decatur Square.
The Amplify Decatur Music Festival returns to the Decatur Square Saturday, April 13, with performances by Mavis Staples, Jeff Tweedy of Wilco, Julien Baker, Kevn Kinny, and the Bitterroots. $45 (General Admission), $149.50 (V.I.P.), $249.50 (Premium V.I.P.).
— Trap Karaoke at the Masquerade (Heaven).
The name says it all! Test your knowledge of rap lyrics, celebrate hip-hop culture, and have a blast.
$42. 8 p.m. Masquerade.
Sun., April 14
— Atlanta Film Festival.
The encore of the Atlanta Film Festival will be jam-packed with screenings, social hours, and late-night parties all weekend long. Films playing across the weekend include International Falls, The Cotton Wool Wars, Pageant Material, and much, much more! PLUS! Be sure to stick around Sunday night for a special early presentation of season 8 premiere of Game of Thrones!
Have a great weekend!
Podcast: Lobstedamus Podcasts, Music Podcasts, Homepage, Music
Monday July 22, 2019 03:22 pm EDT
Dillon and the clawed one tell all in a CL exclusive interview |
more...
Friday July 19, 2019 09:48 am EDT
Irrelevant Music Fest, Walken Tall, Peachfest, and more |
more...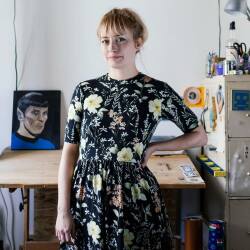 Podcast: Moon Bar Podcasts, Music Podcasts, Homepage, Music, Crib Notes
Thursday July 18, 2019 11:13 am EDT
Mother Kitchen+Bar honors the 50th anniversary of the Apollo 11 moon landing |
more...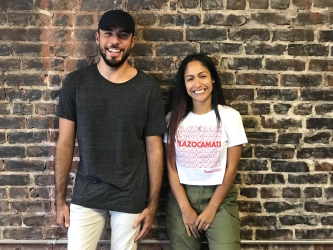 Podcast: Oye Fest Podcasts, Music Podcasts, Homepage, Music, Crib Notes
Tuesday July 16, 2019 03:51 pm EDT
Atlanta's premier Latinx music and arts festival brings a day-long block party and an evening of live performances to the Masquerade |
more...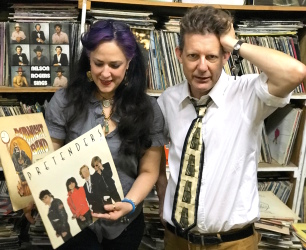 Monday July 15, 2019 04:18 pm EDT
Andy Browne and Lucy Theodora on Joe Strummer, primates, and writing their next album |
more...
Saturday July 13, 2019 09:59 am EDT
The rising country star on technology, the music industry, and his latest single 'Lonesome High' |
more...
Thursday July 11, 2019 09:19 am EDT
DIP at Smith's Olde Bar, Built to Spill at Terminal West, Attack of the Killer Tomatoes Festival, and more |
more...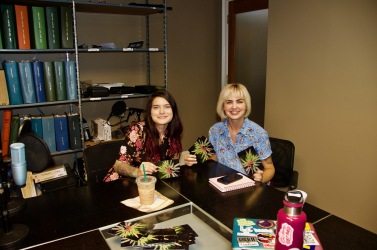 Monday July 8, 2019 02:12 pm EDT
Sophia Sabsowitz is the Curator at Pulp Books in West Midtown. She also spends a portion of each year trimming fresh cannabis crop in the infamous Humboldt County, Calif, familiar by most as the setting for the Netflix docu-series "Murder Mountain."
Sabsowitz's knowledge of cannabis flows directly into her creative life as a painter and current curator at Pulp Books, located in West Midtown,...
|
more...
Monday July 8, 2019 01:41 pm EDT
Some of you may know her for her hit song, "Cannabis Car," which helped expand her awareness of hemp across the nation. Aviva believes we should all be driving cars that run on cannabis and growing home hemp gardens for salads, paper, clothing. It may sound all a bit flower child, but did you know Henry Ford had cars running on hemp before it was outlawed in the US? If you're interested in... |
more...
Wednesday July 3, 2019 03:36 pm EDT
Special Fourth of JUly America bonus pack edition |
more...