Podcast: Weekend roundup for April 26-28
Camp Firefly, Sidhu Moose Wala, Steve Gunn, and more music and fun you don't want to miss
See our new CL radio site for all podcasts
Welcome to Creative Loafing's weekend roundup podcast for April 26-28. Will Cardwell and Jacob Chisenhall join Music Editor Chad Radford to talk about their top picks for weekend music and more. Turn on, tune in, go out!
Fri., April 26
— Georgia Bigfoot Conference 2019, April 26-28.
The First Annual Georgia Bigfoot Conference and North Georgia Comicon takes over the Rabun County Civic Center for a weekend of paranormal fun and talks with self-proclaimed experts in the fields of UFO sightings, ghost hunting, and tall tales of sasquatch encounters in the great outdoors. The website says it's sold out, but that sounds like a conspiracy to us!
— Inman Park Festival
Take a tour of a historic home, join the parade, and check out a full lineup of live music happening all weekend long at the 48th Inman Park festival. Held during the last weekend of April, the festival celebrates one of the city's most historic neighborhoods.
Sat., April 27
— Camp Firefly at the Bakery.
Flamingo Shadow, Taylor Alxndr, and Shy Layers team up with light installation artists Mason Brown, Chris Ahnberg, and Dale Adams to bring the great outdoors inside the Bakery for an overnight event. Explore the Luminescent Forest, the majestic Light Cave, and more with special guest DJ Bigfoot and your host and camp counselor Eddie Ray. $12. 8 p.m
— Great Southern Beer Fest in John Howell Park.
A celebration of country music, regional food, and the bountiful diversity of craft beers brewed in the South. With participation from many Southern breweries and over 75 craft brews available to sample, it's a bonafide good time, and a great excuse to hang out in John Howell Park in the Virginia Highlands. $10-$45. 11 a.m.-7 p.m.
— Johnny Marr at Variety Playhouse [POSTPONED. NEW DATE TBA]. 
The former Smith's guitarist Johnny Marr is currently on tour supporting his latest album Call the Comet. $26. 7 p.m. (doors).
— Of Montreal, Yip Deceiver at Terminal West.
Kevin Barnes and Co. return on a victory lap behind the group's latest album, 2018's White Is Relic/Irrealis Mood. $23-$26. 8 p.m. (doors).
— Benefit for John Kieran Paul feat. Nurse, GG King, Rapturous Grief, Disable, Hyena, Apparition at 529.
A handful of Atlanta's finest hardcore bands rally to raise funds for longtime Atlanta scene fixture and all around great guy John Kieran Paul, who recently underwent a major heart surgery. Donations taken at the door. 9 p.m.
Sun., April 28
— Steve Gunn with Gun Outfit at the Earl.
Brooklyn-based guitarist Steve Gunn is a virtuoso soloist on the order of Tom Verlaine. His lines can twist, curl, and tear at songs, pushing his sprawling melodies and pensive indie rock style into folky, psychedelic directions. On this year's The Unseen In Between Gunn takes a softer but no less incisive approach, grounding his songs with acoustic strumming and crafting low-key melodies that pulse with tension and release. Despite their name, the openers are not related to Steve but also float on understated acoustic, indie folk/rock waves. $15-$18. 8 p.m. (doors).
— Sidhu Moose Wala at the Masquerade (Heaven).
Punjab rapper Sidhu Moose Wala rose to fame following the success of his 2017 single "So High," a Bhangra/gangsta rap collab with Canadian producer Byg Byrd. This show is in Heaven at the Masquerade. VIP tickets are available.
$40. 8 p.m. (doors).
Podcast: Lobstedamus Podcasts, Music Podcasts, Homepage, Music
Monday July 22, 2019 03:22 pm EDT
Dillon and the clawed one tell all in a CL exclusive interview |
more...
Friday July 19, 2019 09:48 am EDT
Irrelevant Music Fest, Walken Tall, Peachfest, and more |
more...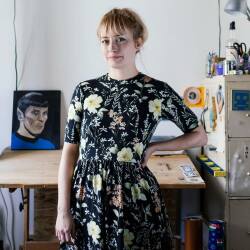 Podcast: Moon Bar Podcasts, Music Podcasts, Homepage, Music, Crib Notes
Thursday July 18, 2019 11:13 am EDT
Mother Kitchen+Bar honors the 50th anniversary of the Apollo 11 moon landing |
more...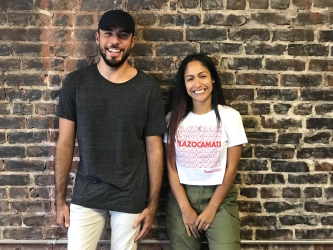 Podcast: Oye Fest Podcasts, Music Podcasts, Homepage, Music, Crib Notes
Tuesday July 16, 2019 03:51 pm EDT
Atlanta's premier Latinx music and arts festival brings a day-long block party and an evening of live performances to the Masquerade |
more...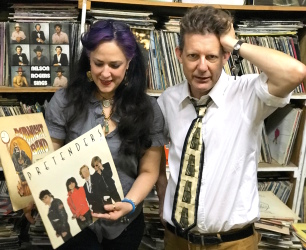 Monday July 15, 2019 04:18 pm EDT
Andy Browne and Lucy Theodora on Joe Strummer, primates, and writing their next album |
more...
Saturday July 13, 2019 09:59 am EDT
The rising country star on technology, the music industry, and his latest single 'Lonesome High' |
more...
Thursday July 11, 2019 09:19 am EDT
DIP at Smith's Olde Bar, Built to Spill at Terminal West, Attack of the Killer Tomatoes Festival, and more |
more...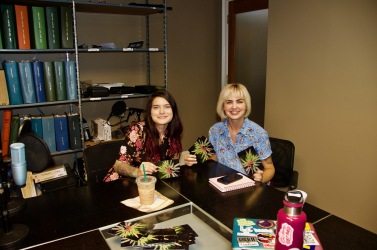 Monday July 8, 2019 02:12 pm EDT
Sophia Sabsowitz is the Curator at Pulp Books in West Midtown. She also spends a portion of each year trimming fresh cannabis crop in the infamous Humboldt County, Calif, familiar by most as the setting for the Netflix docu-series "Murder Mountain."
Sabsowitz's knowledge of cannabis flows directly into her creative life as a painter and current curator at Pulp Books, located in West Midtown,...
|
more...
Monday July 8, 2019 01:41 pm EDT
Some of you may know her for her hit song, "Cannabis Car," which helped expand her awareness of hemp across the nation. Aviva believes we should all be driving cars that run on cannabis and growing home hemp gardens for salads, paper, clothing. It may sound all a bit flower child, but did you know Henry Ford had cars running on hemp before it was outlawed in the US? If you're interested in... |
more...
Wednesday July 3, 2019 03:36 pm EDT
Special Fourth of JUly America bonus pack edition |
more...