Podcast: Weekend roundup for May 31-June 2
Mastodon, Fuzzstock, Candler Park Music & Food Festival, and more fun that's not to be missed
See our new CL radio site for all podcasts
Fri., May 31
— Mastodon, Coheed & Cambria on the "Unheavenly Skye" tour at the Coca-Cola Roxy. The almighty Mastodon comes home to celebrate the 10-year anniversary of Crack the Skye. History has proven the complex 2009 concept album a pivotal moment in the metal behemoth's career. Crack the Skye marked a transition for Brann Dailor, Brent Hinds, Bill Kelliher, and Troy Sanders' growth from a band with promise into a Grammy-winning beast with political sway, able to surmount incredible odds. Sold Out. 6:30 p.m.
— Atlanta Food and Wine Festival (through Sunday)
The Atlanta Food and Wine Festival is the go-to destination for the city's foodies and wine aficionados. The extended weekend showcase shines a light on Southern culinary traditions through an international lens, and includes interactive cooking and cocktail classes, seminars, panel discussions, tasting tents in the Old Fourth Ward, dinners, and events around the city. Chefs, sommeliers, and culinary innovators including Josh Lee of Chicken + Beer and Miles Macquarrie of Kimball House, Eden-Marie Abramowicz of Revelator Coffee, and Deborah Vantrece of Twisted Soul Cookhouse and Pours (and many more) will be on hand talking about their respective crafts. $55- $1,800. 6 p.m.-10 p.m. Thur., May 30; noon-10:30 p.m. Fri., May 31; 10 a.m.-7:30 p.m. Sat., June 1; 11:30 a.m.-10 p.m. Sun., June 2. Loews Atlanta Hotel, 1065 Peachtree St. N.E.
— Candler Park Music & Food Festival
A two-day celebration of music, food, and jam band bliss, the Candler Park Music and Food Festival kicks off Friday, May 31 at 4 p.m. Celebrate the warm weather by injecting your ears with a healthy dose of funk, bluegrass, and reggae music. This year's lineup includes Stephen Marley, Trampled by Turtles, Greensky Bluegrass, and more. Get out and feel the summer in full bloom, rain or shine. Between acts, peruse the artist and craft market for locally made artisanal goods. PRO TIP: general admission ticket includes complimentary bicycle valet. $40-$150. 4 p.m.-11 p.m. Fri., May 31; noon-11 p.m.
— Rose Hotel I Will Only Come When It's A Yes LP release party at 529
Chick Wallace, Palm Sunday, and Sunset Pig also perform. Listen to a CL podcast with Rose Hotel's Jordan Reynolds here. $8-$10 9 p.m.
Sat., June 1
— Atlanta Great American Tiny House Show at the Infinite Energy Center
Wanting to downgrade your mortgage without downgrading your style? Or, have you ever just wanted to visit an entire indoor village of tiny houses? Well, this weekend's Tiny House Show is the event for you. In a two day exposition with tiny house authors, builders and designers, you can see and learn about the tiny house experience all in one indoor space safe from the sun's most recent temper tantrum. $10-$15. 9 a.m.
— The Office Trivia Bar Crawl
CALLING ALL OFFICE FANS! It's time to put your life-sucking hours of streaming to good use with The Office Trivia Bar Crawl this weekend in Buckhead. The participating bars are Lost Dog Tavern, Dive Bar Buckhead, Kramer's, and Red Door Tavern. Check in and receive your Dunder Mifflin ID badge and lanyard, trivia forms and pens then head off on the crawl where you'll answer a total of 100 trivia questions broken up into sections at each bar. After your scores are counted, celebrate your win, or heck, your loss, at the after party at Lost Dog Tavern from 10 p.m. to midnight. As Michael Scott himself would say, sometimes, you just gots to get your freak on! $15-$20. 4 p.m.
— Estoriafest 2019
Dinos Boys, FRKO, the Hump Daze crew, Shantih Shantih, DARTH (Cousin Dan's new project), Challenger Deep, the Queendom, Krystal V, and more. $5. 2 p.m.
— Fuzzstock at 529
The name says it all: Abby Go Go, the Buzzards Of Fuzz,John Denver Death Plan, and Sash the Bash, Pinky Doodle Poodle, and Bast unleash an evening of fuzzed-out, psychedelic, desert rock riffage. $14-$20. 7 p.m.
— National Trails Day
Celebrate the natural beauty and splendor of the nation's trails. Partake in a variety of outdoor activities, or just take a hike. Courtesy of the Georgia Department of Natural Resources. Free. All Day.
— Thelma, Peeko, and Nadia Marie at the Bakery
Thelma is the New York-based project of Natasha Jean Jacobs, pumping out dense freak folk jams. Peeko are local indie soft rock (listen to their CL Live from the Archives performance here), Nadia Marie is a solo singer-songwriter, performing pop tunes with new romantic sentimentality. $8. 8 p.m.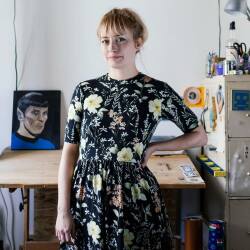 Podcast: Moon Bar Podcasts, Music Podcasts, Homepage, Music, Crib Notes
Thursday July 18, 2019 11:13 am EDT
Mother Kitchen+Bar honors the 50th anniversary of the Apollo 11 moon landing |
more...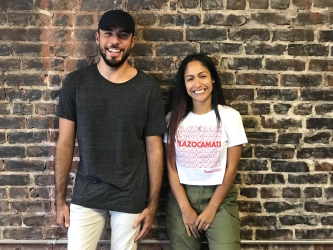 Podcast: Oye Fest Podcasts, Music Podcasts, Homepage, Music, Crib Notes
Tuesday July 16, 2019 03:51 pm EDT
Atlanta's premier Latinx music and arts festival brings a day-long block party and an evening of live performances to the Masquerade |
more...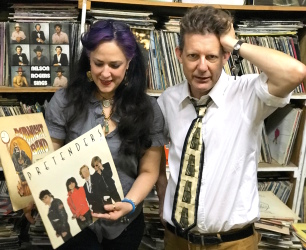 Monday July 15, 2019 04:18 pm EDT
Andy Browne and Lucy Theodora on Joe Strummer, primates, and writing their next album |
more...
Saturday July 13, 2019 09:59 am EDT
The rising country star on technology, the music industry, and his latest single 'Lonesome High' |
more...
Thursday July 11, 2019 09:19 am EDT
DIP at Smith's Olde Bar, Built to Spill at Terminal West, Attack of the Killer Tomatoes Festival, and more |
more...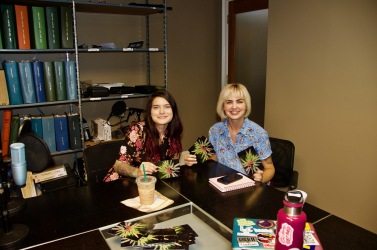 Monday July 8, 2019 02:12 pm EDT
Sophia Sabsowitz is the Curator at Pulp Books in West Midtown. She also spends a portion of each year trimming fresh cannabis crop in the infamous Humboldt County, Calif, familiar by most as the setting for the Netflix docu-series "Murder Mountain."
Sabsowitz's knowledge of cannabis flows directly into her creative life as a painter and current curator at Pulp Books, located in West Midtown,...
|
more...
Monday July 8, 2019 01:41 pm EDT
Some of you may know her for her hit song, "Cannabis Car," which helped expand her awareness of hemp across the nation. Aviva believes we should all be driving cars that run on cannabis and growing home hemp gardens for salads, paper, clothing. It may sound all a bit flower child, but did you know Henry Ford had cars running on hemp before it was outlawed in the US? If you're interested in... |
more...
Wednesday July 3, 2019 03:36 pm EDT
Special Fourth of JUly America bonus pack edition |
more...
Podcast: Visitors Podcasts, Music Podcasts, Homepage, Music
Tuesday July 2, 2019 02:38 pm EDT
'Nature Documentary' LP stamps in time a bygone era for South Broad Street |
more...
Monday July 1, 2019 05:31 pm EDT
A new slice for Summerhill |
more...