Podcast: Weekend round up for July 12-14
DIP at Smith's Olde Bar, Built to Spill at Terminal West, Attack of the Killer Tomatoes Festival, and more
See our new CL radio site for all podcasts
Welcome to Creative Loafing's weekend roundup podcast for July 12-14! Will Cardwell, Jacob Chisenhall, and Narah Landress join Music Editor Chad Radford to talk about their top picks for weekend music and more. Turn on, tune in, go out!
Fri., July 12
— DIP, Pimp Trizkit, and Michael Myerz at Smith's Olde Bar
DIP is an experimental dip-themed dance band based out of Athens. The group is joined by local rapper Michael Myerz and Pimp Trizkit, a Limp Bizkit tribute band. $7-$10. 8 p.m.
— Pancake and Booze Art Show at GA Freight Depot
Bring the kid in you to life at the Pancake and Booze art show. Enjoy pancakes, art, body painting, and adult beverages in what is sure to be a sticky mess of paint and syrup. $10-$15. 8 p.m.
— Far Out and Friends Full Moon Silent Disco Party in Ormewood Forest
Get down tonight and disco under the full moon, without disturbing any of the creatures that may be lurking nearby. In this outdoor dance party, the music may stay in your headphones, but your dancing will take you through the night and trees of Ormewood Forest. With three channels of music to choose from, games, and giveaways, thing only thing that will be restrained is sound. $10-$15. 9 p.m.
— Built to Spill, Orua, Wetface (July 12-13) at Terminal West
Built to Spill celebrates the 20th anniversary of Keep it Like a Secret, the treasured album that launched the group into indie stardom. Guitarist and vocalist Doug Martsch constructs wailing guitar riffs that reverberate as harsh ambiance, and communicate almost as clearly as the existential lyrics. Delivered with a deceptive sense of youthful eagerness, Keep it Like a Secret is only a secret in the sense that it is hard to keep once it has been heard. Two nights! - Sophia Rubin $36-$41.8:30 p.m.
— Atlanta Comic Con 2019 at Georgia World Congress Center
Join fans at Atlanta's favorite comic book convention, and enjoy comic books, magazines, toys, anime, manga, cosplay, artwork, and more. Atlanta Comic Con is the ultimate space for putting the nerdiest parts of you on display for the world to celebrate! Having made its Atlanta debut just one year ago, the convention has already left a lasting impression on the people of our city. With an impressive roster of comic book professionals like writer Gerry Conway (Marvel Comics) and artist John Beatty (Marvel Comics and DC Comics), as well as celebrities such as Bonnie Wright (Harry Potter) and Adam Baldwin (Serenity and Firefly), there is more than enough entertainment to satisfy all of your comic book needs. Be sure to check out their schedule of assorted workshops covering topics from Dungeons & Dragons to transgender visibility in media. Free-$60. Noon-midnight Fri., July 12; 10 a.m.-midnight Sat., July 13; 10 a.m.-5 p.m. Sun., July 14.
Sat., July 13
— DIY LED Cloud (Basic Electronics Workshop) at The Bakery
Check out a DIY LED workshop focusing on the basics of the craft. At the end of the day you'll walk away with a full understanding of the fundamentals, as well as your very own "glowy cloud." $40. 1 p.m.
— Reptile Day At Fernbank
Learn about and meet some of the coolest critters around at Reptile Day at Fernbank. Interact with snakes, turtles, lizards, and more, along with displays from American Reptile Association, Atlanta Botanical Gardens, Chris and Tim Smith from Atlanta Reptile Jungle, Georgia DNR's Wildlife Resources Division, Georgia Reptile Society, and Ophiology Institute. Free with museum admission. 10 a.m.-1 p.m.
Sun., July 14
— Attack of the Killer Tomato Festival
Bask in the glory of everyone's favorite fruit that tastes like a vegetable at Chef Ford Fry's 11th annual Attack of the Killer Tomato Festival. The city's most respected chefs and mixologists pair up with local farmers to create tomato-inspired dishes and creative cocktails featuring — you guessed it — tomatoes! At the end of the day, judges and festival attendees choose the best tomato dish and drink. The lineup of guests, musicians, and more will be revealed soon, so stay tuned. Proceeds benefit Georgia Organics, a nonprofit that supports local farmers and aims to make organic and local food accessible to all Georgians.$60-$205. 1 p.m.
— Cleverlys at Eddie's Attic
The Cleverlys cover pop songs with a classic Ozark spin. $25-$30. 5 p.m.
— Amyl and the Sniffers, Dinos Boys, Upchuck at the EARL
Hailing from across the world, Amyl and the Sniffers are a garage punk band from Melbourne, Australia. Vocalist Amy Taylor and fellow band members Bryce Wilson and Declan Martens are former housemates with a passion for grimy punk. Their most recent self-titled album is out now on ATO Records along with their EP, Giddy Up. $13-$15. 8 p.m.
Podcast: Lobstedamus Podcasts, Music Podcasts, Homepage, Music
Monday July 22, 2019 03:22 pm EDT
Dillon and the clawed one tell all in a CL exclusive interview |
more...
Friday July 19, 2019 09:48 am EDT
Irrelevant Music Fest, Walken Tall, Peachfest, and more |
more...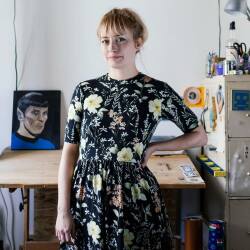 Podcast: Moon Bar Podcasts, Music Podcasts, Homepage, Music, Crib Notes
Thursday July 18, 2019 11:13 am EDT
Mother Kitchen+Bar honors the 50th anniversary of the Apollo 11 moon landing |
more...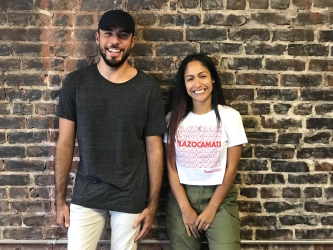 Podcast: Oye Fest Podcasts, Music Podcasts, Homepage, Music, Crib Notes
Tuesday July 16, 2019 03:51 pm EDT
Atlanta's premier Latinx music and arts festival brings a day-long block party and an evening of live performances to the Masquerade |
more...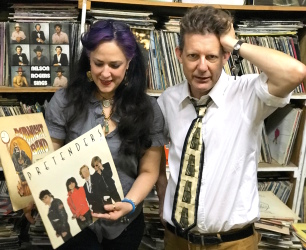 Monday July 15, 2019 04:18 pm EDT
Andy Browne and Lucy Theodora on Joe Strummer, primates, and writing their next album |
more...
Saturday July 13, 2019 09:59 am EDT
The rising country star on technology, the music industry, and his latest single 'Lonesome High' |
more...
Thursday July 11, 2019 09:19 am EDT
DIP at Smith's Olde Bar, Built to Spill at Terminal West, Attack of the Killer Tomatoes Festival, and more |
more...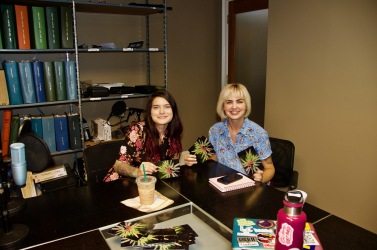 Monday July 8, 2019 02:12 pm EDT
Sophia Sabsowitz is the Curator at Pulp Books in West Midtown. She also spends a portion of each year trimming fresh cannabis crop in the infamous Humboldt County, Calif, familiar by most as the setting for the Netflix docu-series "Murder Mountain."
Sabsowitz's knowledge of cannabis flows directly into her creative life as a painter and current curator at Pulp Books, located in West Midtown,...
|
more...
Monday July 8, 2019 01:41 pm EDT
Some of you may know her for her hit song, "Cannabis Car," which helped expand her awareness of hemp across the nation. Aviva believes we should all be driving cars that run on cannabis and growing home hemp gardens for salads, paper, clothing. It may sound all a bit flower child, but did you know Henry Ford had cars running on hemp before it was outlawed in the US? If you're interested in... |
more...
Wednesday July 3, 2019 03:36 pm EDT
Special Fourth of JUly America bonus pack edition |
more...