GRAZING: Barbecue on my mind
Rodney Scott's Whole Hog is just that!
YOUR SHARE OF A WHOLE HOG: Great taste, a little dry, but a sauce will take care of that. Don't miss the hushpuppies with honey-butter, unless you plan to have dessert. Collards rock.
With the exception of fried chicken, nothing Southerners put in their mouths evokes as much nostalgia as barbecue. It doesn't matter where I sit down to eat it, I remember road trips around North Carolina with my father, stopping at one 'cue shack after another. I remember waking up every Friday morning to the smoke of roadside barbecue pits fired up for the weekend throughout rural Georgia where I edited weekly newspapers in my early twenties. I remember moving to Houston and reeling when all the barbecue seemed to be brisket. (Who knew you could barbecue corned beef?) There was and always will be the horror — the horror! — of barbecue sauce that is ketchup doctored with an eyedropper of vinegar and a cup of sugar.
We would all be happier if we could just sit down to a plate of barbecue like the Buddha — put aside our memories and eat with curiosity, sampling each bite as if it were our first ever, om-ing while we nom nom. I hoped I could do that when I headed to Rodney Scott's Whole Hog BBQ a few weeks after it opened in the West End, across from the MET complex, but I already knew too much. Scott's original restaurant is in Charleston, South Carolina, and he won the James Beard award for best chef in the Southeast in 2018. He just published Rodney Scott's World of BBQ: Recipes and Perspectives from the Legendary Pitmaster with co-writer Lolis Eric Elie. Both achievements are part of the very late recognition of the primary role of Black chefs in the formation of America's general culinary culture as well as its barbecue fixation. (Last month I wrote about Netflix's series on this subject, High on the Hog, hosted by Atlantan Stephen Satterfield. It has been renewed for a second season.)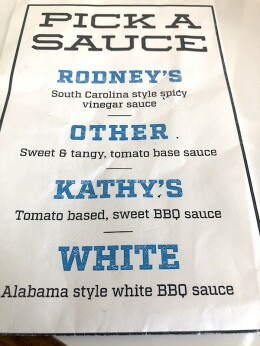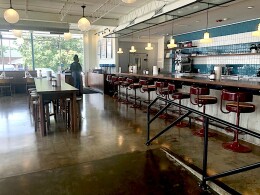 The new restaurant is an open, airy, windowed space far from the cliché of the Southern ramshackle joint with wood walls decorated with cartoon portraits of happy pigs bound for slaughter and jigsaw portraits  of Jesus (although I admit liking the latter at the old Harold's). There are two dining rooms and a porch, a bar, a view of the kitchen and its unusual air-conditioned pit area. There's a front counter where you order, although there's a full staff of educated servers, meaning they can explain the worth of the barbecue gold they are putting on your table.
The menu surprised me. It goes way beyond barbecue and includes fried catfish and chicken tenders, wings, burgers, a steak sandwich, big salads, and loaded baked potatoes, here called "tater trucks." Go ahead and order any of that — it all gets good reviews at the other two restaurants in Birmingham and Charleston — but your attention should really be directed to the pit-cooked meats that have made Scott a superstar. There are sandwiches and plates of pork, chicken, turkey, spareribs, and brisket. The go-to choice is of course the whole hog pork sandwich or plate. But why?
Understand that when you order barbecue at the average restaurant, you're usually getting meat smoked for a long period from a particular cut of the pig. Scott pit-cooks the entire pig for hours more, just as his family did at their restaurant in Hemingway, South Carolina, where he worked for 25 years, starting when he was 11. The process is very much like the one I observed frequently in rural Georgia in the '70s. The splayed pigs were dry-rubbed but also basted with each pitmaster's personally concocted sauce. The coals or wood were moved around, sometimes splashed with water, to distribute the heat at different intensities while the lard dripped constantly. The skin was charred. The most amazing thing to me was that when you stepped up to order, you were usually given a choice of which meat of the pig you wanted, and it would be pulled from the pig as you watched. Usually, I ordered mixed meat and begged for some of the crisp skin. (Meanwhile the crew also cooked chickens whose feet they sold. I refused to believe anyone ate them.)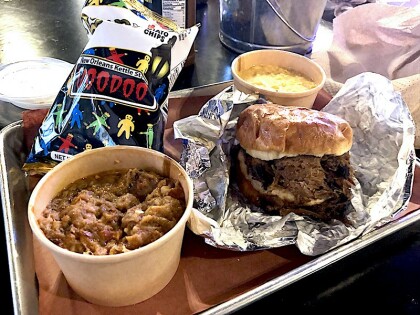 I've only tried the pulled whole-hog pork at Scott's. I ordered the plate, instead of the open-face sandwich because I wanted two sides instead of one. The sandwich comes topped with pig skins and I was disappointed that the plate's meat did not. The pulled pork itself was, I'll admit, a bit on the dry side. I'm happiest when barbecue doesn't depend too much on heavy shots of sauce at the table because they can rob the meat of its own flavor. Then again, I was anxious to sample Scott's four sauces. The original, "Rodney's Sauce," was by far my favorite, made principally with vinegar and spicy seasonings — the kind I grew up with in North Carolina. We had lots of family in South Carolina, and I was surprised not to find any of the mustard-based sauce I remember eating there. The next two sauces amp up the sweet factor. The "Other" is made with apple-cider vinegar and adds a natural, but not too overt, sweetness. The next, "Kathy's," exhausted me. It's ketchupy, tomato-based, and way too sweet for my bitter mouth. My server told me Scott was "experimenting" with it because, um, well, that's what a lot of people like around here. I'd call it Kansas City style. The fourth sauce is an Alabama-style white. I've never understood this stuff. It tastes like homemade Thousand Island salad dressing to me.
I got two sides — collards and hushpuppies. The former were mild, slippery, and country-good; I resisted hitting them with the vinegar sauce. The hushpuppies were stunning, semi-sweet orbs of crunchy cornmeal. My server told me I needed to put honey-butter on them. She asked me if I'd ever tried it there before. I said no and she said, "Well, I'm going to stand here and watch the look on your face when you taste it." I smiled as best I know how to, which is not well, but the overall sweetness was enough to completely derail my earlier plans to order the banana pudding.
It is difficult to express again, like last month, how personally affected I am by this country's reckoning with racism. When I lived in Elberton during my five-year stint inside a Faulkner novel, my boss dragged me nearly every Friday to a barbecue joint in the woods whose walls were covered with photos and campaign literature in support of Alabama governor George Wallace's openly racist presidential bid. Black customers were not allowed inside, but, incredibly, they nonetheless lined up at a takeout window. Back at the paper, I asked our only Black employee — the janitor, of course — how to explain that. He laughed and said, "I guess they like the barbecue." I said, "You mean it's just the way it's always been." He smiled. About 10 years later, I took Larry Ashmead, the executive editor of HarperCollins, on a road trip to the three towns where I worked those five years. I was most anxious for him to see the barbecue joint. We walked in and the man at the counter was Black. He was now the owner of the place. I told him what I had seen there 10 years ago. He said plaintively, "Things change." It's true, but for many, racism just got politer and now has resurfaced in all its brutal forms. Rodney Scott and countless others are exhibiting the futility of hate.
MORE 'CUE: Speaking of barbecue, the Collier Road favorite, DAS BBQ, has opened a second location on Memorial Drive in Grant Park. The pandemic has crushed most restaurants, especially new ones, and I know this second location will improve, but it's got a ways to go. I've been twice. The most disconcerting thing has been the pulled pork sandwich. You order at the counter and the sandwich instantly appears, already wrapped, pulled from a bank of refrigerator-sized warming cabinets. Both visits, the sandwiches have been super dry with the meat glued to the bread. The brisket was fatty-good the first visit, but dry as hell on the second. Sides have been mainly good, although, the Brunswick stew, yet again, was distressingly dry. Collards were homey, and the cheesy creamed corn was rich. My dining companion actually managed to spend $40 on his meal of brisket and a couple of sides. Weirdly, the restaurant was out of single serving containers, and we ended up with pint-sized ones priced with bad math. On the way out of the building — through the smokers — an employee asked how our meal was and we complained. He immediately fell into apology and said he was going to give us a coupon. We said "no." He raced away to fetch it, and we raced to the car. The sauces here are intriguing. There's a mustard-based one that contains peaches and a more conventional red spiked with espresso but mainly presents strong notes of Worcestershire sauce. I'm most mystified why a new barbecue joint would open next to Daddy D'z. … I've been addicted to Wednesday's Cuban sandwich special at Wood's Chapel BBQ for the last few months. Happily, it's on the regular menu now. Unfortunately, the last two times I've gone to get one, they've not had any. When I asked why the second time, a staffer told me, "We ran out." I resisted saying, "Make more," and ordered some cornbread. "Sorry we ran out." The good news is that they've opened a second location at Krog Street Market.
FOOD MEDIA:
Do you hate Twitter? I have a reason for you to love it.
Christiane Lauterbach
(@xianechronicles), the longtime
Atlanta Magazine
dining critic and publisher of
Knife & Fork
, has been tweeting prolifically there. I'm talking 7,811 comments in a year. Sometimes, she'll fire off five or six a day and not just about food. That's the good part. Christiane is hilarious and smart, and Twitter gives you a bigger taste of her. …
Jennifer Zyman
(@JenniferZyman) continues hosting her podcast,
The Food that Binds
(available everywhere). I especially loved her June 23 episode about Anthony Bourdain. She is joined by her father Sergio Zyman. They pay homage to Bourdain, but it's also moving to hear her chatting with her super-foodie father, giving a perfect example of the meaning of her podcast name. And, speaking again about barbecue, she interviewed the Fox Bros. on June 24.
—CL—

Rodney Scott's Whole Hog BBQ, 588 Metropolitan Parkway, 678-855-7377, rodneyscottsbbq.com
Das BBQ, 350 Memorial Dr., 404-850-7373, dasbbq.com
Wood's Chapel BBQ, 85 Georgia Ave., 404-522-3000, woodschapelbbq.com
---