THE VINYL WARHOL: April 2022
What you need to see and hear this month
Wed., Apr. 6
Boy Harsher, Terminal West — Boy Harsher are built for a winter tour. Atlanta in April might be too warm for the cruel frost their music conjures up. Their dark wave synths are bone-chilling. The drums are cold and lifeless in the best way possible. They demand you dance like a skeleton with your eyeholes pointed towards the floor. The haunting vocals of Jae Matthews are somehow both soothing and disturbing. Songs like "LA," "Pain," and "Tears," make me beg for Delorean to 80s so this music can get the worldwide respect it deserves. Although they may not reach the heights of New Order, I am so glad gothic new wave is hip again. I was getting tired of the dancing to The Cure surrounded by 60-year-old vampires.
$17-20. Wed., Apr. 6, 8:30 p.m. Terminal West, 887 W. Marietta St. N.W. terminalwestatl.com @terminalwest
Fri., Apr. 8
Sad & Boujee, Hell at The Masquerade — When I was in high school, I remember seeing '80s parties happening at clubs and thinking, "This is embarrassing. When I am in my 40s, I will never try to relive my glory days like these old fucks." Never would I have thought that a mere 12 years later, when I am still in my twenties, people in my age-range would be foaming at the mouths for emo night, 2009-themed parties, or, the worst-named one yet, "Sad & Boujee." First off, the Migos pun is an insult to the seminal Atlanta rap group. But this cringe DJ cash grab is reactionary, made only to feed the millennial audience longing for their hair straighteners and skinny jeans, so the rest of my gripes lie with them. Millennials, you can still be cool. You do not need to fawn for the pop culture of your high school/college years, because Panic! At The Disco kinda sucked the first time around. I love Paramore as much as the next person, but Haley Williams herself would be rolling her eyes at you dusting off your shutter shades for this event. Do better, please.
$10-15. Fri., Apr. 8, 9:00 p.m. Hell at The Masquerade, 75 Martin Luther King Jr. Dr. S.W. http://masqueradeatlanta.com/|masqueradeatlanta.com] The Masquerade
black midi, Variety Playhouse — black midi is a hard band to describe. The trio have so many different elements in their music — math rock, psychedelia, jazz, bossanova, chamber pop — that using words to define them kind of just makes things more confusing. Perhaps they can better be illustrated by simply looking at the cover art for their sophomore album, Cavalcade. It's a beautifully strange mess of colors and lines with hardly any identifiable icons or focus. You can experience it for 10 minutes and have more questions than you started with. And that's the fun with black midi. Their music is a journey through strange lands, an adventure.
$20-35. Fri., Apr. 8, 8:30 p.m. Variety Playhouse, 1099 Euclid Ave. N.E. variety-playhouse.com @varietyplayhouse
Sat., Apr. 9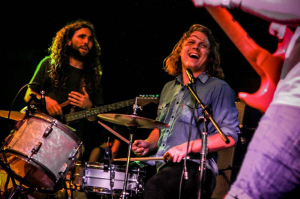 Fuzz, Terminal West — Ty Segall has been single-handedly keeping garage rock alive for over 10 years now. I will never forget listening to his albums—solo, collaborative and with Ty Segall Band—on the walk to-and-from my college classes. And I will especially never forget the riot of a mosh pit when I finally got see my hero at Bonnaroo. With Fuzz, the Ty Segall project started in 2013, he hopped on drums. Other than that, Fuzz is pretty much business as for Ty, heavy riffs, abrasive vocals, songs that pull from all corners and decades of gritty rock n roll, and, of course, fuzz pedal. Ty Segall is still that guy over a decade later. And why would he need to stop doing what he does so damn well?
$22-25. Sat., Apr. 9, 9:00 p.m. Terminal West, 887 W. Marietta St. N.W. terminalwestatl.com @terminalwest
Wed., Apr. 13
seeyousoon, The Eastern — seeyousoon may be the group to fill the Brockhampton-sized hole left in the music industry. From the outside, the Florida nine-piece collective has a lot in common with the California boyband: large numbers, singers, rappers, slick beats in a variety of styles, internet expertise, and song titles stylized in all caps. But, I think seeyousoon might cast an even wider net with their music than Brockhampton. Their instrumentals take a different feel, often borrowing from house and electro. Many of the songs from their sophomore project, HZLIKEHELL, would feel more at home in the rave than at a rap show. Vocalist Maddie Barker breaks up the machismo with pop rap hooks, something that was consistently missing from the Brockhampton boy's club. But seeyousoon's biggest strength, one the two groups have in common, is individual personalities that form like Vultron.— Matthew Warhol
Free. Wed. Apr. 13, 6:30 p.m. The Eastern, 777 Memorial Dr. S.E. easternatl.com @easternatl
Fri., Apr. 15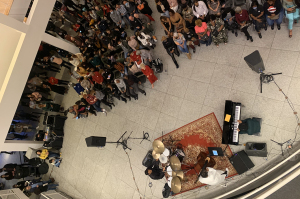 April Friday Jazz Night, High Museum of Art — Hands down, jazz nights are the best way to experience the High Museum. I love museums. But, my biggest complaint about them is that visiting a museum is too similar to going to the library. On jazz night, however, The High is alive. People are drinking and laughing and clapping. Everyone gets dressed up. The main corridor is buzzing from the energy produced by world-class musicians giving their all. And you're free to walk through the exhibits as usual, but even that feels electrified. Somehow, Atlanta's biggest arts institution gets even more creative.
$25. Fri. Apr. 15, 6:00 p.m. High Museum of Art, 1280 Peachtree St. N.E. high.org @ highmuseumofart
Wed., Apr. 20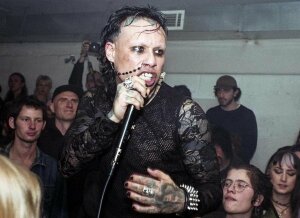 Blu Anxxiety, 529 Bar — The first thing to catch my attention about Blu Anxxiety was frontman Chi Orengo's unique look. He was dawned in a black lace dress meant for a mourning widow with face tattoos, blacked-out teeth, and a chain connecting his nose and ear piercings. Morbid curiosity forced me to explore this madman's music? What I found, wasn't as unique, but a familiar goth new wave mixed with punk aggression, executed to perfection. Songs shouting about internet culture, depression, and systematic oppression. I can't think of a better way to spend the stoner holiday.
$25. Fri. Apr. 15, 6:00 p.m. High Museum of Art, 1280 Peachtree St. N.E. high.org @ highmuseumofart
Tue., Apr. 26
Helado Negro, Terminal West — Helado Negro is best listened to while looking at the sun set over the ocean. The South Florida-born, Ecuadorian artist infuses every song with the warm sunshine and easy waves you expect from these two places. Sometimes, it's with a bare-bones love song strung on a nylon string guitar. Other times, he conjures a dream pop cloud out of synth and delay for you to float around on. He's been playing with peaceful sounds for over a decade now, gaining his largest following on the back of 2019's This Is How You Smile.No matter the sound or language, the feeling will remain tranquil, cool, and Helado.
$25-28. Tue., Apr. 26, 8:00 p.m. Terminal West, 887 W. Marietta St. N.W. terminalwestatl.com @terminalwest