CREATIVE ARTS: Beautiful sights and sounds in April
Galleries, exhibits and plays to check out this month
ART WORKS: FLY ON A WALL PRESENTS ITS THIRD ANNUAL 'EXCUSE THE ART' EVENT AT THE WINDMILL ARTS CENTER ON APRIL 7-10.
We are still living in strange times, and I often wonder when we will get back to a point of normalcy. Social isolation has not been entirely detrimental, it helped people place more of an emphasis on health, self-care, and life goals, just to name a few. However, human interaction is something that we not only desire, but it's something that we need from time to time. Now, many places of business have opened their doors and it seems as if life as we once knew it may be here to stay.

The pandemic has had an extreme impact on not only artists, but art in general. A person's creative process may not have been hindered, but their ability to get their work out to the world may have been altered a bit. When galleries, exhibits and theaters closed in 2020, creatives have had to find new and unique ways to promote their work, many relying heavily on the internet and social media platforms. It brought about the rise of virtual exhibitions, streamed plays, and the like – giving the viewer the opportunity to see the art, but it never quite duplicated the real experience.
Today, as I travel around the city of Atlanta and attend solo and group shows at The High, MINT, Cat Eye Creative and Maune Contemporary, or go to The Fox Theatre to check out musical adaptations that pay homage to some of the legendary groups of yesterday such as The Temptations and The Beatles, it makes you appreciate that time of isolation in a sense. The colors in that painting are a bit more vibrant, that note a bit more soothing, and the ballerina's pirouette just a bit more graceful.
So, continue to live life to the fullest and enjoy all the beauty that art has to offer – no matter the medium.
Fri., Mar. 25-Sun., Aug. 14
What is Left Unspoken, Love, High Museum of Art – The word "love" means different things to different people – depending on their experience with the emotion. From the remainder of April through the middle of August, the High will house the What Is Left Unspoken, Love, exhibition contains art spanning over 30 years, and explores the definition of love through the lens of more than thirty-five artists based in North America, Europe, and Asia with work including several mediums – ranging from paint, sculpture, photography, video, and more. — Okla Jones
$16.50. Fri., Mar. 25-Sun., Aug. 14. 1280 Peachtree Street NE, Atlanta, 30309. 404-733-4400 high.org @highmuseumofart
Wed., Mar. 30-Sun., Apr. 24
The Wolf at the End of the Block, The Balzer Theater at Herren's – The Wolf at the End of the Block reflects the times we live in. Ike Holter's crime thriller tells the story about a late-night attack in the fictitious "Rightlynd" neighborhood in Chicago involving Abe, and the city's police department. What will resonate with many audience members are themes of mistrust, and the brutality that certain people in this nation experience far too often. Directed by Addae Moon, this powerful play with twists and turns throughout the storyline and will have your mind racing – even after you leave. — Okla Jones
$15+. Wed., Mar. 30-Sun., Apr. 24. 84 Luckie Street NW, Atlanta, 30303. 678-528-1500 theatricaloutfit.org @theatricaloutfit
Fri., Apr. 8
It's Never Too Late, Hidden Gallery 333 – Inspired by the idea of always having the opportunity to make a change, regardless of where you are in life It's Never Too Late is a group exhibition at Peters Street Station's Hidden Art Gallery – ironically located behind the establishment's bookshelves. It features work from SheGreen, Andrew Blooms, Petie Parker, W3ST, John Glover, S. Darius Parker, Taylor Simone, E L Chisholm, Lanous Wright II, Jayme Rosser and Rovelle Williams. — Okla Jones
Free. Fri., Apr. 8, 7 p.m. – 4 p.m. 333 Peters Street, Atlanta, 30313. 404-948-2946 333petersstreet.com @hiddengallery333
Thu., Apr. 7-Sun., Apr. 10
Excuse The Art (ETA), The Windmill Arts Center – The third annual Excuse The Art series presented by Fly on a Wall, takes place during the second weekend in April, and includes the works-in-progress by artists of The Windmill Arts Center as well as selected artists from the city and its surrounding areas. The Thursday and Saturday night shows feature Sam Ross, Darvensky Louis, Christina Massad, Candace Tabbs and Olivia Bryant, and the Friday and Sunday showings you will see Indya Childs, Danielle Swatzie, Frankie Consent, Lucy Smith, and Emily Christianson. If you're in attendance, be prepared to give live feedback on your phone. — Okla Jones
$20+. Thu., Fri., Sat., 8 p.m., Sun., 4 p.m. 2823 Church Street, Atlanta, 30344 thewindmillatl.com @thewindmillatl
Fri., Apr. 8-Sun., Apr. 10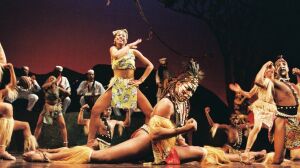 The Leopard Tale, Alliance Theatre – Ballethnic Dance Company's The Leopard Tale, intertwines traditional ballet and African Dance into an energetic and emotional play. Choreographed by the company's co-founder, Waverly T. Lucas II, this ballet is a heart-pounding story of survival set in the heart of the African jungle. The Leopard Tale's upbeat African sounds and Act I's original score, composed by L. Gerard Reid, serves as the perfect backdrop for the movement and art of Ballethnic Dance Company. The VIP pre show reception begins at 6:30 p.m. on Thursday with a VIP Ticket. — Okla Jones
$31+. Fri., 8 p.m., Sat., 3 p.m., 8 p.m., Sun., 3 p.m. 1280 Peachtree Street NE, Atlanta, 30309. 404-733-4600 alliancetheatre.org @ballethnic
Sat., Apr. 9
Flight of Swallows, Atlanta BeltLine – Created in 2010 by Deisha Oliver-Millar and Sadie Hawkins, Flight of Swallows blends together the art of music and movement. The collective includes dancers, trapeze artists, singers and musicians coming together to form one, comprehensive work of art. This combination of sounds and improvisational dance starts on Saturday, Apr. 9 at 2 p.m. underneath the I-20 on the Atlanta BeltLine's Westside Trail. — Okla Jones
Free. Sat., Apr. 9, 2 p.m. Atlanta BeltLine's Westside Trail flightofswallows.com @flightofswallows
Sat., Apr. 9-Tue., May 3
3rd Anniversary Group Exhibition, Cat Eye Creative – Located in the heart of downtown Atlanta, Cat Eye Creative represents over 100 visual artists from different walks of life. Founded by Adam Crawford, this homegrown gallery focuses on fine art curation, consulting, and artist residency programs. Cat Eye's solo and group exhibitions provide wide scale exposure to lesser-known artists. On Saturday, Apr. 9, the gallery celebrates its third anniversary, featuring a beautiful exhibition with 50+ works from various artists. — Okla Jones
Free. Sat., Apr. 9-Tue., May 3. 186 Mitchell Street, Atlanta, 30303. 404-547-8638 cateye-creative.com @cat_eye_creative
Tue., Apr. 19-Sun., Apr. 24
Jesus Christ Superstar, The Fox Theatre – One of Broadway's most legendary productions celebrates its 50th anniversary with a new production to be featured at The Fox Theatre for a week in April. This version of the rock opera Jesus Christ Superstar, loosely based on the story of Christ's final moments, pays tribute to the 1971 Billboard Album of the Year of the same name, while giving it a contemporary spin that will entertain theatre goers both young and old. Written by Tim Rice, composed by Andrew Lloyd Webber and directed by Timothy Sheader, this classic revival is one you don't want to miss. — Okla Jones
$40+. Tue., Apr. 19-Sun., Apr. 24. 660 Peachtree Street NE, Atlanta, 30308. 404-881-2100 foxtheatre.org @thefoxtheatre