ATL Brews: Anniversaries, fundraisers and tasty beers
The 411 on Atlanta beers, ales, stouts, and breweries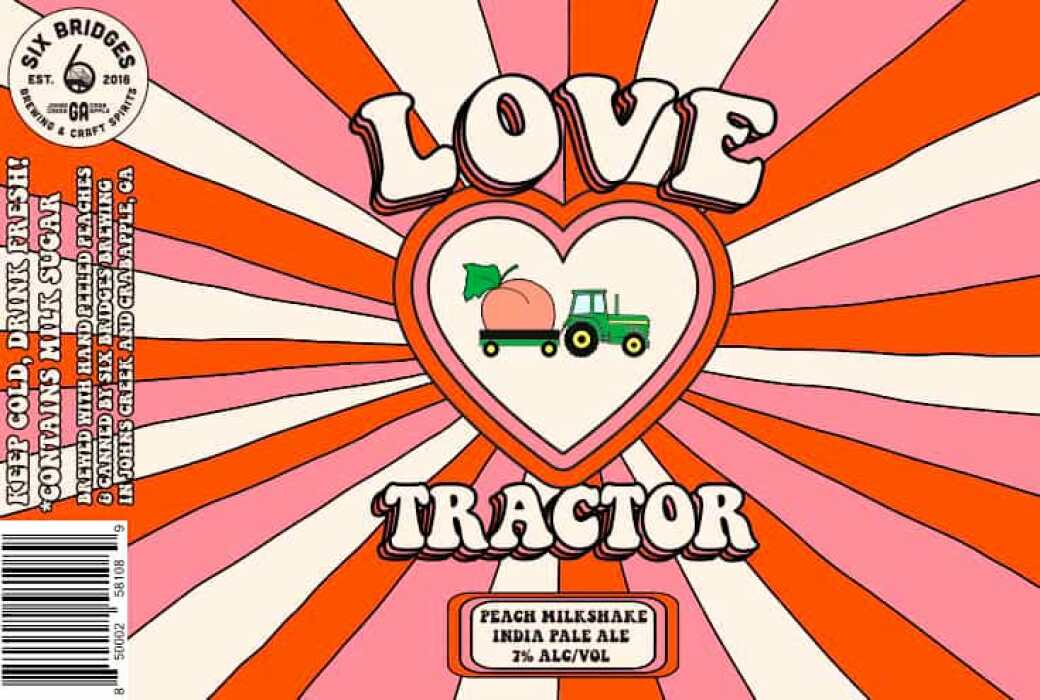 Served at Johns Creek and in Crabapple: Love Tractor, a peach milkshake IPA, not a band from Athens, GA.
Wild Heaven West End Brewery & Gardens has partnered with Taqueria El Tesoro. Their delicious food will now be permanently featured at the West End location! Check out our Wild Heaven Beer podcast!
StillFire Brewing in Suwanee continues with Tiki Weeks now through August 13! They are transforming the taproom into a tropical tiki bar and releasing new tropical beers and spirit cocktails, as well as featuring tropical-themed music, soundcheck bingo, and more! Check out our StillFire Brewing podcast!
Celebrate Hip Hop's 50th Anniversary, Friday, Aug. 11, starting at 4 p.m. at Awkward Brewing in Fayetteville with a live DJ and of course, great beer!
Pregame for the Beyonce concert with Bey Gates, the Ultimate Renaissance Tour Pre-Party at Wild Leap Atlanta August 11-12, from noon to 6 p.m. each day with a live DJ, themed "cocktalkes" and slushie flights, food trucks, and a costume contest! Check out our Wild Leap podcast!
The Easter Seals Cornhole for Kids Fundraising Tournament is happening Saturday, Aug. 12, starting at 2 p.m. at The Lost Druid Brewery & Distillery in Avondale Estates. Come out and support children with special needs and their families! Check out our Lost Druid Brewery podcast!
Join Wild Leap Atlanta downtown for Atlanta Vice (80s New Wave Experience) Friday, Aug. 18, from 6-10 p.m. up in the Speakeasy section. Hear the biggest new wave hits of the 80s and enjoy exclusive one-night-only 80s-themed beers, cocktails, slushies, and shots. 
Cultivation Brewery in Norcross along with the Cultivation Foundation are having a fundraising event Saturday, Aug 19, starting at 10 a.m. for a local charity and they are looking for teams with 8-10 players to compete in a kickball tournament with food, beverages and prizes. Wanna just watch? Get tickets here at Cultivation Foundation.
Six Bridges Crabapple is celebrating the first full year at their Milton/Crabapple location Saturday, Aug. 25, but while you're waiting for that, celebrate the return of Love Tractor, a peach milkshake IPA for National IPA Day Thursday, Aug. 3. Check out our Six Bridges Brewing podcast!
Saturday, Aug. 26, starting at 7:30 p.m, join Red Hare Brewing Company in Marietta for HARE-larious Comedy Night, a night of laughs and lagers! Check out our Red Hare Brewing podcast!
Join Cherry Street Brewpub at Halcyon in Cumming for the Pepperfest Beer Fest Saturday, Sept. 9, from 1-6 p.m. There will be award-winning brews, spicy foods, live music, art, farm vendors and a pepper plant swap to celebrate the joy of growing your own.
Cowboy Mouth will be part of From the Earth Brewing Company in Roswell's Back Porch Concert Series Saturday, Sept. 16, starting at 8 p.m.
Saturday, Sept. 23, from 2-8 p.m., come celebrate Oktoberfest at Red Hare Brewing Company in Marietta and help benefit Georgia Dachshund!  They've got food trucks, live music, and a dachshund race at 5 p.m.
Celebrate Oktoberfest Weekend Saturday-Sunday, Sept. 24-25, at both locations of Wild Heaven Beer in Avondale Estates and Wild Heaven West End Brewery & Gardens with German food, music, décor, and of course, Fest Beer.
Horned Owl Brewing in Kennesaw celebrates Oktoberfest Sept. 29 through Oct. 1, with live music and food trucks, and entry is free!  They'll be featuring their delicious Marzen called Oktoberfest, and their flavorful Festbier, called Prost.
Celebrate the first annual Awktoberfest at Awkward Brewing in Fayetteville Saturday, Sept. 30, starting at 1 p.m. with live music, a unique barrel-aged Oktoberfest Marzen, and a special "Antique's Roadshow"-style stein event.
Join Line Creek Brewing The Reserve in Newnan is holding a fundraiser for the Newnan-Coweta Humane Society called Mugs for Mutts Saturday, Sept. 30, from 5-9 p.m.  They'll have live music, food trucks, and limited edition event mugs available for purchase with proceeds going to NCHS. Check out our Line Creek Brewing podcast!
Celebrate Oktoberfest at Wild Leap Atlanta downtown Saturday, Sept. 30, from 3-9 p.m. They'll have live music, food, and plenty of beer! Eventbrite has your tickets here. 
Saturday, Oct. 14, starting at 8am, the 10th Anniversary celebration of Reformation Brewery (Woodstock), Cadence Fair, will feature live music, local makers, and good eats alongside new and old school Reformation favorite brews! Check out our Reformation Brewery podcast!
Ongoing:
Tuesday
Every Tuesday night, from 6:30 to 9:00 p.m. at Round Trip Brewing Company (1279 Seaboard Industrial, Atlanta), you can play Speed Puzzles — bring your friends and attempt to assemble a 500-piece puzzle as quickly as possible for gift cards.
Wednesday
Blackbird Farms Brewery (4098 Lawrenceville Hwy, Lilburn) has a trivia night every Wednesday starting after 7 p.m.
Mutation Brewing Company (5825 Roswell Rd. NE, Sandy Springs) presents Team Trivia every Wednesday from 7:30 to 9:30 p.m. with prizes for first, second, and third place.
Three Taverns Craft Brewery (121 New St., Decatur) features Comedy on Draft on the last Wednesday of each month featuring some of the best comedians in Atlanta as well as food pop-ups and great beer!
Dirty South Trivia hosts trivia at Round Trip Brewing Company (1279 Seaboard Industial Blvd, Atlanta) every Wednesday from 7-9:15 p.m. featuring a food vendor and the chance to win a gift card for your next visit!
Cultivation Brewery (650 Langford Dr., Norcross) holds Team Trivia every Wednesday from 7-9 p.m. You could win gift cards and other prizes!
Line Creek Brewing Co. (150 Huddleston Rd, Peachtree City) presents Super Geek Trivia Night Wednesdays from 6:30-8:30 p.m.
Every Wednesday, Social Fox Brewing (20 Skin Alley, Norcross) features a trivia night from 7-9 p.m. for gift cards, beer, and other prizes for the top teams.
Fire Maker Brewing Company (975 Chattahoochee Ave NW, Atlanta) features Wednesday Night Trivia every Wednesday starting at 6:30 p.m.
Thursday
Check out Live Band Karaoke at Wild Leap Atlanta (125 Ted Turner Dr, Atlanta) in the Speakeasy every Thursday at 7pm!
Kettlerock Brewing in Peachtree Corners hosts a Euchre Meetup every Thursday from 5:30 – 8:30 p.m. all experience levels welcome!
Cultivation Brewery (650 Langford Dr., Norcross) features Vinyl Night Thursdays every Thursday with a live DJ playing classic vinyl from 6-9 p.m. —CL—