Dekalb County

Dekalb is Atlanta's fourth most populous County. County seat is Decatur. Dekalb is home to Stone Mountain, the thriving international food scene on Buford Highway and the most International City in the South - Clarkston. The County voted 80.8% for Hillary Clinton in 2016.
Avondale Estates is known for its mock Tudor village of storefronts along College Avenue, the city's main drag. Veer off College towards Lake Avondale park, and you've left Shakespeare's England and turned into a bucolic scene from a Norman Rockwell painting, all of it inspired when George Francis W... |
more...
In 1974, the Atlanta Rhythm Section sang the virtues of Doraville with the line, ?A touch of country in the city." Today, you might wonder, "Which country?" as you drive along Buford Highway on either side of the Doraville line and read the billboards and shop signs in Spanish, Korean, Vietnamese, a... |
more...
Chamblee offers affordable housing inside the Perimeter, is practically adjacent to the Buford Highway corridor of ethnic restaurants, and lies just a few miles from Buckhead's shopping districts. Once a heavily industrialized area with little to offer in the way of dining and recreation, massive re... |
more...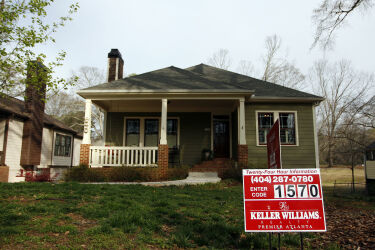 If you're passing through on East Ponce de Leon Avenue, Clarkston feels like Anytown, USA. But stop for a minute, and you'll find a quaint borough that harbors a whole lot of ethnic diversity. Strategically positioned close to the Atlanta office of the International Rescue Committee, which helps ref... |
more...
Just a few miles from downtown Atlanta down Ponce de Leon Avenue sits what's arguably metro Atlanta's most desired suburb - a progressive enclave of quaint homes, solid restaurants, a walkable downtown, and tight-knit neighborhoods that are very protective of the community they've created. And with ... |
more...
Lithonia is roughly 18 miles east of the center of Atlanta and near Stone Mountain. Lithonia has a Lithonia Historic District that dates back to 1845 and calls itself the City of Granite due to its proximity to Stone Mountain and to Arabia Mountain. Stonecrest is the adjacent town to Lithonia. |
more...
Yes, Stone Mountain Park has its merits — bike paths and hiking trails and treks to the top of the largest exposed granite dome in America. Aside from the park, Stone Mountain offers affordable housing centered around a quaint, historic downtown that attracts a modest tourist trade. |
more...
---
Dekalb County, GA, Neighborhoods, Decatur