Dining
5Church Atlanta offers a lengthy dinner menu with modernized favorites and signature steaks. The Midtown establishment specializes in New American fare with a twist. 1197 Peachtree St. N.E. |
more...
678 Duluth, OTP Atlanta
Not all Korean barbecue restaurants are created equal. For those of us searching for superior meat plus charcoal, 678's meat is hard to beat. They take reservations, so make one and save yourself the torture of waiting as the smell of sizzling beef wafts toward your nose like those squiggly cartoon ... No address found |
more...
97 Estoria Cabbagetown/Reynoldstown
Once a grocery store for cotton mill workers in the historic Cabbagetown neighborhood, 97 Estoria is a restaurant and "hangout for all adults" known for its quirky vibe and vegetarian-friendly menu. The laid-back, smoky bar scene is its main draw, bringing in a host of scruffy regulars. 727 Wylie St. S.E. |
more...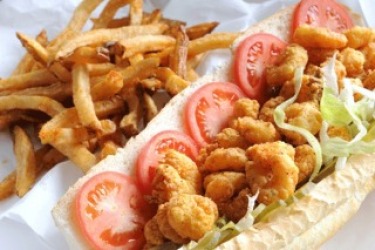 This Marietta seafood joint has one lengthy po'boy menu. Po'boys are served "dressed" and come with your choice of fresh-cut french fries or red beans and rice. The shrimp version is a monster of a sandwich, tightly wrapped in white paper, and measuring a foot in length. The shrimp are on the small ... 2100 Roswell Road |
more...
a mano Old Fourth Ward
From a mano's website: a mano is a neighborhood bistro; a place to enjoy a satisfying meal, drink, and good times with your friends and neighbors. Like the mom and pop trattori found across Italy, our simple and timeless approach is grounded in seasonal ingredients and traditional cooking methods. A... 587 Ralph McGill Blvd N.E. |
more...
Abrigo Intown Neighborhoods, Midtown
The fusion of Mexican, Southwest and Latin cuisine is mediocre at best. The cheese dip is watery and may not come with the tortillas promised on the menu, which is a shame because they may be the highlight of the menu: thick and fluffy. The carnitas aren't carnitas at all. They were chunks of roaste... 818 Juniper St. |
more...
Aces Bar & Grill Kirkwood/Edgewood, Intown Neighborhoods
Burgers, pinball and a full bar. 1992 Hosea Williams Drive |
more...