USER SUBMITTED
Crowns The Musical
Wednesday May 30, 2018 12:00 am EDT
Cost: $15-55

CROWNS is a moving and celebratory musical play in which hats become a springboard for an exploration of black history and identity as seen through the eyes of a young black woman who has come down South to stay with her aunt after her brother is killed in Brooklyn. Hats are everywhere, in exquisite variety, and the characters use the hats to tell tales concerning everything from the etiquette of hats to their historical and contemporary social functioning. There is a hat for every occasion, from flirting to churchgoing to funerals to baptisms, and the tradition of hats is traced back to African rituals and slavery and forward to the New Testament and current fashion. Celebrate with the women and the stories behind their crowns!
More information
The Other 4 Things To Do Today
Wednesday August 12, 2020 06:00 pm EDT
The Mystery School tradition has always acknowledged and worked with the 11 races of magickal beings that share this planet with humans. These beings, known as the Elves, Fairies, Mer, Gypsies, and many others, once lived in harmony with humans until it was necessary to hide for their survival. Th... [
click here for more
]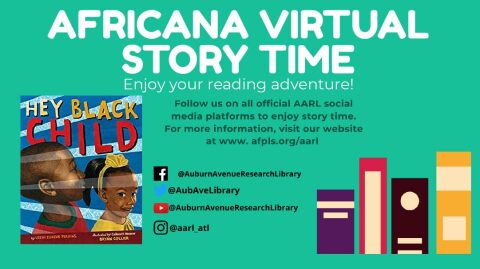 Wednesday August 12, 2020 07:00 pm EDT
In honor of Juneteenth celebration the Auburn Avenue Research Library (AARL)will host a virtual Africana Story Time reading of Juneteenth for Mazie.
About Hey Black Child:
Six-time Coretta Scott King Award winner and four-time Caldecott Honor recipient Bryan Collier brings this classic, inspiratio... [
click here for more
]
Wednesday August 12, 2020 07:00 pm EDT
The NCJW is celebrating it's 125ththAnniversary.
Join the past presidents of the Atlanta National Jewish Woman's Council for a panel discussion reminiscing on the past of the council.
Register Ahead at Thebreman.org
The panel will be made up of 4 former council presidents.
Beth Sugarman, Nan... [
click here for more
]
Wednesday August 12, 2020 08:00 pm EDT
Wednesday August 12, 2020 06:00 pm EDT
Categories: Business During this webinar you will discover how business credit scoring really works. Learn about the multiple credit scores available offered by the business reporting agencies. Uncover the secret business credit score breakdown. See how easy it is to establish an exceptional busines... [
click here for more
]