CL RECOMMENDS
USER SUBMITTED
Queens of Shades: Expressing Through Art
Sunday August 12, 2018 05:00 pm EDT
Cost: $20
From the venue:
The Queens of Shades: Expressing Through Art, is a show exhibiting the art works of five talented, female, black artists. Through our art, we will visually stimulate the consciousness while bringing awareness to mental health in the black communities. This event will not only entertain the senses through art, but it will also educate and inform the black community about the importance of seeking professional assistance when your mood, thinking and behavior does more than simply change. Our goal is to create a dialogue by identifying symptoms and causes of mental illness, and providing resources for support and intervention. More information
The Other 4 Things To Do Today
Saturday November 27, 2021 11:00 am EST
Categories: Christmas Open House
Our official kick off of the Christmas and Holiday Season.
We don't start our holiday display of shopping officially here at The Gifted Ferret until after Thanksgiving. With that said, it does take us a full month to get decorated and set up for the holidays. Our C... [
click here for more
]
USER SUBMITTED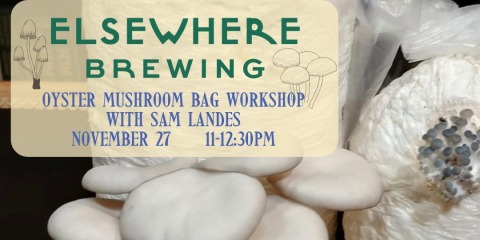 Saturday November 27, 2021 11:00 am EST
Join Sam Landes of the Mushroom Club of Georgia at Elsewhere Brewing for the "Just Add Water" Oyster Mushroom Bag Cultivation Workshop. This hands-on workshop will teach you an easy at-home process for growing your own oyster mushrooms without having to go through the labor intensive sterilizing pro... [
click here for more
]
USER SUBMITTED
Saturday November 27, 2021 08:00 pm EST
For the first time on the sparkling new 500-seat Grand Stage Theatre of the Lawrenceville Arts Center, Aurora Theatre presents Gwinnett's longest-running theatrical holiday tradition, Christmas Canteen! This stunning revue is an explosion of Christmas magic brimming with songs, comic sketches and tr... [
click here for more
]
Saturday November 27, 2021 10:00 am EST
Join us as we take over an entire block of Ellis Street to sit down at the table of brotherhood and share a meal with hundreds of our friends currently experiencing homelessness. We'll also have a variety of services available: health screenings, free haircuts and showers, clothing and hygiene kit d... [
click here for more
]
Saturday November 27, 2021 02:00 pm EST
An exhibition of the photo-based works of artist, Tokie Rome-Taylor at The Wren's Nest. "One Day Soon Come" is Rome-Taylor's artistic interpretation and celebration of children, and particularly African Americans of the south. The work puts them at the center, to see their connections, cultural ri... [
click here for more
]
USER SUBMITTED